MMus Music Information Event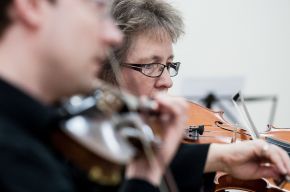 This course will appeal to musicians from a variety of backgrounds, particularly those with strengths in one of five main areas of Performance, Musicology, Composition, Technology or Music in the Community.
It provides an excellent opportunity for students to develop or refresh their professional expertise, prepare for PhD study or conduct their own self-directed projects and get a grounding in business skills appropriate to the subject.
Don't miss this exciting opportunity to speak to the course team and answer any questions you may have.
Register