Arts, Humanities and Social Sciences Applicant Information Event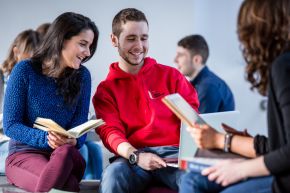 This event is an excellent opportunity to explore the excellent facilities,attend subject talks, meet with staff and other applicants and get a feel for what it is to be an Ulster student.
Registration opens at 9:45am with talks commencing at 10:15am and the day finishing at 3.00pm.
Subject area covered at this event include those English, History, Interactive Media, Journalism, Media Studies, Media Studies and Production,and Education (as a minor subject).
There will be an opportunity for you to take part in a bus tour to view the campus, accommodation and surrounding area.
We know your UCAS choices are important and we want to help you make an informed choice, so we welcome you to our event to see the top-class facilities and education for yourself.
Please note tea and coffee will be available on arrival.
---