Belfast campus
Belfast campus
a globally recognised hub of creativity, innovation and entrepreneurship.
Watch the video
About Belfast campus
Belfast campus is situated in the artistic and cultural centre of the city; the Cathedral Quarter.
Although traditionally associated with Art, the campus spans an increasing and exciting range of subjects including architecture, hospitality, event management, photography and digital animation.
The recently redeveloped campus comprises two connected buildings on either side of York Street and includes:
purpose-built design spaces
studios for recording and editing live and off-air television, sound recording, mixing and animation
teaching and exhibition areas
library
Our vibrant campus plays host to frequent fashion and art exhibitions and is an exciting place to study.
Download the Building User Guide
The Belfast campus is continuing to expand and develop as part of one of Northern Ireland's largest-ever urban developments.
In just a few years we will have 15,000 students and staff based in the city centre.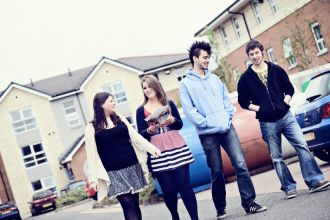 Residential accommodation at the Jordanstown campus for students based in Belfast.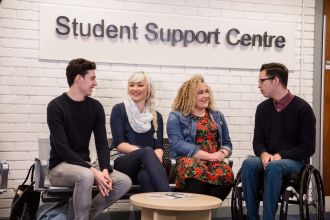 At Student Support we provide many services to help students through their time at Ulster University.