Summer bookings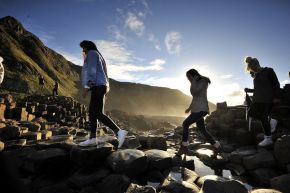 Ulster University residences at Coleraine, Jordanstown and Magee Campus (Derry/Londonderry) has accommodation available in three excellent locations across the north of Ireland.
So whether you are a student or a visitor, if you require somewhere to stay over the summer, we have various options to suit your needs.
Ulster can offer clean, comfortable, secure and accessible self-catering accommodation to:
Students working/on placement, carrying out research, or completing your dissertation AND
To guests, visitors, conference delegates, groups, teams and individuals who want self-catering accommodation for a short term.
Offering you the best of both worlds…All Ulster University accommodation is self-catering and comes fully equipped with cooking appliances, all utilities and internet/Wi-Fi (differs across locations) included in the cost of your stay.
If you don't feel like cooking you can get meals/snacks at numerous restaurants or shops available on campus or nearby.
Accommodation may also be available during the academic year - Please contact the relevant campus office for further information.
Visitor and student booking
V.A.T is applicable to all visitors and non Ulster University students.
Staying for 4 or more weeks
If you wish to stay for 4 or more weeks our summer rates are available summer rates are available to download.
What's included
All utilities.
Internet/Wi-Fi (Dependent on location)
Bedding & cooking utensils NOT included.
How to book
Staying for between 2 - 27 nights
Ulster University student rates
En-suite rooms are £28.00 per night
Non en-suite rooms are £18.50 per night
Visitor rates
Visitor rates are inclusive of VAT.
En-suite rooms are £33.60 per night
Non en-suite rooms are £22.20 per night
Whats included
All utilities.
Internet/Wi-Fi (Dependent on location)
Beds made up for arrival, towels, beverage & hygiene packs provided, daily housekeeping service of communal areas and bed linen/towel change(s) included.
How to book
Students and visitors please book online using the casual lets service.
Groups and team bookings
If you wish to make a booking for a group/team please complete the group booking form and we will contact you to confirm availability and prices.

*Group discounts available
Contact us
If you have a question or need assistance please send an email or call the relevant campus using the contact information below:
Jordanstown/Belfast
Monday to Thursday: 09:30 to 16:30
Friday: 09:30 to 15:30
Phone: +44 (0)28 9036 6924 / +44 (0)28 9036 6942*
Email: accommodationj@ulster.ac.uk
Coleraine
Monday to Thursday: 09:30 to 16:30
Friday: 09:30 to 15:30
Phone: +44(0)28 7012 4380 / +44(0)28 7012 3271*
E-mail: accommodationc@ulster.ac.uk
Magee
Monday to Thursday: 09:30 to 16:30
Friday: 09:30 to 15:30
Phone: +44(0)28 7167 5757 / +44(0)28 7167 5758*
Email: accommodationm@ulster.ac.uk