---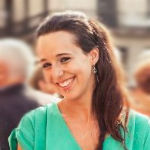 Cira Palli-Aspero is originally from Catalonia, where she graduated with an MA in historical research and a BA in History, both from the University of Barcelona. She first joined Ulster University as a volunteer at INCORE where further developed her knowledge and professional experience in the field of conflict resolution. In September 2016 she joint the Transitional Justice Institute as a PhD researcher.
Research title: 'The Uses of the Historical Method in Conflicted or Divided Societies: Understanding Historical Clarification Commissions'
The project explores the role of history and the historical method in conflicted and divided societies. The research fits into a broader debate around the growing field of historical dialogue, which seeks to provide a specific methodology to address the causes of conflict through a "conversation" that integrates different perspectives and interpretation of past events to produce a nuanced factual reconstruction that explains the events in their wider context.
The research design relies on two pillars. On the one hand, the compilation of a database that includes different worldwide examples in which the historical method have been used as a truth-seeking mechanism: to clarify certain events of the past; to straighten the historical record when necessary, or to uncover unknown facts at the light of new evidence. On the other, the in-depth analysis of the Historical Memory Group in Colombia as an illustrative case study.
The research project gives a solid examination of the organisational strategies, methods, and challenges that historical clarification commissions might experience in a real life context. It directly contributes to the understanding of the strengths and limitations of using the historical method of analysis in conflicted and divided contexts.
Contact