---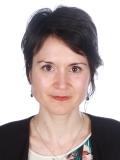 Project title
Intersectionality: operationalizing a gender analysis of sexual violence in international criminal law.
Other information
Ana Martin is a human rights lawyer. Her PhD research looks at how intersecting grounds of discrimination (a human rights-based approach) is key to building a gender analysis of sexual violence in international criminal law. The project considers structural discrimination critical to contextualizing and understanding the perpetration of sexual violence. And how this approach can shed light on multiple aspects of the crimes (including contextual and specific elements) and help to craft reparations that link the harms of victims to the structural inequalities behind the crimes.
From 2011 to 2014 Ana worked for Amnesty International Spain as a member of the legal team and consultant on transitional justice in Spain. In 2014 and 2015 she was a legal officer for ECPAT International in Bangkok working against the commercial and sexual exploitation of children. Ana worked for the EU Genocide Network (The Hague) in 2016-2017. She has supported other organizations dealing with torture and refugees (the World Organization against Torture and the Spanish Commission for the Aid to Refugees). Ana holds a LLB in Spanish Law (Complutense University) and in French Law (Sorbonne University), a LLM in International Humanitarian Law (Geneva Academy) and a MSc in International Crimes and Criminology (Vrije University Amsterdam).
Contact