Summer School on Transitional Justice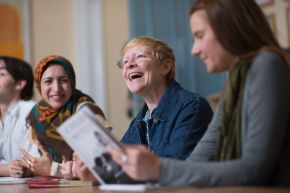 This event has ended
Date

to

Time

10:00 to 18:00

Location

Jordanstown campus

Organiser

Transitional Justice Institute

Contact details
Register via email
'Gendering the Practices of Post-Conflict Resolution: Investigations, Reparations and Communal Repair'
The Summer School is a week-long residential course, consisting of a series of interactive lectures, workshops and roundtable discussions. It is aimed at both postgraduate students and practitioners working in the field of transitional justice and human rights.
The academic component of the Summer School is also complemented by a social programme which provides the opportunity for participants to get to know a little about the local area. A number of social events such as: a murals tour in Belfast, visit to a local NGO and a Summer School dinner at Belfast Castle are included in the programme.
TJI Speakers: Professor Fionnuala Ní Aoláin (Associate Director of TJI & Director of Summer School); Dr Catherine O'Rourke (Senior Lecturer, TJI); Eilish Rooney (Senior Lecturer, TJI); Dr Aisling Swaine (George Washington University & Visiting Scholar at TJI)
External Speakers: Professor Andrea Durbach (Director, Australian Human Rights Centre, UNSW), Max Marcus (Former Prosecutor ICTY and Special Court for Sierra Leone); Professor Ruth Rubio Marin (European University Institute).
Register via email