BrexitLawNI Launch their Project Reports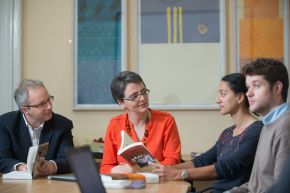 This event has ended
Date

Time

13:00 to 16:45

Location

Canada Room and Council Chambers, Lanyon Building, Queen's University Belfast, BT7 1NN
BrexitLawNI is a collaborative research project between the Committee on the Administration of Justice (CAJ) and the Schools of Law at Queen's University Belfast and Ulster University. The project is funded by the Economic and Social Research Council (ESRC) and was set up to examine the constitutional, human rights and equality consequences of Brexit in relation to Northern Ireland.
This conference will formally launch six policy reports. Copies of the reports will be made available at the launch and subsequently posted online at www.brexitlawni.org.
Speakers:
Chair: Dr Amanda Kramer, BrexitLawNI & QUB
Professor Colin Harvey, QUB – Policy paper on North-South Relations
Daniel Holder, CAJ – Policy papers on Border Controls & Free Movement and Xenophobia & Racism
Professor Rory O'Connell, Ulster – Policy papers on Socio-Economic Rights and Human Rights & Equality
Professor Kieran McEvoy, QUB, and Dr Anna Bryson, QUB – Policy paper on the impact of Brexit on the Peace Process
There will also be a panel discussion with the audience involving additional members of the BrexitLawNI team, including Brian Gormally and Gemma McKeown of CAJ.
Registration is open now Remaining places are limited so make sure to book soon if you are interested in attending. Registration is via Eventbrite.
There is no cost to attend.
To learn more about BrexitLawNI, visit www.brexitlawni.org.
Twitter: @BrexitLawNI
Facebook: https://www.facebook.com/search/top/?q=brexitlawni