Two Cheers for the Anti-Impunity Norm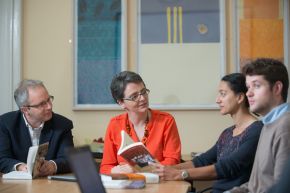 This event has ended
Max Pensky is Professor of Philosophy at Binghamton University, the State University of New York, USA. His research focuses on issues in the normative foundations of international criminal law.
His current project investigates the range of normative issues - legal, political, and moral - surrounding the status of domestic amnesties for international crimes.
In political theory, he has published widely on contemporary critical social theory and in particular on the work of Walter Benjamin, Theodor Adorno, and Juergen Habermas, and is a long-term translator of Habermas's political writings into English.
This seminar will take place at the Transitional Justice Institute, Dalriada House, Jordanstown campus.
Register via email