E-Resource Trial: Visible Body
The Library's subject teams regularly trial the latest databases & e-resources to support your studies. A trial of Visible Body is now available.
Visible Body is a suite of online programs that cover anatomy, physiology, muscles, the skeleton, and the circulatory system through interactive 3D models, animations, quizzes, augmented reality, and more.
Key features of each module include:
- Interactive 3D models, animations, quizzes, and more
- 3D anatomy visualization resources used to interact and explore the human body
- Used for reference, learning, and on-the-job patient education
- Ideal for faculty and students in the classroom as well as healthcare professionals at work
- A flexible variety of programs to choose based on your institutional needs and budget
- Available online and mobile app for iPad®, iPhone®, or Android®
How does it work?
- Peel away structures and layers from head to toe, rotate anatomical models, and dive deep into the systemic and regional anatomy
- Complement textbook and classroom-based learning with interactive resources that support learning objectives
- Coverage ranges from complete system overview to premium specialty modules
- Access a variety content type including animations, illustrations, definitions, audio pronunciations, quizzes, and more
- Produced by awarding-winning team of medical illustrators and biomedical visualization experts belonging to the Association of Medical Illustrators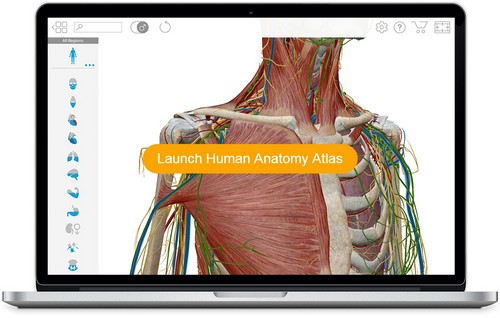 Your feedback on this trial is appreciated.
Trial ends: 20/04/19.
Full details of all our databases can be found on the Library Databases page.
---