Transitional Justice Summer School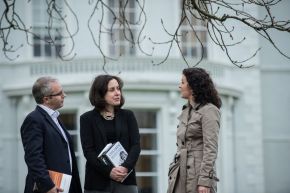 The Transitional Justice Summer School is a week-long residential course, consisting of a series of interactive lectures, workshops and roundtable discussions. It is aimed at both postgraduate students and practitioners working in the field of transitional justice and human rights.
This year's theme is on 'Women and Political settlements: International, Regional and local Approaches to Peacemaking'.
Programme highlights
The academic component of the Summer School is also complemented by a social programme that provides the opportunity for participants to get to know a little about the local area.
A number of social events including a welcome reception, murals tour in Belfast, and a Summer School dinner at Belfast Castle are included in the programme.
Key facts
Start date
27 June 2016
Duration
5 days
Campus
Fees
Fees for the summer school are broken into two categories:
For large organisations such as Universities, Government departments or intergovernmental organisations is £650.
For smaller organisations or self funding individuals it is £500.
How to apply
To assist in the selection process, we require that applicants outline their relevant experience in the field of transitional justice - applications that fail to provide this information will not be considered.
Application closing date
4 March 2016
Quick links