Irish Studies Summer Programme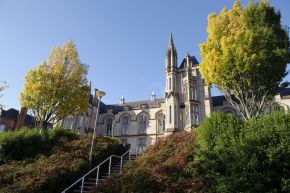 Our Irish Studies Summer Programme, the only one of its kind in Ireland, will enable you to acquire specialist knowledge of Irish studies across drama, film, history, literature, peace & conflict studies, archaeology and politics.
Programme highlights
A key highlight of the programme is the opportunity to immerse yourself in the Irish language with a week-long residency in the Gaeltacht (Irish speaking region) of County Donegal.
Other highlights include visits and residential trips to:
The O'Neil Kingdom, County Tyrone
Antrim Castle and Gardens
Doagh Famine Village
Titanic Belfast and Game of Thrones film set
Belfast City
The Giant's Causeway (UNESCO World Heritage Site)
Inishowen, Co Donegal
The programme connects the inter-related cultures, histories, languages and literatures of Ireland, Britain, Europe and North America.
Start date
Wednesday 29 June 2016
Duration
6 weeks (ending Saturday 6 August 2016)
Campus
International tuition fee
£3,950
Application closing date
01 May 2016 - For further details on applying contact: irishstudies@ulster.ac.uk.
Useful links
Irish Studies Summer School 2016 brochure
Irish Studies Summer School 2015 video