Souvenirs and memorabilia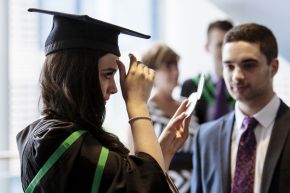 We have a range of items from pens, scarfs, crystal, iPad cases etc. on sale during the graduations.
You can also use our online store to buy university branded items.
Class of 2016 T-shirts and Hoodies
Celebrate your achievement with a graduation hoodie or t-shirt featuring the names of you and your classmates!
You can include extra personalisation on the hood, sleeves and chest - view the full range at the Campus Clothing website.
Certificate frames
Certificate and photograph frames are available on the day or by post. Metal frames are available as gold, pewter, silver and black and the wood frames are walnut and brass polished finish.
Certificates can be framed while you wait immediately after each ceremony. Further information is available from the Certificate Framing website.
Alumni
Develop a life-long relationship with the University and keep in touch with fellow graduates via The Alumni Relations office.
You are automatically enrolled as a member of the alumni association when you graduate - find out more about associated benefits etc. on the Alumni Office website