I have made friends for life and miss my American friends daily.
---
I came across this amazing opportunity in via e-mail. It sounded an amazing experience, one which I couldn't pass up. So, I applied, got an interview and was selected out of many applicants.
All selected student met up on a few occasions prior to the mid-west experience and as a group, we clicked straight away, which made us more excited for the experience.
Day 1
Traveling was an experience in its self. We were traveling for 26 hours straight due to a few delays. However, this didn't damper our moods. We spent our time bonding shopping and playing eye spy. On arrival in Sioux Falls, we were greeted by Katie and Ian. I got to ride shotgun in the front seat of Ian's truck to our on-campus accommodation. On arrival we were shown our rooms and went straight to sleep as we were up early in the morning.
Day 2
We were greeted by Alley one of the SMSU student ambassadors and took a short walk to the University to meet the President and other staff members whom we would meet throughout the week. We had a few photos and then went off to breakfast as a group where the President kindly gave us a welcome speech. Alma arrived then to tell us about our photography project and we then made a start to the park. We hiked around the park taking photos as we went. Afterwards, we returned to the car and where given a tour of all the different houses in the area. My favourite houses were the ones with porches and porch swings. Our afternoon activity was baking with Corrie. We made Lefse which is a traditional soft Norwegian flatbread., mini cheesecakes, alpine bars, and truffles. In the evening, we went to a member of staff's house on Lake Marshall and went canoeing where we saw snapping turtles and bald eagles. One of the turtles didn't like the look of Barry and decided to get up close and personal with him it was so funny. We ended a very busy but enjoyable day with s'mores which were delicious.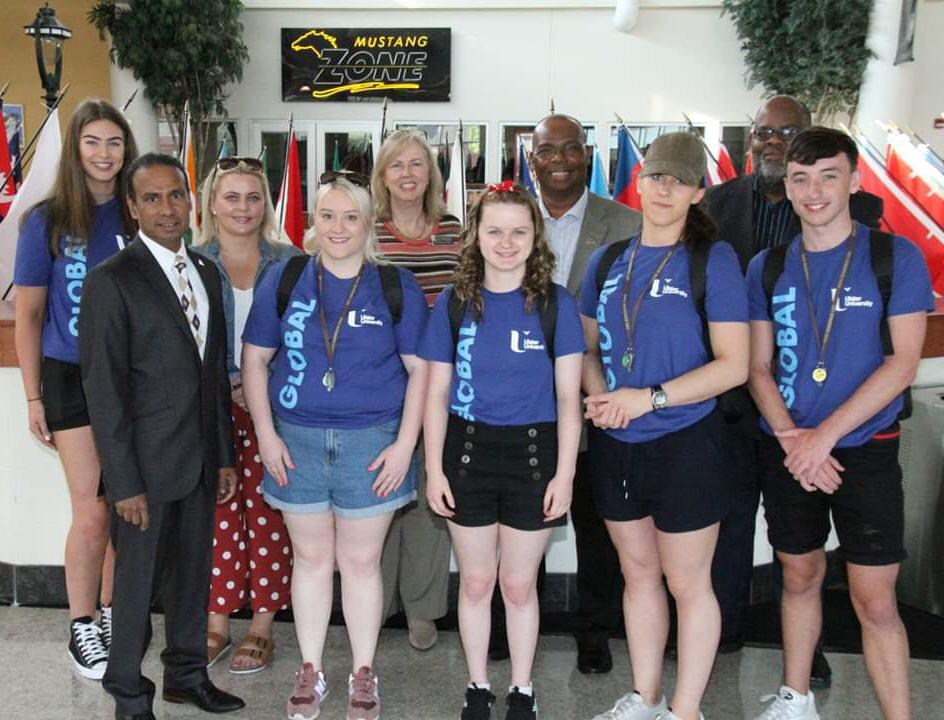 Day 3
We spent all day in the theatre and created scripts to perform at our presentation. We tried on outfits and were given a back-stage tour of the stage area and clothing department which was a fun experience. After dinner we took part in virtual reality games with the IT students and we were shown different landmarks in America. It was a good experience however left me feeling with some motion sickness. We also got to try a hoverboard which was also good fun and we played card games and had a volleyball game which we won. We were made to feel welcome and it felt like we're friends for years even though we just meet them. We have all added each other on social media and are still in contact.
Day 4
Day four was by far my favourite day. We started off with a tour of the football grounds. It was amazing. We got to go to a shrimp factory which was a new experience. Afterward, we went to an organic dairy farm and where given we a tour of the facilities. But my favourite part was being able to see three baby calf's being born and being able to pet all the cows. I am a big animal person, so I loved this. Our evening activity was a baseball game. We got to watch the Milroy Irish Team and got a group photo with them and they asked one of us to throw the first pitch. Thankfully, the Milroy Irish went on to win the match.
Day 5
We spent the morning in the theatre practicing our play and presentations. After lunch, we delivered our presentation on life in Northern Ireland. It was nerve-wracking but went well everyone enjoyed it, but I was glad it was over. In the evening we went to a musical based on music from the 60s. It was really enjoyable we danced the whole way through it.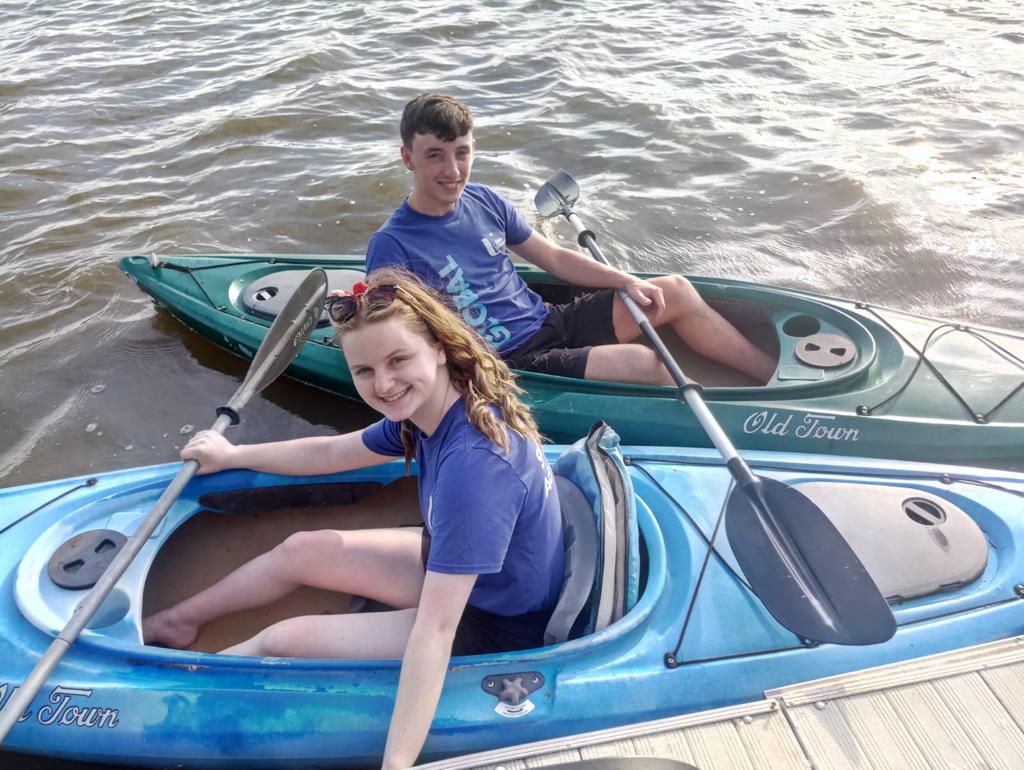 Day 6
This was our final day on campus. We went to a wood workshop and made a planter in which we used saws, hammers and nails. We teamed up, completed a section each, stained them, before connecting them together. We also got to create a wooden artboard I created an under the sea board with seaweed and a turtle. It was a crafty morning which was right up my alley. We then went onto create a digital photo book with Alma, of our adventures in America. Once done we changed clothes and headed to our leaving lunch in which we got to say a final farewell to everyone we met. It was very emotional as I don't like goodbyes. Our evening activity was a bonfire at Katie's house. We played card games and bags also known as cornhole. It was a nice farewell evening and bonding session with all the SMSU student ambassadors who we met throughout the week.
Day 7
We packed and meet everyone at the door and drove to Sioux Falls and where we went to an escape room. It was harder than I thought and we didn't manage to escape however we were five clues away. We then went shopping and headed back to the hotel and had a relaxing night in the hotel before our busy day traveling home.
Day 8
We were traveling again. This time it was more relaxed as we knew each other so well, that it wasn't awkward. We even used each other as pillows. Everyone was excited to be going home however I wanted to stay and am going to look into it when I get home.
This opportunity has given me more confidence in myself as a person through meeting new people and being able to give a presentation to a large group. It allowed me to express myself more and feel accepted by others through all the activities. Especially the artistic ones like photography, woodwork and baking. It has opened my eyes to a new way of living and the American dream. I now want to transfer to Southwest Minnesota State University for a semester next year and even take my placement year there. I know I will miss everyone from home, but it would be a new challenge for me as I have never lived away from home and have never been an independent person and this would be a great opportunity for me to try. It has made me more adventurous and open to new opportunities. I have always been obsessed by America especially the accents and I have fallen in love with the Minnesotan accent and was even awarded with the best Minnesotan accent. I have made friends for life and miss my American friends daily. I am now very close to the group of students I sent to SMSU with and we have already made plans to meet up again. It was the best week of my life to date and I don't know if there will be another experience like this in my life again. Thanks to Ulster University for this experience.
---