GREAT Scholarships 2020
Open to students from China and Malaysia wishing to study at postgraduate level.
---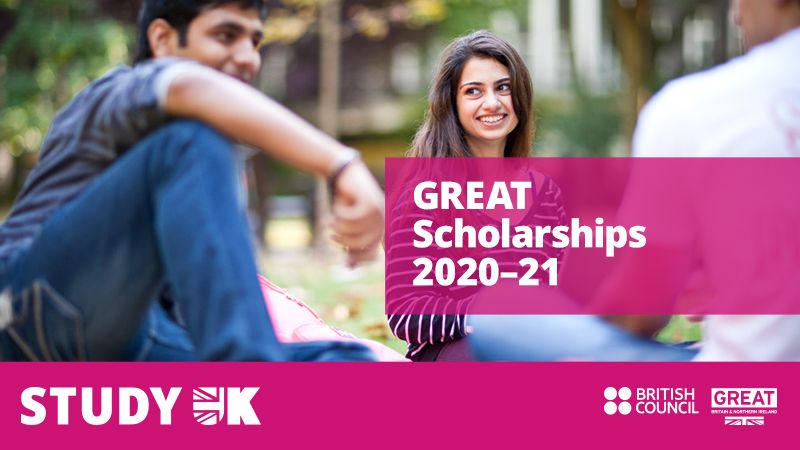 ---
GREAT Scholarships 2020 | China | Malaysia
This year, in partnership with the British Council and the GREAT Britain Campaign, Ulster University are offering a total of three (3) scholarships to students who are applying for postgraduate programmes (excluding eLearning programmes), at Ulster University.
This scholarship scheme is part of the "GREAT Scholarships 2020" campaign, which has been launched by the British Council together with 36 UK universities to support more students in China, India, Indonesia, Malaysia, Thailand and Turkey to access excellent UK higher education opportunities.
Value
The scholarship programme offers an exciting opportunity for students from China and Malaysia to obtain financial support to pursue postgraduate study in the UK.
Malaysia - 1 x scholarship of £10,000 towards your tuition fee
China - 2 x scholarship of £10,000 towards your tuition fee
Eligibility Criteria
You must hold a valid passport from China or Malaysia
You must also hold an offer for a full-time postgraduate programme delivered on one of our campuses in Northern Ireland (Belfast, Jordanstown, Coleraine or Magee), commencing in September 2020 and meet any academic and/or English language conditions as stated in your offer letter.
Students applying to part-time or eLearning programmes, or to programmes delivered at our branch campuses (London or Birmingham) are not eligible for this award.
How to Apply
Once you have received an offer of study from Ulster, you can apply for the GREAT Scholarship.
Candidates must:
Have an offer to study a postgraduate degree at Ulster University. Apply for a postgraduate degree.
Complete the form below before Friday 3rd July 2020
The successful candidate will be notified by email by Friday 10th July 2020.
Further Information
For more information on the GREAT Scholarships 2020, please visit the British Council's website in your country.