Civic Contribution
As Northern Ireland's civic university we will focus our efforts on global societal issues relevant to Northern Ireland. Collectively our impact will contribute towards the wellbeing and economic prosperity of our society.
Ulster University has always had a strong sense of civic responsibility. Our history, formed on a solid foundation of civic endeavour, is a source of great pride. As the only university distributed across the region, we have a tremendous opportunity to fully participate and deliver meaningful impact across the wider community. The imperative for redefining our civic contribution is also a reflection of the societal transformation that Northern Ireland is undergoing. We need to be cognisant of and fully engaged in this change. Issues such as educational attainment and access to higher education are central to our society and we must maintain our focus on widening access. More broadly, we will continue to proactively contribute to the full spectrum of intellectual, economic, social and cultural life of Northern Ireland.
We will focus our civic endeavours around themes that will act as a common narrative across the entire University; across schools, faculties, research and teaching. Capturing our civic focus in a more coherent way will help Ulster University collectively achieve greater impact. These are global challenges that have a particular significance within Northern Ireland and will influence how we approach our civic space. These themes will be embedded within each of the strategic priorities. By doing this we are positioning ourselves as a truly international university.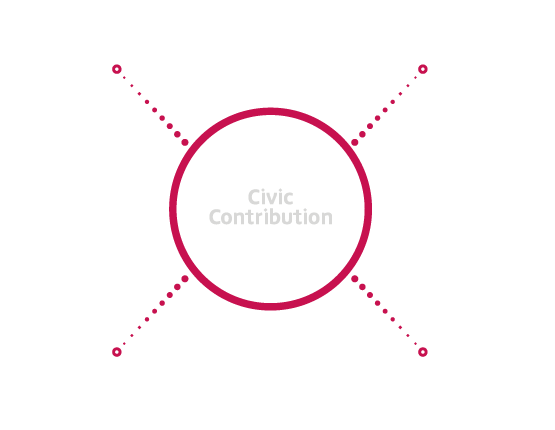 Employment and Widening Access
---
Develop workplace readiness balanced with lifelong skills.
Help to improve educational attainment and ambition particularly from communities that have previously been disengaged.
Social and Economic Development
---
Engage with civic leaders from the public, private and third sectors to collaborate on areas of mutual interest and facilitate open debate, conversation and opportunity.
Maximise the impact of academic excellence to constructively inform policy that will deliver positive outcomes for Northern Ireland.
Provide forecasting and horizon scanning, enabling Northern Ireland to be outward looking with a global profile.
---
Harness the distinctive academic strengths and infrastructure at our campuses in Belfast, Coleraine and Magee.
As a regional university, maximise the public value of the assets and distinctiveness of each campus, for the benefit of the immediate locality and beyond.
Engage with civic leaders to promote and deepen the partnership between the University and the local community, thereby enhancing the international attractiveness, global relevance and economic, social and cultural vitality of the region.
---
Harness the influence and expertise of our alumni network, honorary graduates, students and visiting scholars through sectoral networks and partnerships.
Establish a purposeful network of both internal and external civic ambassadors, recognising the mutual exchange of expertise.
Measures of Success
Influence on social, economic and public policy
External stakeholder and university engagement
Campuses with distinct missions serving their location and everyone in Northern Ireland
Increase in educational attainment within underachieving areas
Increased capacity building, contributing to local competitiveness
Aspiration
Be a leader in the social, economic and cultural development of Northern Ireland
Targets
Five Year Strategic Plan
Fiftieth Year Strategic Vision
2016–2034
Download