Prof Ken Addley OBE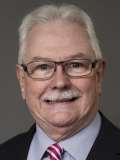 Job Title
Faculty Research Champion
Organisation
Faculty of Occupational Medicine
Expertise
Lead the development of a five-year research strategy for the Faculty which will identifies key research questions; Collaborate with other bodies to promote research in the area of employee health, wellbeing and engagement Encourage and support the occupational health community in Ireland to undertake high quality original research; Provide a focus for researchers in the field of occupational health practice; Assist the OH community in Ireland in the development of appropriate audit activities. Fellow of Faculty of Occupational Medicine, Ireland Fellow of Faculty Occupational Medicine, UK Fellow Royal College of Physicians, Ireland
Role at Ulster University
I have a close engagement with senior lecturer Dr Robert Kerr in the Ulster Business School and also as part of the wider research and publication work we have carried out.
Most recently a jointly authored chapter on mental health issues at work in an internationally published book on occupational health practice.
I have given guest presentations on the benefits of employee wellbeing and employee engagement to Master's students at the UU as well as a research seminar delivered in Dublin jointly with a lecturer from UU to specialist trainees of the Royal College of Physicians.
I have been an active participant in the Northern Ireland Wellbeing Longitudinal Study [Stormont Study] established in 2011, to investigate the impact of social and occupational factors on employee engagement, wellbeing and performance over a two year period.
A multi-disciplinary research team including academics from University of Ulster [Ulster Business School] Loughborough University [School of Business & Economics] and Nottingham University [Inst of Work, Health & Organisations].
There have been over 15 Publications and conference proceedings in the field of employee wellbeing and engagement to date from this collaboration.
Research Excellence Framework 2014: Advancing HR practice through employee wellbeing strategies - I have been associated with this Impact Case Study which contributed to the University of Ulster Business and Management Unit of Assessment (UoA) having 98% of its research recognised as international in terms of originality, significance and rigour in the REF 2014.