Michael Deane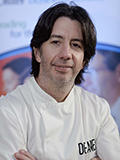 Job Title
CEO
Organisation
Deanes
Expertise
Owner of a number of restaurants.  He has won a multitude of awards, including a Michelin Star.
Role at Ulster University
Prof. Deane is an active member of the Visiting Professoriate in the Department of Hospitality and Management. He provides support and guidance to culinary specialists within the Department and The Academy restaurant. He has organised a workshop in 'Deanes Eipic', the high end, Michelin starred restaurant at the Michael Deane complex and students have participated in the production of several different courses of dishes using innovative cooking and presentation techniques.