Graduate Research Centre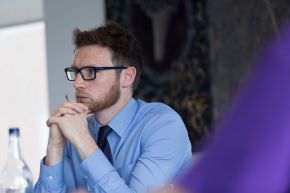 The Graduate Research Centre offers opportunities for doctoral study on both a full and part time basis.
Studying for a PhD offers students the opportunity to research in depth a range of business and management topics at an advanced level. Completion of a doctorate typically takes three years on a full time basis and six years on a part time basis. Both the full time and part time PhD programmes offered by the Graduate Research Centre of the Ulster Business School gained +3 recognition from the Economic and Social Research Council in 2007. The ESRC is the UK's leading research funding and training agency in the area of the social sciences. It is concerned with ensuring high quality research output on issues of importance to business, the public sector and government. ESRC recognition means that the agency recognises not only the high quality of the Graduate Research Centre's PhD programmes but also that the support and training offered to research students by the Centre and the University is highly effective. This recognition shows that our facilities, procedures and practices for research students are up to the high standards that they expect.
Over 50 full time and part time research students, spread across three campuses (Magee, Coleraine and Jordanstown), are currently registered for PhD programmes in the Centre.
For further information on Full-time and Part-time Postgraduate Research programmes visit our prospectus.