Official Opening of the Nutrition and Vascular Studies platform at NICHE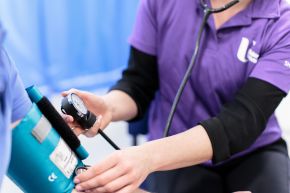 The Nutrition Innovation Centre for Food and Health (NICHE) at Ulster University are officially opening the new state-of-art Nutrition and Vascular Studies Unit.
This new facility was previously based within the Medical Research Council's Elsie Widdowson Nutrition Laboratory in Cambridge in partnership with the NNEdPro Global Centre for Nutrition and Health and has now been transferred to Ulster.
The new facility will greatly enhance our ability to conduct cutting-edge nutrition and cardiovascular research, a priority area within NICHE and a global health issue of particular concern for people in Northern Ireland.
Programme
Time
Activity
9.30am to 10am
Tea / Coffee
10.00am
Welcome
Professor Mary Ward, NICHE
10.05am
Opening remarks
Professor Cathy Gormley-Heenan
Pro Vice Chancellor (Research and Impact)
10.15am
Overview of Nutrition Innovation Centre for Food and Health (NICHE)
Professor Helene McNulty, Director of NICHE
10.30am

The Nutrition and Vascular Studies Platform and Global Nutrition at Ulster
Professor Sumantra (Shumone) Ray
Professor of Global Nutrition at Ulster andExecutive Director of the NNEdPro Global Centre in Cambridge

10.45am

Current Nutrition and Vascular studies
Martina Rooney RD, PhD student at NICHE

11am
Participant experience of nutrition and vascular research at Ulster
11.10am
A NNEdPro Regional Network at NICHENNEdPro Directors: Dr Minha Rajput-Ray and Pauline Douglas RD
11.20am
Official Remarks and opening
NNEdPro Global Patron:
The Lord Rana MBE, Baron of Malone
11.30am
Lunch
Register
Address
Ulster University
Cromore Road
Coleraine
County Londonderry
BT52 1SA
Campus maps
---
Related links