Page content
The All Ireland Institute of Biomedical Sciences Postgraduate Conference
This conference is open to Biomedical Science Postgraduate students from the colleges on the island of Ireland, students are invited to submit abstracts if they wish to give a short oral presentation or to present a poster (prizes for the best oral and poster presentations!).
This will be an excellent opportunity to gain presenting experience in a relatively informal setting, and to meet other researchers and establish relationships for future collaborative research or possible employment opportunities. Staff members and students not wishing to present are of course invited to register and attend as well.
The conference includes a CV building workshop with a talk from Career Development Consultant Norman Haigan, there is also a CV feedback session, and the opportunity to have a professional head-shot taken which would be ideal for use on social media. Friday 15th June, 14:00-16:00, Room E206/7 (Bannview Suite). This workshop is open to PhD Researchers from all faculties at Ulster University. Places are limited to 30 attendees, register by emailing Zoe at <angel-z@ulster.ac.uk>
Registration
The cost of this 2-day conference is only £10, including your tea/coffee and lunches.
Register at https://ulster-university-students-union.myshopify.com/products/biomedical-sciences-postgraduate-society-all-ireland-postgraduate-conference
Deadline for abstracts
Friday 25th May at 5pm (submit your abstract (max 300 words) complete with title and affiliations to Zoe (angel-z@ulster.ac.uk) indicating if you would like to present an oral talk or a poster. Abstracts will be screened by a staff member and you will be informed if your application is successful by Tuesday 29th May. Talks will be 10-15min.
Accommodation
Accommodation on campus has been provisionally reserved for our attendees, until 4th June, quote "Biomed Postgrad Conference" when booking. A room is £28 per night (plus VAT for non-Ulster students), book directly at https://www.ulster.ac.uk/accommodation/summer-bookings
Social
We are organising a conference dinner on the night of the 14th at Crannagh Bistro, with drinks afterwards in neighbouring Portstewart for anyone wishing to join (3-course dinner is £21 including service charge, pay on the night).
The north coast is a beautiful place, and we hope to welcome you to what will be a productive and enjoyable conference with a diverse range of interesting talks!
With kind regards,
The Biomedical Sciences Postgraduate Society
Committee 2017/18: Zoe Angel, Sara-Jayne Thursby, Tamsyn Redpath, Ryan Kelsey.
Coleraine Campus Location
The feeling of community at our campus makes for a warm and welcoming student experience.
Campus Address
Ulster University,
Cromore Rd,
Coleraine
BT52 1SA
Campus maps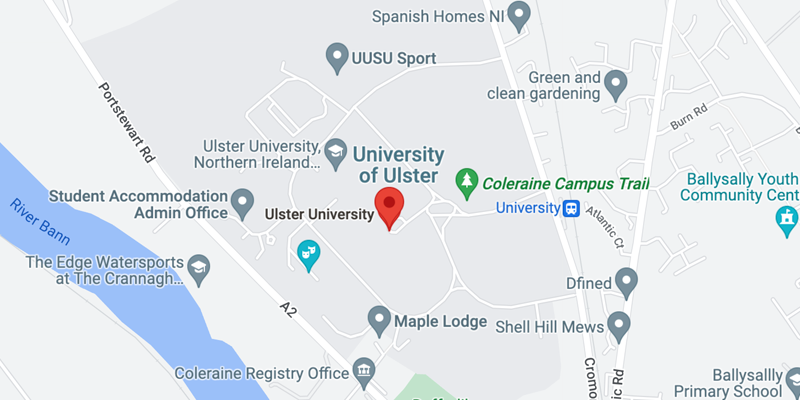 Coleraine Google Map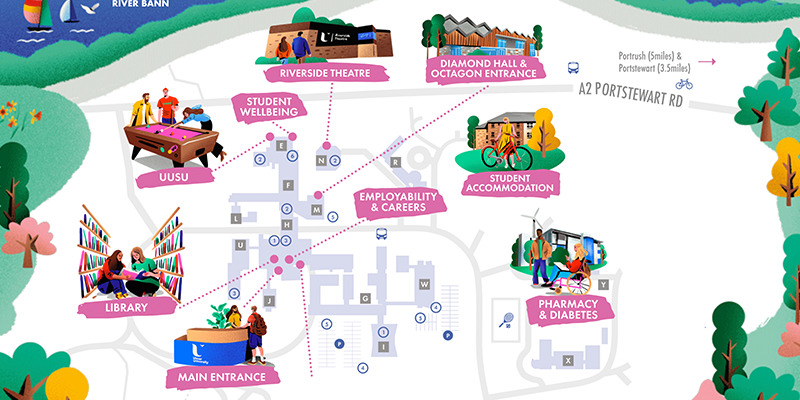 View Coleraine Map