Page content
On Monday the 15th of April the Eastern Corridor Medical Engineering Centre will be hosting Patricia Florissi VP & Global CTO for Sales at Dell EMC for an event focussed on health data research, in particular, focusing on AI / Federated Analytics.
The milky way concept creates a global network of distributed Apache™ Hadoop® instances to form a single virtual computing cluster that brings analytics capabilities to the data. Using this approach allows organisations to:
Deal with the data produced from large numbers of IOT devices using a federated model rather than sending data to a centralised location for data analysis.
Reduction in the bandwidth required to move data to central repositories.
Enhanced security concerns and the removal of may regulatory compliance issues surrounding the processing of health data sets.
Delegates will have the opportunity to learn more about this revolutionary approach and how they can integrate it into their operations and the development go new products.
Patricia is a technology thought leader and innovator, with 20 patents issued and more than 20 patents pending. Patricia is the creator, author, narrator, and graphical influencer of the educational animated video series EMC Big Ideas (http://bit.ly/EMCBigIdeas), on emerging technologies and trends.
The series accelerates and expands technical thought leadership in EMC using innovative learning methodologies in a fun and easy way. There are over 20 videos in the series, with some videos localised in 10 languages, and with a combined total count of over 700,000 views. Patricia is an active keynote speaker on topics related to Big Data, technology trends and innovation. Patricia delivered a talk at TEDx Springfield in 2013.
Patricia is the chairman of the executive advisory board for the Data Science Graduate Program at Worcester Polytechnic Institute where she advises in the school's new program.
Patricia is a board member of the Brazilian/American Chamber of Commerce where she assists in fostering relations with Brazil. Patricia is also an active member of the Americas Society/Council of the Americas organisation and a member of the Boston Club for advancing women's leaders.
This event is aimed at those who are developing products in the IOT health space, those who are interested in processing large data sets in a more efficient and secure manner and those who would like to get access to difficult to access data sets to build products / look for trends.
ECME is a cross border research project with partners in Northern Ireland, Republic of Ireland and Scotland.
It's goal is to create enhanced models for heart disease care by carrying out fundamental research and commercially focused platform technologies. ECME was awarded €8.2M funding from the European Union's INTERREG VA Programme, managed by the Special EU Programmes Body (SEUPB).
Jordanstown Sports Village Location
Jordanstown Sports Village is the home of sport at Ulster University, located just seven miles north of Belfast.
Campus Address
Ulster University,
Shore Rd,
Newtownabbey
BT37 0QB
Campus maps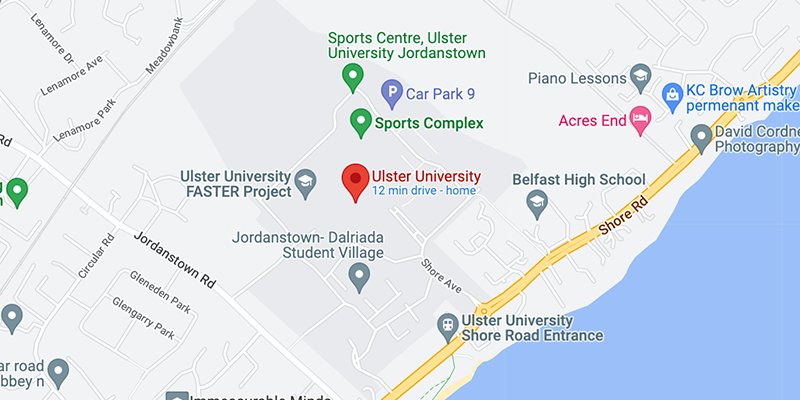 Jordanstown Google Map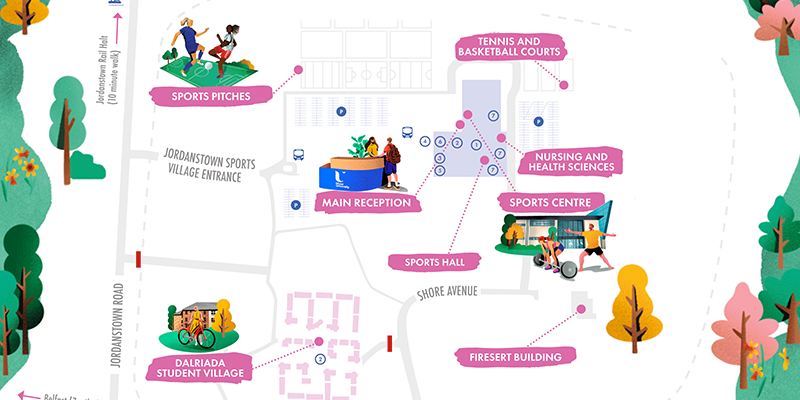 View Jordanstown Map