Page content
English Staff & The School of Arts and Humanities are pleased to host Poems in the Atrium...
This is the second and final 'Poems in the Atrium' featuring Tory Campbell, Moyra Donaldson, Catherine Graham
Bios
Tory Campbell lives in Belfast. She writes poems about relationships and has been published in a range of local anthologies, The Stinging Fly and The Irish Independent. Tory was shortlisted for the 2012 Hennessy Literary Award for Emerging Poetry and was highly commended in the 2014 Patrick Kavanagh Poetry Award. She was the winner of the Belfast heat of All Ireland Poetry Slam, and second place for the All Ulster Slam in 2016.
Moyra Donaldson is an award-winning and critically acclaimed poet from Co Down. She has published seven collections of poetry, Kissing Ghosts from Lapwing Publications, Snakeskin Stilettos, Beneath the Ice, The Horse's Nest and Miracle Fruit, from Lagan Press, Belfast and an American edition of Snakeskin Stilettos, from CavanKerry Press, New Jersey which was shortlisted for a Foreword Book of the Year Award.Her awards include the Women's National Poetry Competition, The Allingham Award, Cuirt New Writing Award, North West Words Poetry Award and the Belfast Year of the Writer Award. Her Selected Poems was published in 2012 by Liberties Press, Dublin, and The Goose Tree, was published in 2014, also from Liberties Press. Also widely published in magazines, journals and anthologies in both Europe, Australia and the USA. Her poems have featured on BBC Radio and television and on American national radio and television and she has read at festivals in Europe, Canada and America. Other projects include a collaboration with photographic artist Victoria J Dean resulting in an exhibition and the publication Abridged 0 -36 Dis-Ease and Blood Horses, a collaboration with artist Paddy Lennon with a limited edition publication of artworks and poems published in September 2018. Blood Horses tells the stories of The Byerley Turk, Darley Arabian and Godolphin Barb, the three founding stallions of the thoroughbred horse. It also explores the profound link between humans and horses. A new poetry collection, Holding to Air, is forthcoming from Doire Press in Spring 2019.
Catherine Graham is a Toronto-based writer of poetry and fiction. Among her six poetry collections, The Celery Forest was nameda CBC Books Top 10 Canadian Poetry Collection of 2017 and Her Red Hair Rises with the Wings of Insects was a finalist for the Raymond Souster Award and CAA Award for Poetry. Herdebut novel Quarry won an Independent Publisher Book Awards gold medal for fiction. She received an Excellence in Teaching Award at the University of Toronto and was also the winner of the International Festival of Authors' Poetry NOW. Her work is anthologized in The Field Day Anthology of Irish Writing, Vol IV & V, and The White Page/An Bhileog Bhan: Twentieth Century Irish Women Poets and has appeared in The Ulster Tatler, Academy of American Poets, Poetry Daily, The Fiddlehead, Poetry Ireland Review, Southword Journal, Malahat Review and on CBC Radio One's The Next Chapter. She has read her work at the Seamus Heaney HomePlace, Edinburgh Festival Fringe, University of East London, Belfast's Linen Hall Library, International Anthony Burgess Foundation in Manchester, the Bowery Poetry Club in New York City, Thessaloniki International Book Fair, Bangor's Open House Festival and the 4th International Congress of Language and Literature in Linares, Mexico. www.catherinegraham.com. Follow her on Twitter and Instagram @catgrahampoet.
Admission is free and refreshments will be provided!
Coleraine Campus Location
The feeling of community at our campus makes for a warm and welcoming student experience.
Campus Address
Ulster University,
Cromore Rd,
Coleraine
BT52 1SA
Campus maps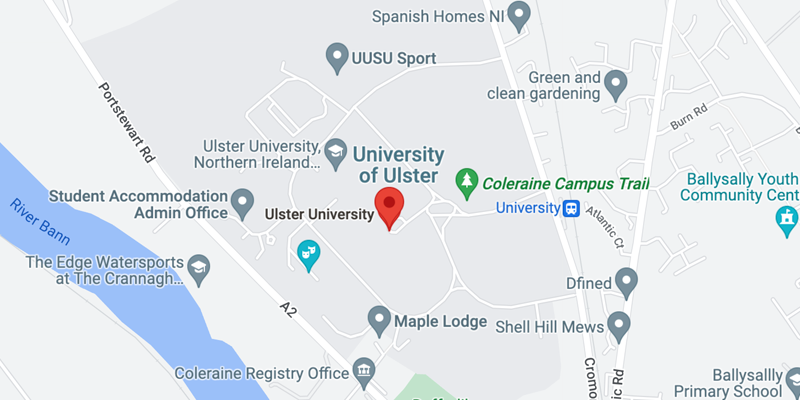 Coleraine Google Map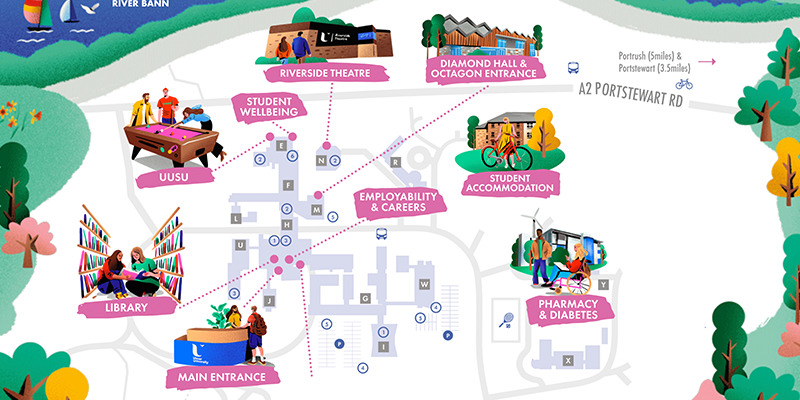 View Coleraine Map
Event info
This event has ended
Wednesday 30 May
2pm
Riverside Cafe
Kathleen McCracken