Page content
English Staff & The School of Arts and Humanities are pleased to host Poems in the Atrium...
This is the first version of 'Poems in the Atrium', featuring Stephanie Conn Rosemary and Jenkinson. The second will take place on the 30 May, find out more here.
Bios
Stephanie Conn, from County Antrim, is a graduate of the Creative Writing M.A. Programme at the Seamus Heaney Centre at Queen's University Belfast. She is the winner of the 2015 Funeral Services NI Poetry Prize, the 2015 Yeovil Poetry Prize, the inaugural Seamus Heaney Award for New Writing and the 2016 Poetry Business Pamphlet Competition, which culminated in the publication of Copeland's Daughter. Stephanie has also been shortlisted for many awards, including the 2012 Patrick Kavanagh Award and is the recipient of an ACES award. Her debut collection, The Woman from the Other Side, which we published in 2016, was shortlisted for the 2016 Shine/Strong Award.
Rosemary Jenkinson was born in Belfast and is an award-winning playwright and short story writer. Her plays include The Bonefire winner of Stewart Parker BBC Radio Award 2006), The Winners, Johnny Meister + the Stitch, Basra Boy, White Star of the North, Planet Belfast and Meeting Miss Ireland. She won the 2001 Black Hill Magazine Short Story Competition, third prize in the Brian Moore Short Story Awards and was shortlisted for the 2002 Hennessy Award for New Writing. Her first collection of short stories, Contemporary Problems Nos. 53 & 54, was published in 2004 by Lapwing Press. Her second short story collection, Aphrodite's Kiss & Further Stories, was published by Whittrick Press in 2016. She's won many General Artist's Awards from the ACNI and this year she has been awarded Artist-in-Residence at the Lyric Theatre in Belfast.
Admission is free and refreshments will be provided!
Coleraine Campus Location
The feeling of community at our campus makes for a warm and welcoming student experience.
Campus Address
Ulster University,
Cromore Rd,
Coleraine
BT52 1SA
Campus maps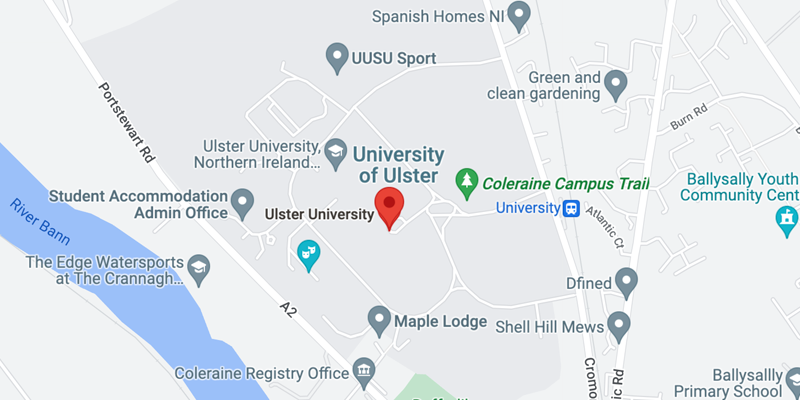 Coleraine Google Map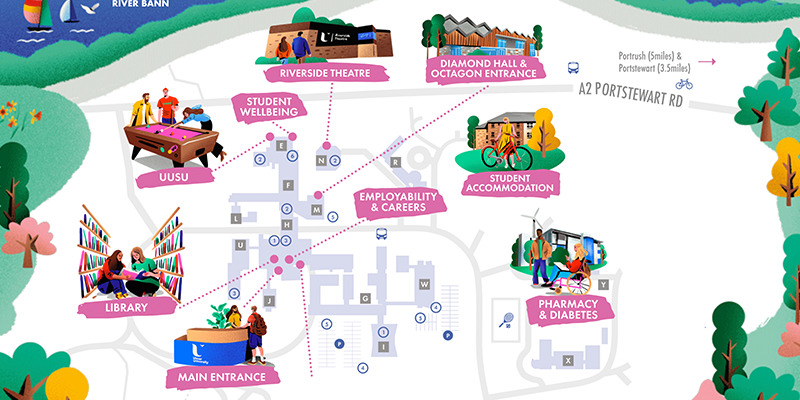 View Coleraine Map
Event info
This event has ended
Tuesday 8 May
2pm
Riverside Cafe
Kathleen McCracken