Music and Politics from Soviet Russia to Free Derry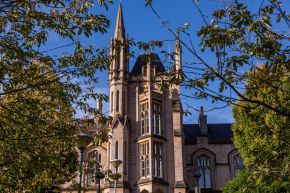 This event has ended
Date

Time

16:15 to 17:30

Location

Magee campus


MU207

Organiser

Brian Bridges

Contact details
This event combines two thematically-related seminars on the subject of music and politics. The seminars are being hosted as free public lectures and are open to anyone with an interest in these topics.
The first part will cover Soviet music during its early avant-garde phase. The second will discuss the role of music during the Free Derry period (1969-72). Each talk will last c.25 minutes, with some additional time for questions and discussion.
Speaker Bios
Dr Mark Fitzgerald: 'Directing their consciousness towards the final goals of the proletariat: Soviet Music in the 1920s'
Conservatory of Music, Dublin Institute of Technology
Mark Fitzgerald is a senior lecturer at DIT Conservatory of Music and Drama. He has published books and articles on Frederick May, James Wilson, Ferruccio Busoni and Gerald Barry and is co-editor of a volume on Music and Identity in Ireland with John O'Flynn.
Stephen McCann: 'The workers of the Shankill Road, they live in hovels too: Music, Radio, and the Left in Free Derry'
Conservatory of Music, Dublin Institute of Technology
Stephen McCann is a post-graduate research student at the DIT Conservatory of Music and Drama. His current work focuses on the influence of music and song within Republican communities in Derry during the early Troubles. A native of Derry, Stephen is also involved with a number of local community groups in the areas of oral history, education, and political engagement
Address
Ulster University
Northland Road
Derry~Londonderry
County Londonderry
BT48 7JL
Campus maps
---
Related links