Page content
Inclusive Creativity: Digital Practices (Hearts of STEM 2017) is a public symposium/mini-conference which is being organised by Dr Brendan McCloskey, Prof. Frank Lyons and Dr Brian Bridges, at Ulster University, Magee campus on May 31st 2017.
The event is being held in association with the Walled City Music Festival with support from Garfield Weston.
Further details can be found on the event Facebook page, the presenters page, and at the links below.
Confirmed Presenters and Artists
John Kelly: a disabled musician, writer, actor and active campaigner for disability rights, currently working with Drake Music on Research & Development.
Prof. Tony Brooks (Department of Architecture, Design and Media Technology, Aalborg University, Denmark)
Prof. Eva Brooks (Director, XLab: Design, Learning, Innovation, Department of Learning and Philosophy, Aalborg University, Denmark)
Shane Byrne is a composer and instrument designer currently pursuing a PhD in electroacoustic music performance at Maynooth University, Ireland.
Koichi Samuels is a musician and electronic music producer, with research and practice expertise in inclusive music, human-computer interaction design, ethnomusicology, and hacker/maker culture; he completed his PhD at QUB in 2015.
Denise White is an expert in SEN teaching, and is nearing completion of a PhD at Ulster University, on the relationship between music performance and learning disabilities.
Charles Matthews is an electronic musician, gamelan player, and workshop facilitator based in London, working with Drake Music and John Kelly on the creation of a bespoke accessible guitar.
Schedule Outline
Venue: MQ building (Foyle Arts Building), Magee campus (Lawrence Hill entrance)

9.30 am Arrival: tea and coffee, registration

9.45 am Welcome and Introduction, Prof. Frank Lyons (Associate Dean of Research and Impact, Faculty of Arts, Humanities and Social Sciences, Ulster University)

10.00 am Keynote 1: Gawain Hewitt: Associate National Manager and Research and Development at Drake Music and
John Kelly: a disabled musician, writer, actor and active campaigner for disability rights, currently working with Drake Music on Research & Development.

11.00 am Talks session 1

Talk 1: Denise White (Ulster University)
Talk 2: Luke Woodbury (creative technologist with interests in accessibility)
Talk 3: Koichi Samuels (musician and electronic music producer with interests in HCI and hacker/maker culture, PhD graduate of QUB)
12.15 pm Soundwalk (departs from outside Foyle Arts Building) with London–based sound artist Lisa Hall

1.15 pm Lunch (Foyle Arts Building)

2.00 pm Talks session 2

Eamon Durey (Director, FabLab NI)
Charles Matthews (electronic musician and instrument designer, Drake Music)
Shane Byrne (composer and instrument designer, Maynooth University)
Prof. Eva Brooks (Director of XLab, Aalborg University)

3.45 Keynote 2: Prof. Tony Brooks, Aalborg University

4.45 pm Panel discussion (all presenters) and close

5.30 pm Soundwalk (departs from outside Foyle Arts Building) with London–based sound artist Lisa Hall
Magee Campus Location
Campus Address
Ulster University,
Northland Rd,
Londonderry
BT48 7JL
Campus maps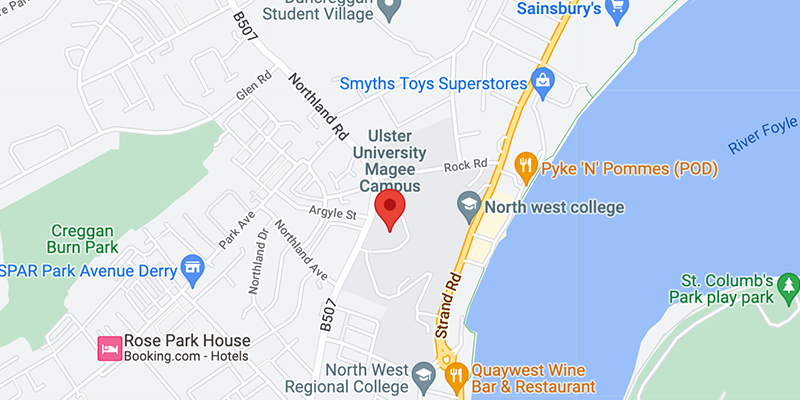 View Google Maps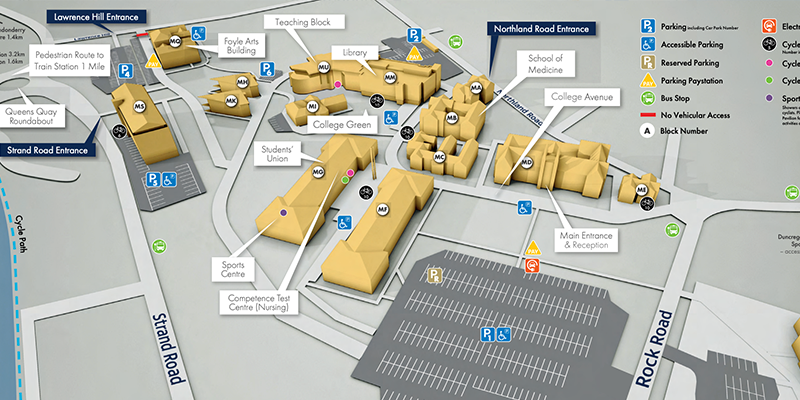 View Map Diagram