Performances: Independent Project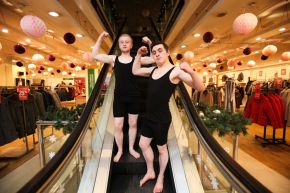 This event has ended
Date

Time

20:30 to 20:30

Location

Magee campus


Foyle Arts Building
The Independent Project module is taught by all staff. Third year students identify a research question and then work individually or in small groups with a supervisor who advises them on readings and working processes whilst monitoring the development of the work.
This year, two students have written and performed one-person shows that explore their interest in storytelling performance.
Written and performed by Robert Emmett
Written and performed by Rebecca Morgan
Staff involved in these productions are:
Dr Lisa Fitzpatrick studied at Trinity College Dublin, University College Dublin, and the University of Toronto. She teaches in areas of critical theory and contemporary theatre. Her research interests are in violence and performance, Irish theatre, Canadian drama, and gender and performance. As well as a wide range of published essays and articles, she edited Performing Violence in Contemporary Ireland (2010) and Performing Feminisms in Contemporary Ireland (2013). Lisa is Head of the Faculty of Arts Research Graduate School.
Lauren Graffin is a tutor and doctoral researcher. She completed her degree in Drama with Irish History where she was awarded both the No Alibis and Evelyn Burgess prizes. She went on to receive her MA with Distinction in Applied Drama from the University of Exeter (2011). Her doctoral project focuses on the overlap between situated performance and community performance, looking at the role of space, place and community in a performative context.
Originally from Sydney, Dr Matthew Jennings has worked professionally as an actor, musician, writer, director and facilitator in the UK, Australia, Ireland, Italy, Morocco and France since 1985. Matt has been based in Northern Ireland since 2001 where he has contributed to numerous music, film, television and theatre projects, as well as producing, directing, teaching and facilitating in the field of community and applied drama. In 2010 Matt completed a PhD on the impact of community drama in Northern Ireland. He has published a number of articles on this and related subjects. He is in the process of developing further collaborative research projects in the field of arts participation and health.
His research interests include:
Applied Drama;
Performance and Health;
Conflict Transformation;
Cultural Policy;
Political Theatre;
Intercultural Performance;
Performance Ethnography;
Performance and Philosophy;
and Performance as Research.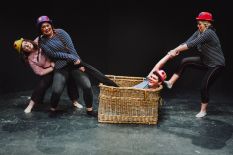 Ulster University's Creative Arts Showcase in Derry~Londonderry showcases the creative talents of our students in Music, Drama and Design.
Address
Ulster University
Northland Road
Derry~Londonderry
County Londonderry
BT48 7JL
Campus maps
---
Related links