Performances: Directing Showcase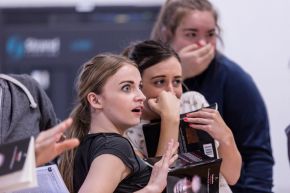 This event has ended
Date

Time

19:40 to 20:30

Location

Magee campus


Foyle Arts Building
These performances come from our second year Directing module, which introduces students to the craft of the Director. The actors are first year students. In these modules, second year Directors learn to audition, cast and direct work for public performance, working with first year actors and stage managers. The Directing module is taught by Dr Giuliano Campo. Giuliano is a performer, Director and scholar whose research and teaching interests include attention and precision in actor training, world traditional disciplines of the self, and theatre anthropology. He is co-founder of the Roman research group Ypnos Teatro and former Director of the theatre laboratory "Towards an Active Culture" in Rome. His monograph Zygmunt Molik's Voice and Body Work – The Legacy of Jerzy Grotowski was published in 2010. His works are published in several countries in English and in translation. Giuliano is the Course Director and the Subject Director for Drama.
The first year Acting modules are taught by industry professionals, Rachael Devir and Kieran Lagan. Rachael Devir is an Irish-based professional performer and Director and has worked with more than 25 companies over the last fifteen years. Recently her work has involved creating and directing large-scale spectacle pieces for festivals and events across Ireland. Last year she devised a show for early-years that is currently touring. Rachael has been teaching with us since 2006.
Kieran Lagan trained as a professional actor and has an MA in Actor Training and Coaching from the Central School of Speech and Drama. He currently offers training and coaching to professional actors and students at The Lyric Theatre Drama Studio, Queen`s University Belfast and SW Regional College. His teaching includes work from the acting practitioners Stanislavski, Lecoq, Meisner and is proficient in the Michael Chekhov technique.
He is currently researching `Imagination and the Actor'.
One Flew Over the Cuckoo's Nest by Dale Wasserman, adapted from the novel of the same name by Ken Kesey.
Directed by Roma Harvey
Performed by Roma Harvey, Courtney Harbison, Stephanie Doran, Emma Crooks, Marie- Claire McSwiggan.
Silence of the Lambs adapted from the novel of the same name by Thomas Harris
Directed by Shelby Devine
Performed by Lauren McGonagle and John Magill.
Dracula by Liz Lochhead
Directed by Aoibh Johnson
Performed by Antoinette McAllister, William Allen, Keira Doherty.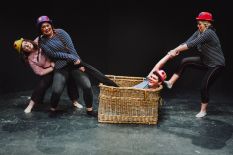 Ulster University's Creative Arts Showcase in Derry~Londonderry showcases the creative talents of our students in Music, Drama and Design.
Address
Ulster University
Northland Road
Derry~Londonderry
County Londonderry
BT48 7JL
Campus maps
---
Related links