Page content
Programme:
| | |
| --- | --- |
| 10.00am | Welcome |
| 10.05am | Opening Remarks, Susan Hodgett, Ulster University, and Rod Rhodes, Southampton University. |
| 10.15am | Kristian Lasslett, Ulster University, "Anti-colonial struggle through the eye of the lens." |
| 11.15am | Coffee |
| 11.30am | Elspeth Van Veeren, Bristol University, "Make Art, Not War: On art and art practice for studying (secret) power in (global) politics." |
| 12.30pm | Lunch |
| 1.30pm | Randy Duncan, Henderson State University, "Ideology in Comics Narratives: Reducing and Downplaying / Adding and Intensifying." |
| 2.30pm | Clive Gray, University of Warwick, "Managing Museums and Galleries and the Display of Art." |
| 3.30pm | Tea/Coffee |
| 3.45pm | Donovan Wylie, Ulster University and Glenn Patterson, Queen's University, "Photographing Ireland's Border, and Brexit." |
| 4.45pm | Caroline Levine, Cornell University, "Mixing Forms Across Disciplines." |
| 5.45pm | Close. |
Speakers' Bios:
Kristian Lasslett
Professor Kristian Lasslett is Head of the School of Applied Social and Policy Sciences at Ulster University. His research employs a range of interdisciplinary investigative methods to interrogate the systems, actors and transactions which prosecute grand corruption, large-scale land theft, and human rights abuses in the extractives sector. Kristian's findings have been published in a range of leading international journals, and in two books, State Crime on the Margins of Empire and The Crimes of Urbanisation. He has collaborated with filmmakers and conflict survivors, to establish a multimedia chronicle of the Bougainville crisis, a war in which colonialism, ecocide, state crime and cultural survival intersected – these dynamics are theorised, told and analysed by communities themselves. He was awarded the Ulster University Research Impact Excellence Award, and was a finalist in the Times Higher Education Awards.
Elspeth Van Veeren
Elspeth Van Veeren is a Lecturer in Political Science at the University of Bristol and a resident at the Pervasive Media Studio. Specialising in the security cultures, politics and foreign policy of the United States associated with the Global War on Terror, she has published work on torture, security common-sense and popular culture, and on the visual and material power associated with detention and interrogation practices at Joint Task Force Guantanamo. Her latest project is a study of power, secrecy and security.
Randy Duncan
Randy Duncan is Professor of Communication and Director of the Comics Studies Minor at Henderson State University. He has co-authored or co-edited six books about comics, including the widely used textbook The Power of Comics: History, form and Culture. Duncan co-founded the Comics Arts Conference, which recently celebrated its 25th anniversary. Duncan and Matthew J. Smith are editors of the Routledge Advances in Comics Studies series.
Clive Gray
Clive Gray is Associate Professor in Cultural Policy at the University of Warwick and the Course Director of the MA in International Cultural Policy. He has published widely on the politics of cultural policy, the analysis of cultural policy, and the politics of museum policy. His latest book is The Politics of Museums (Palgrave Macmillan, 2015).
Donovan Wylie
Wylie's work interrogates the conceptual architecture of power, containment and war, winning acclaim with Maze (Granta, 2004). From 2005-14, his Tower Series examined architectures that wove the presence of conflict into daily life spanning three locations Northern Ireland, Afghanistan, and the Canadian Arctic. He has published 12 monographs and his work is featured in numerous public collections including the Metropolitan Museum of Art, New York; the Victoria and Albert Museum, London; the Centre George Pompidou, Paris; the Whitworth Art Gallery, Manchester; the National Gallery of Canada; and the Irish Museum of Modern Art, Dublin.
Glenn Patterson
Glenn Patterson is the author of ten novels: Burning Your Own (1988), Fat Lad (1992), Black Night at Big Thunder Mountain (1995), The International (1999), Number 5 (2003), That Which Was (2004), The Third Party (2007), The Mill for Grinding Old People Young (2012), The Rest Just Follows (2014) and Gull. His non-fiction works are Lapsed Protestant (2006), Once Upon a Hill: Love in Troubled Times (2008) and Here's Me Here (2015). He is the co-writer (with Colin Carberry) of Good Vibrations (BBC Films) and wrote the libretto for Long Story Short: the Belfast Opera. He is director of the Seamus Heaney Centre at Queen's University Belfast.
Caroline Levine
Caroline Levine is David and Kathleen Ryan Professor of the Humanities at Cornell University. She earned a PhD in Victorian literature at Birkbeck College, University of London, and has since written three books: The Serious Pleasures of Suspense (2003); Provoking Democracy: Why We Need the Arts (2007); and Forms: Whole, Rhythm, Hierarchy, Network. She is the nineteenth-century editor of the Norton Anthology of World Literature and producer of the podcast series, "What Makes Us Human?"
Jordanstown Sports Village Location
Jordanstown Sports Village is the home of sport at Ulster University, located just seven miles north of Belfast.
Campus Address
Ulster University,
Shore Rd,
Newtownabbey
BT37 0QB
Campus maps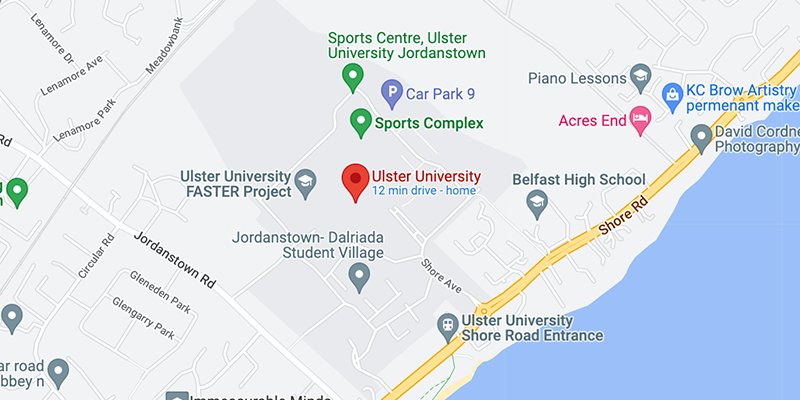 Jordanstown Google Map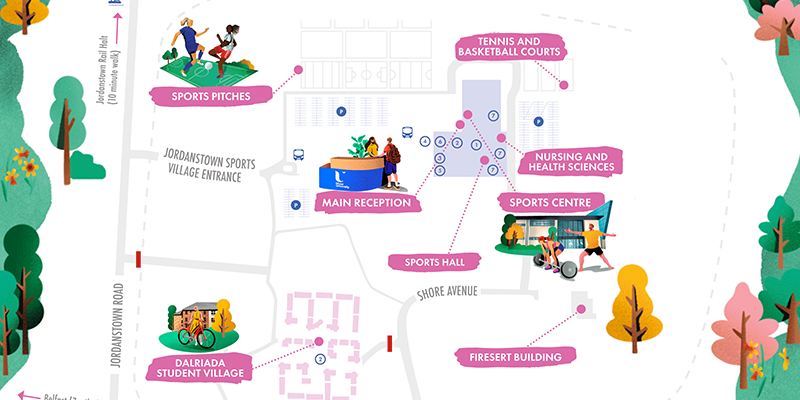 View Jordanstown Map
Event info
This event has ended
Friday 17 November
Boardroom 08K14B
Dr. Susan Hodgett