PG Café - Teaching of English to Speakers of Other Languages (MA TESOL)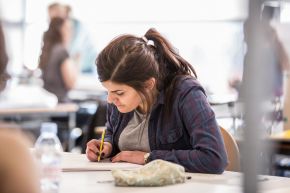 This event has ended
Join us at our PG Café to find out more about Teaching of English to Speakers of Other Languages (MA TESOL)
Offered on both a full-time and part-time basis, the MA TESOL at Ulster is an exciting programme for individuals who wish to develop their teaching ability and knowledge about language.
You will study both the theory and practice of teaching, from classroom management to syllabus design, and gain the expertise and confidence to teach English in a variety of settings to students from across the globe.
---
Course Information
Teaching of English to Speakers of Other Languages - MA
2018/19 Postgraduate Full-time
Master of Arts
Whether you are a qualified teacher or have no previous teaching experience, the MA Teaching English to Speakers of Other Languages (TESOL) at Ulster is designed to enhance your teaching and communication skills and explore how people from different cultures learn languages.
Ulster's TESOL programme is the only master's level TESOL course in the UK which offers an overseas teaching placement.
You...Read more
Find out more about this course
---
Register for this Event