PG Café - Professional Software Development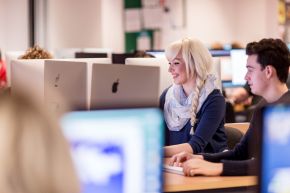 This event has ended
Join us at our PGCafé to find out more about Professional Software Development.
The intensive one-year master's conversion course is aimed at highly-motivated graduates with a good honours degree in any discipline with no more than 50% computing content. While the course has a particular focus on the employment needs of the local economy, the skills and abilities developed are easily transferred to a more global stage.
The overall aim of this course is to provide graduates equipped to apply best practice in software engineering to the development of a wide range of software systems in a variety of organisations. Skilled software developers are needed to support Northern Ireland's burgeoning software industry.
Register for this Event
---
Magee campus location info
Address
Ulster University
Northland Road
Derry~Londonderry
County Londonderry
BT48 7JL
Campus maps