PG Café - Professional Software Development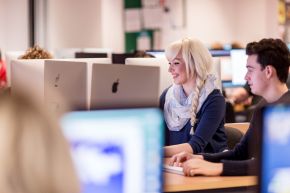 This event has ended
Join us at our PGCafé to find out more about Professional Software Development.
The intensive one-year master's conversion course is aimed at highly-motivated graduates with a good honours degree in any discipline with no more than 50% computing content. While the course has a particular focus on the employment needs of the local economy, the skills and abilities developed are easily transferred to a more global stage.
The overall aim of this course is to provide graduates equipped to apply best practice in software engineering to the development of a wide range of software systems in a variety of organisations. Skilled software developers are needed to support Northern Ireland's burgeoning software industry.
---
Course Information
Professional Software Development - MSc
2018/19 Postgraduate Full-time
Master of Science
The growth of the ICT industry has been identified as a top priority for the Northern Ireland Executive. According to Invest NI, Northern Ireland is the leading foreign direct investment region in Europe for software development and IT technical support centres. There are more than 900 companies in the ICT sector and many of these are international organisations.
The majority of...Read more
Find out more about this course
---
Register for this Event