PG Café - Journalism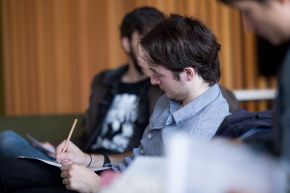 This event has ended
Join us at our PG Café to find out more about Journalism.
This programme provides comprehensive training in the skills needed to enter the journalism profession internationally and is accredited by the National Council for the Training of Journalists for print, online and broadcast journalism. It is also part of the Northern Ireland Media Academy.
---
Course Information
Journalism - MA
2018/19 Postgraduate Full-time
Master of Arts
NCTJ accredited Journalism course with a strong record of graduate employment in the news industry.
...
Read more
Find out more about this course
---
Register for this Event