PG Café - Internet of Things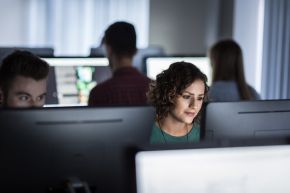 This event has ended
Join us at our PGCafé to find out more about Internet of Things.
The Internet of Things (IoT) has become one of the most discussed technology trends of recent years mainly due to the expected impact that it will have and, as a result, how it will change the way people live, work and travel. As a discipline, it covers elements of Computing Science, Engineering, and Data Science.
The MSc in Internet of Things aims to train computing and engineering professionals to follow a career where they can apply leading-edge computing, engineering, sensor technology, networks and data science skills across a range of application domains. The course content has been informed by internationally leading research being conducted by the School of Computing and the School of Engineering. The delivery of the course is supported by a large-scale pervasive and mobile computing environment, a suite of contemporary sensing technologies and rapid prototyping facilities.
Register for this Event
---
Belfast campus location info
Address
Ulster University
York Street
Belfast
County Antrim
BT15 1ED
Campus maps
---
Related links