LEAD2GROW 2019 - Create. Disrupt. Grow.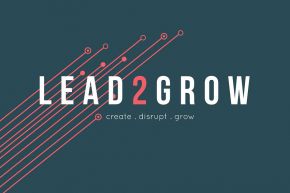 This event has ended
Date

Time

08:30 to 13:00

Location

Coleraine campus


Riverside Theatre

Organiser

Causeway Enterprise Agency and Ulster University
Register
L2G 2019 is shaking up business as usual in the North Coast.
This year's conference organised by Causeway Enterprise Agency and Ulster University will address the big question of 2019: how do businesses of all shapes and sizes survive and thrive in such turbulent times?The answer is creativity. Conference Overview
Do you want your business to survive and thrive in these turbulent times? #L2G2019 will help you develop the skills of creative leadership on both personal and professional levels by learning from local and international leaders. Our inspirational speakers will share their stories of leading creative change in challenging times, inspire and equip you with the necessary skills and knowledge to grow your business.
The 2019 #L2G conference is brought to you by demand and success following previous Lead2Grow events in the North Coast. Bringing both an international and local perspective to the North Coast of NI, the event will be co-hosted by Causeway Enterprise Agency and Ulster University, facilitated by Mark Carruthers (BBC), featuring Keynote speakers Mark Pollock and Remco Hempenious, along with a diverse panel of high profile thought leaders in the creative industry.
Are you ready to level up and scale your impact?
This event is supported by:

Register
Address
Ulster University
Cromore Road
Coleraine
County Londonderry
BT52 1SA
Campus maps
---
Related links