The Office for National Statistics (ONS) published its latest data about Northern Ireland sectoral and regional productivity on 6 April. Four key points can be identified:
Throughout the two decades 1997-2016 the total productivity of the Northern Ireland economy, measured by gross value added (GVA) produced per hour worked, remained about 15-20% below the UK average.
Whilst there was some volatility in the comparative productivity of the critical manufacturing sector, in this case too there was a productivity shortfall throughout the two decades.
In most individual sectors Northern Ireland's productivity level was behind that of the UK counterpart.
By implication, Northern Ireland productivity levels in 2016 were substantially behind those in all of the G7 economies.
Northern Ireland's continuing relatively low productivity matters as a key constraint which limits gains in regional competitiveness and prosperity and household living standards".
Here are some of the key results in more detail:
Graph 1: NI comparative GVA per hour worked in the total economy, 1997-2016 (NI/UK, NI=100)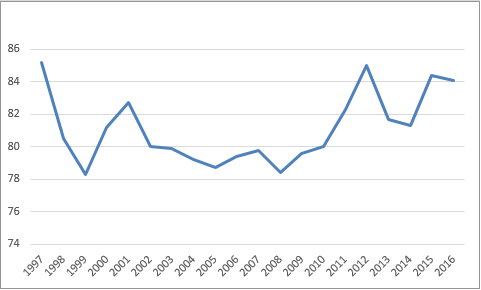 Source: ONS 6 April 2018, Industry by Region Estimates of Labour Productivity: April 2018.
For the economy in total, Northern Ireland's comparative productivity level in 2016 (84%) was very similar to that twenty years before in 1997 (85%). Whilst there was some volatility in the comparative performance, in each year throughout 1997-2016 there was substantial shortfall in comparative productivity.
Graph 2: NI comparative GVA per hour worked in manufacturing, 1997-2016 (NI/UK, NI=100)
Throughout most of the last two decades a productivity gap has persisted in the key manufacturing sector. Albeit with some volatility as to the size of that shortfall. Northern Ireland's output per hour worked varied between a high of 99% of the UK level in 2015 and a low of 83% in 2007. During most of the two decade period Northern Ireland's comparative productivity was between 5% and 15% lower than the UK level.
Graph 3: NI comparative GVA per hour worked by sector, 2016 (NI/UK, NI=100)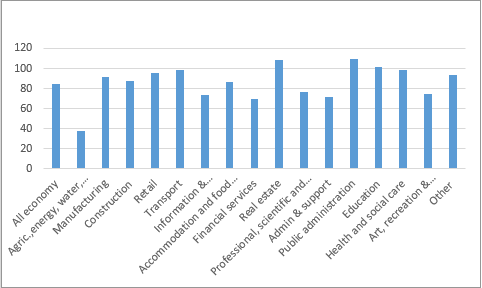 Almost all individual sectors within Northern Ireland had a lower productivity level than their UK counterpart- this was true in 13 out of the 16 sectors compared. Two exceptions in 2016 were education and public administration- part of the explanation for this was a relatively higher level of average earnings in those sectors compared to the UK counterpart [Note 1]. The three sectors where Northern Ireland had the lowest comparative productivity level were the combination of agriculture & energy & water & mining and quarrying (38%), financial services (69%) and administration and support (72%).
Graph 4: NI comparative GVA per hour whole economy international terms, 2016 (NI= 100)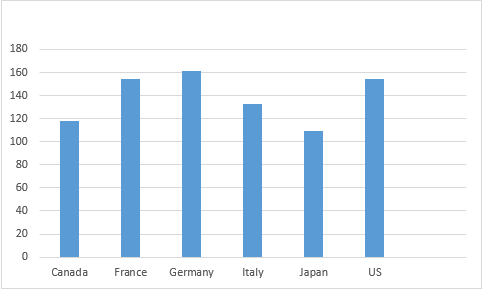 Productivity in each of the G7 economies exceeded Northern Ireland. In the US, France and Germany in an average hour worked 50-60% more output was produced than in Northern Ireland.
That would imply that the average US/French/German worker working Monday-Wednesday could produce as much as his/her Northern Ireland counterpart working Monday-Friday.
Note:
GVA is largely composed of profits and wages plus salaries. The Northern Ireland public sector may have disproportionately more very high earners. This may have biased upwards Northern Ireland's comparative productivity in the two sectors public administration and education.
Senior Economist (Economic Research)

Department of Acc, Finance & Economics

---