All campuses closed for teaching and social activities
Three Minute Thesis (3MT) Competition: Heat for Coleraine and Magee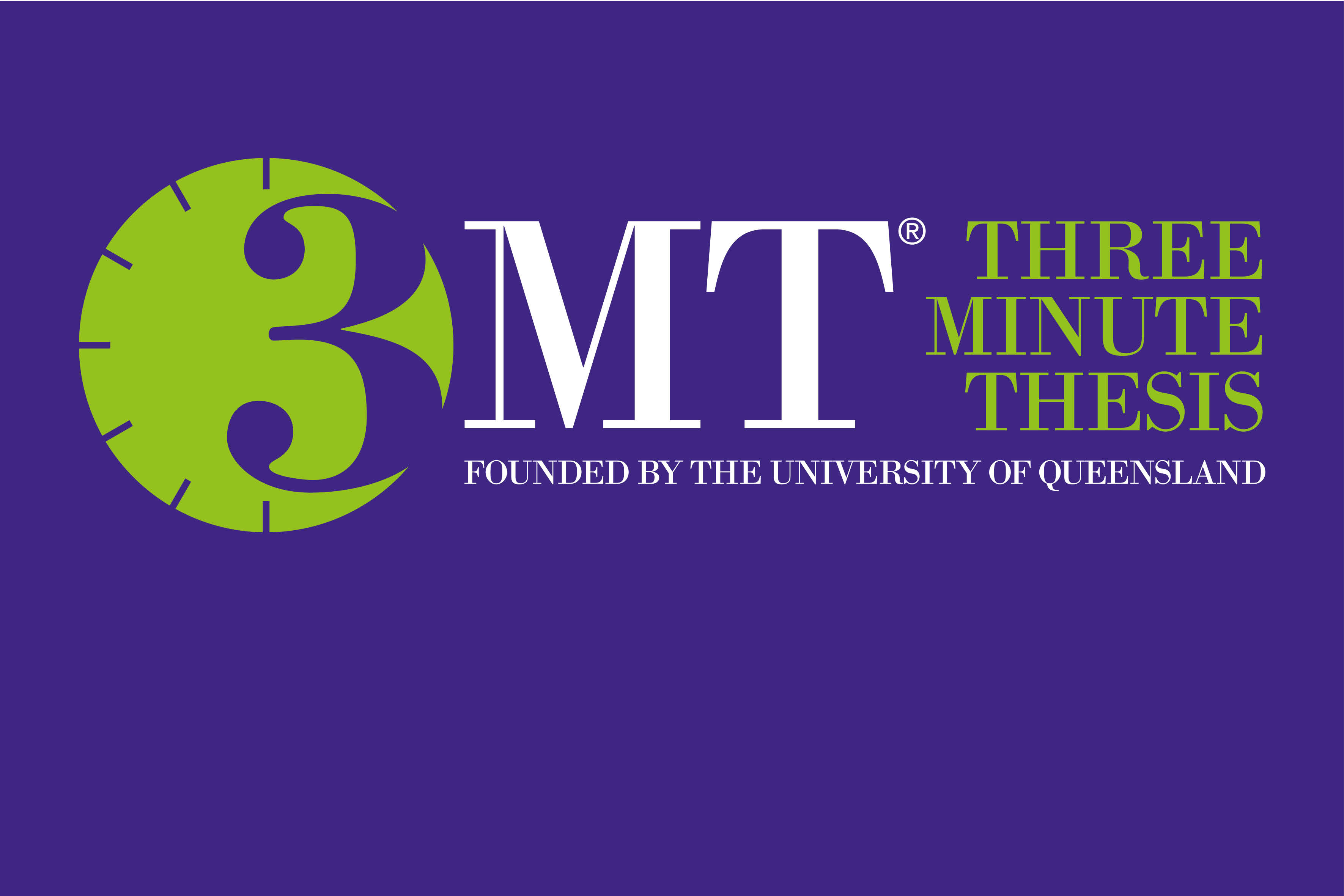 The Doctoral College is delighted that Ulster University will be running the Three Minute Thesis (3MT®) competition for the first time. 3MT® was first developed by the University of Queensland, and is now a global initiative with up to 96 UK universities taking part this year in the Vitae 2018 3MT® national competition.
3MT® is an academic competition that challenges PhD Researchers to describe their research and its significance, in non-specialist language to a general audience, in just three minutes. Participation in the competition helps PhD researchers to build their confidence and hone their presentation and communication skills. It is also a great way for others to find out about the exciting and varied research going on across the University at doctoral level.
The prize for the overall winner is £750 with prizes for the runner up and all finalists, as well as a People's Choice Award.
Participants will compete in campus-based competitions during April and early May for a place in the Ulster University 3MT Final on Wednesday 6 June 2018 hosted at the Magee campus. The overall winner of the Ulster competition will then go through to the semi-final of the 2018 Vitae 3MT national competition (online), with the chance to be selected for the UK Final!
The key competition dates are:
| Competition Details | Dates | Venue |
| --- | --- | --- |
| Initial Heat: Jordanstown and Belfast PhD Researchers | 25 April 2018, 10am-1pm | Loughview Suite, Jordanstown campus |
| Initial Heat: Coleraine and Magee PhD Researchers | 26 April 2018, 10am-1pm | E206/7, Coleraine campus |
| Campus Semi-Final: Coleraine and Magee PhD Researchers | 8 May 2018, 10am | Magee campus |
| Campus Semi-Final: Jordanstown and Belfast PhD Researchers | 9 May 2018, 10am | BA-00-008, Belfast campus |
| Ulster 3MT® Final - hosted on the Magee campus (filmed) | 6 June 2018, 5.30pm | Magee campus |
| Semi Final of National 3MT Competition (video to be submitted, held online) | July/August 2018 | Online |
| Final of Vitae 2018 National Competition | 17 September 2018 | Vitae Conference, Birmingham |
---
Prizes
Winner of Ulster 3MT: £750
Runner Up: £250
Finalists: £50 Amazon Voucher
The People's Choice Award: Trophy
Competition Rules
A single static PowerPoint slide is permitted. No slide transitions, animations or 'movement' of any description are allowed. The slide is to be presented from the beginning of the oration.
No additional electronic media (e.g. sound and video files) are permitted.
No additional props (e.g. costumes, musical instruments, laboratory equipment) are permitted.
Presentations are limited to 3 minutes maximum and competitors exceeding 3 minutes are disqualified.
Presentations are to be spoken word (e.g. no poems, raps or songs).
Presentations are to commence from the stage.
Presentations are considered to have commenced when a presenter starts their presentation through either movement or speech.

The decision of the adjudicating panel is final.

Judging criteria
Comprehension and content
Did the presentation provide an understanding of the background to the research question being addressed and its significance?
Did the presentation clearly describe the key results of the research including conclusions and outcomes?
Did the presentation follow a clear and logical sequence?
Was the thesis topic, key results and research significance and outcomes communicated in language appropriate to a non-specialist audience?
Did the speaker avoid scientific jargon, explain terminology and provide adequate background information to illustrate points?
Did the presenter spend adequate time on each element of their presentation - or did they elaborate for too long on one aspect or was the presentation rushed?
Engagement and communication
Did the oration make the audience want to know more?
Was the presenter careful not to trivialise or generalise their research?
Did the presenter convey enthusiasm for their research?
Did the presenter capture and maintain their audience's attention?
Did the speaker have sufficient stage presence, eye contact and vocal range; maintain a steady pace, and have a confident stance?
Did the PowerPoint slide enhance the presentation - was it clear, legible, and concise?
For further information and queries about the 3MT competition please contact: Lisa Thompson, Doctoral Development Manager, l.thompson@ulster.ac.uk / 02890 368963.
Register via email
Address
Ulster University
Cromore Road
Coleraine
County Londonderry
BT52 1SA
Campus maps