PhD Researcher-Led Initiative: Conducting Research Involving Vulnerable Participants - A Guide to Good Practice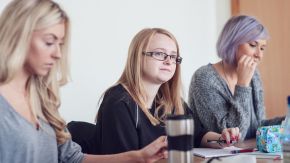 Date

to

Time

10:00 to 16:00

Location

Jordanstown campus


Loughview Suite

Organiser

Christina Taylor (PhD Researcher)

Contact details
Register via email
You are invited to join the Doctoral College and WAVE Trauma Centre for a two-part full-day PhD led workshop.
Relevant to PhD Researchers and staff across disciplines, the workshop includes a full- day training for research involving vulnerable participants.
A morning session focuses on preventing compassion fatigue when researching and working with participants who may have additional needs or who may have experienced trauma. The afternoon session will focus on the participant/interviewee perspective. This will include ideas for good practice, and first-hand insights from WAVE citizen educators.
RSVP: Christina Taylor
Email: taylor-c26@ulster.ac.uk
Lunch will be provided.
Kindly supported by the Doctoral College, Ulster University
Register via email
Ulster University Doctoral College - Social