Festival of PhD Research 2019 (Coleraine)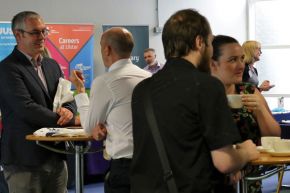 The Festival will showcase and celebrate PhD research excellence at Ulster under the University's key strategic research themes of: Creativity and Culture, Social Renewal, Sustainability and Healthy Communities.
Each day of the Festival will begin with a keynote address followed by PhD Researcher Presentation sessions, Poster presentation and a Closing Reception with a Presentation of Prizes recognising the Best Presentation and the Best Poster, at each of the campuses. This year's Festival will also host the very first Best PhD Thesis Award, awarded by Faculty.
The keynote speakers at each campus are:
Magee: Mr Gavin Killeen, Nuprint
Coleraine: Professor Cathy Craig, Ulster University and INCISIV
Jordanstown: Dr Jennifer Cassidy, Oxford University
Belfast: Dr Sandra Johnston, Northumbria University
All PhD Researchers, Supervisors and colleagues from the wider academic community are warmly invited to attend the Festival.
#UlsterPhDFest
Register
Ulster University Doctoral College - Social