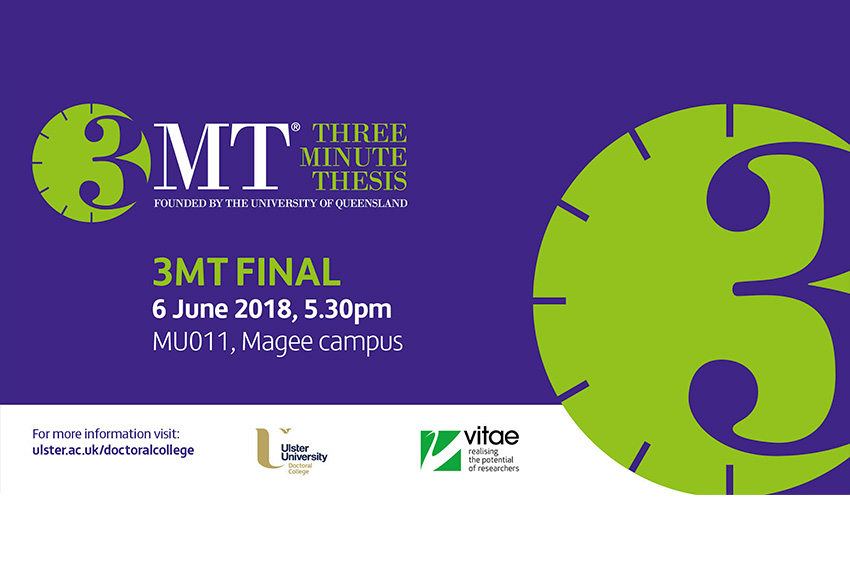 The Doctoral College, Ulster University, is delighted to be running the Three Minute Thesis (3MT®) competition for the second year. We invite you to join us for the Three Minute Thesis (3MT®) Final on Thursday 30 May, 5.30pm at Ulster University's Belfast campus (Conor Lecture Theatre).
The 3MT® is a research communication competition, which challenges our PhD Researchers to present their thesis in just 3 minutes, using non-specialist language. We will have 8 finalists presenting work across a wide range of disciplines. The Winner of the 3MT® Final will go through to represent Ulster in the UK Semi-Final of the national competition hosted by Vitae (www.vitae.ac.uk).
This is a great opportunity to hear about the excellent PhD research underway at Ulster and be part of Ulster's 3MT® Final. Our Finalists are:
Oluwashina Akinsanmi: Antibiotic Resistance Crisis: The Sawdust Redemption
Juanita Boyle: This Is Me: Identity Verification Through Digital Footprints
Nikki Daniels: Research and Practice in Healthcare: Bridging the Gap
Colleen Dempster: Can Biosurfactants be Used in Combination with Antibiotics to Treat Skin Infections?
Jeffrey Hanna: Supporting Families at End of Life
Fathimath Naseer: No More Wishful Shrinking
Mariya Sotirova: Self-Management Online Shoulder Exercising After Breast Cancer Surgery
Angelina Thomas Villikudathil: Live Life to the Fullest: Diabetes Smart Intelligence
The Final will be hosted by Sarah Travers and the judging panel includes Professor Paddy Nixon (Vice Chancellor), Professor Cathy Gormley-Heenan (Pro Vice Chancellor, Research and Impact), Professor Marie Murphy (Dean of Postgraduate Research and Director of Doctoral College), Tim Brundle (Director of Research and Impact) and Will Leitch (BBC).
The Winner receives a prize of £750, the Runner Up prize is £250 and the People's Choice Award will be decided by the audience on the night.
The competition will be followed by a reception providing an opportunity to network with University colleagues and guests.
We look forward to welcoming you to this event.
Staff/Guests/Postgraduate Students, please RSVP at: https://getinvited.to/ulsterdoctoralcollege/3mtr-final/
PhD Researchers, please RSVP at: https://phdmanager.ulster.ac.uk/82008/3mt-final
Register via email
Address
Ulster University
York Street
Belfast
County Antrim
BT15 1ED
Campus maps