---
Summary
Northern Ireland continues to have the poorest level of oral health in the United Kingdom, with its children having the highest levels of tooth decay in Europe (Clarke & Stevens, 2019). There are several factors that contribute to this, namely poor toothbrushing practices, not attending routine dental check-ups, and frequent sugary snack consumption (Moynihan et al., 2019). Oral health education programs aimed at preventive actions are urgently needed (de Castilhoa et al., 2013). Research and policy recommend that oral health promotion should take place in schools as part of the school curriculum (WHO, 2020; DHPSS, 2007; Petersen, 2003). In addition to the school environment, research also indicates that the parent/caregiver (usually the mother) has a critical role in the adoption of protective health care behaviours with parental feeding practices having a strong influence on children's eating behaviours (Moynihan et al., 2019; de Castilhoa et al., 2013).
Building on the short-comings of theoretical frameworks such as the Theory of Planned Behaviour (Ajzen, 1991) and Social Cognitive Theory (Bandura, 1986), the COM-B model (Michie et al., 2014) recognises that behaviour is part of an interacting system. According to the COM-B model there are three factors that need to be present for any behaviour to occur: capability (C), opportunity (O) and motivation (M). Together, these components firstly provide a rationale for why behaviour is not engaged in, and then secondly identifies which of these components needs to be addressed to bring about behaviour change. The COM-B model has been applied successfully in several contexts for the design and evaluation of behaviour change interventions (Hardeman et al., 2002), and whilst research supports its efficacy in the area of oral health (Al Rawahi et al., 2018) the research is limited.
Objectives of the research:
The aims of this study are to identify and explore components of the COM-B model that influence the oral health-related behaviours of primary school children aged 8-11 years, as well as identify what works in improving the oral health of this target group. In accordance with the COM-B framework when collecting information to understand the target behaviour, data should be collected from different sources as the most accurate picture will be informed by multiple perspectives (Michie et al., 2014).
This proposed project will build upon previous work undertaken by the team (see Davison et al., 2019; 2016) which identified factors influencing toothbrushing practices from the child's perspective. This current study will add to the existing evidence base by identifying the factors influencing oral health behavior from a parental perspective. The project will adopt a holistic approach to child oral health by exploring toothbrushing, dental visits and sugary snack consumption. It is hoped that the findings from both previous and this current proposed project will be used to inform the design of an oral health intervention using the COM-B model.
Specifically, the objectives of the study are: 1)To explore the effectiveness of theory-based interventions in improving children's oral health. 2)To determine the perceived capabilities, opportunities and motivations influencing children's oral health behaviour. 3)To compare barriers and facilitators to children's oral health behaviour. 4)To identify intervention functions and BCTs to inform the design of a school-based intervention for children aged 8-11 years.
Methods to be used:
This MRes study will adopt a mixed methods design and will be conducted over three phases. Phase one will be a Rapid Evidence Assessment (REA) to systematically review theory-based interventions to explore what is effective in improving children's oral health. Phase 2 will involve analyzing an existing data set based on the COM-B to explore parents' views on the factors influencing their child's oral health. Using the findings and recommendations of Phase 1 and Phase 2, Phase 3 will then map and identify intervention functions and BCTs to inform the design of a school-based oral health intervention for children aged 8-11 years.
Skills required of applicant:
First or upper second-class degree in psychology which confers the graduate basis for registration with the British Psychological Society – or equivalent.
---
Essential criteria
To hold, or expect to achieve by 15 August, an Upper Second Class Honours (2:1) Degree or equivalent from a UK institution (or overseas award deemed to be equivalent via UK NARIC) in a related or cognate field.
---
The Doctoral College at Ulster University
---
Reviews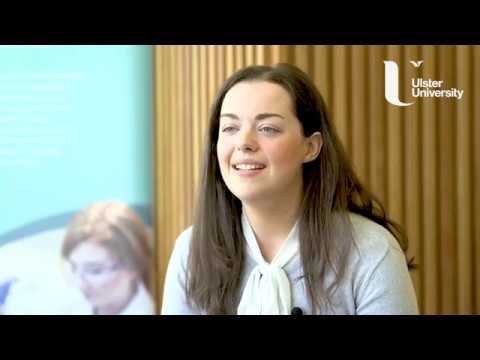 Completing the MRes provided me with a lot of different skills, particularly in research methods and lab skills.
Michelle Clements Clements - MRes - Life and Health Sciences
Watch Video
---

I got my BSc in Psychology at Ulster and brought my interest in behavioural epigenetics to my PhD, testing the effect of prenatal maternal levels of socialisation on the mental health of children.My proudest moment was sending the email to submit my thesis in mid-September 2020, looking back on the 6 months I spent in lockdown, working for 10 hours a day sometimes, 7 days a week. I knew that in that instant, as I clicked 'Send', I'd made so many people proud of me but especially my wife, my clinician parents, my supervisors, and my friends in the doctoral cohort.
Erik Spikol - PhD in Psychology, Psychiatry and Neuroscience
---

I completed my BSc in Health Studies many years ago and studied part-time through most of my career in child & adolescent mental health completing two MScs in the process. I was privileged to have received a Public Health Agency funded R&D fellowship which allowed me to complete my PhD full-time. I conducted a clinical study focused on autism trait prevalence in people attending specialist gender services in Northern Ireland under the supervision of Professor Gerard Leavey, Dr Michael Rosato and Professor Hugh McKenna.I am proud to have finished my PhD during one of the most challenging years ever. I couldn`t have got through this without the support of my supervisors and experts by experience who supported my research. I`ll never forget the generosity of participants who allowed me some insight into their lives.
Katrin Lehmann - PhD in Psychology, Psychiatry and Neuroscience
---

I completed my degree in Forensic Psychobiology at Abertay University Dundee. I then completed a MSc in Health Psychology at Ulster University and published my research on the benefits of Yoga on the psychological well-being of first time mums, supervised by Dr Liz Simpson. I started my PhD at Ulster University following the completion of my MSc in Health Psychology.One of my proudest moments was having the opportunity to lead an international collaborative piece of research, spending time in Rome with Italian researchers, which led to a publication. I am very proud to have completed my PhD during a very challenging time through the Covid-19 pandemic and completing with 3 published papers. Doing a PhD is a transformational journey, and my supervisors played a crucial role in my success.
Deirdre Timlin - PhD in Psychology, Psychiatry and Neuroscience
---

I completed my first degree in Product Design at LYIT, in my home county of Donegal. After which, I completed my degree in Psychology and master's in Applied Psychology at Ulster University.While this PhD may have been challenging, it has been equally one of the most rewarding resilience building experiences of my professional and personal life. My proudest moments were i) getting accepted as a PhD candidate, ii) the following year publishing my first paper, and iii) then successfully defending my project in the viva. I am extremely proud to achieve this PhD and to have successfully completed my doctorate despite the unforeseen challenges faced during the Covid-19 pandemic.I could not have got through this without the support and expertise of both my supervisors Professor Brendan Bunting and Doctor John Mallett. I would also like to thank my family and friends for all their morale support and agricultural input over the years. I would like to wish every one of my fellow
Kelly Trearty - PhD in Psychology, Psychiatry and Neuroscience
---

I started my PhD at Ulster University after completing my BSc Psychology degree at Magee campus. Returning to education to complete a PhD was a goal of mine ever since I completed my BSc Pharmacy degree in the Royal College of Surgeons in Ireland in 2006. My PhD research examined patterns of healthcare utilisation by older adults using service evaluation and longitudinal epidemiological data. Looking back at my PhD I have many fond memories including having the opportunity to spend a week in Utrecht University developing my longitudinal data analysis skills, presenting my research at the FIP World Congress in Glasgow, collaborating with the Medicines Optimisation in Older People team in Northern Ireland, and contributing to Project ECHO NI. I am incredibly grateful to the many friends and colleagues in the School of Psychology and Doctoral College who made my PhD experience at Ulster a thoroughly enjoyable one. I wish to extend my sincere thanks to my wonderful supervisory team Prof
Ann Doherty - PhD in Psychology, Psychiatry and Neuroscience
---

My PhD journey as a part-time student was not straight forward and I am delighted to have completed my PhD under the phenomenal supervision of Prof. Siobhan O'Neill and Dr. Edel Ennis. I completed my undergraduate degree in Psychology and Masters in Addiction Studies in Dublin Business School, as well as gaining a PgDip in Applied Behaviour Analysis from NUI Galway. My PhD research looked at unemployment and mental health examining the process of being unemployed and seeking work. It also looked at suicidal ideation with people who experienced unemployment.A PhD part-time is hard, particularly as life will drag your attention off course from time to time! During the course of my PhD journey I got married, built a house and had a baby. There were definitely times when I didn't think I'd get here. My advice to anyone is 'keep going', it will be hard at times but it will be worth it. Surround yourself with people who understand the commitment needed and come up with some good one liners
Maeve Murphy - PhD in Psychology, Psychiatry and Neuroscience
---

My name is Nargis Khan and I am originally from Pakistan. I first came to Ulster University to study psychology at the undergraduate level and later joined a doctoral course which I have now successfully completed. I had a fantastic time studying in Ulster at both the undergraduate and postgraduate level. Throughout my PhD, I was well catered for in terms of resources with access to well-stocked libraries full of friendly and helpful staff, funding to travel to conferences, the availability of various courses (e.g., statistics) and above all a supportive and stimulating environment which fostered my academic development. The seminars organised during the term time allowed me to present my work and hear about the research of others across a range of areas. I particularly appreciated the teaching opportunities available to me during my PhD. My supervisors were supportive and generous with their time. Other members of staff in the Psychology department also took a genuine interest in the
Nargis Khan - PhD in Psychology, Psychiatry and Neuroscience
---