---
Summary
In NI, approx. 27% of those who die by suicide are known to mental health services . Conflict-related trauma and medication also impact on suicidal behaviour here demonstrating the need for a bespoke approach to suicide prevention in the region and the analysis of interventions in NI. Health and Social Care Trusts here have agreed to introduce the internationally known Zero Suicide (ZS) approach4 as a patient safety collaborative programme seeking transformational change to reduce suicidal behaviour and deaths among people known to services.
ZS takes a "whole-systems", data driven approach, managing the patient journey from first contact, service engagement, and discharge. In Mersey Care the ZS culture of managing suicide risk reportedly reduced their Trust suicide rate by 23%. Other ZS programmes have delivered impressive results in the US and are now showing promise across Europe. This model has the potential for success within the NI mental health care system.
Professor Siobhan O'Neill is a member of the Towards Zero Suicide (TZS) Patient Safety Programme collaborative group and this project builds on her work on this topic. The project includes the delivery of staff training, suicide specific interventions and revisions to care pathways and practice. Zero Suicide is a data driven approach and one of the first tasks of the collaborative group is to understand current practice in relation to patients. This includes suicide assessments as part of routine care, the assessment of people who present with suicidal thoughts and behavior and the interventions provided, and outcomes over time.
This MRes will examine the data on each of the above issues within several Health and Social Care Trusts to establish current practice and patterns of outcomes for the "identify, engage, treat, transition" elements of the model. The analyses will provide valuable information to inform the suite of interventions and training that will be introduced as part of the initiative. This MRes forms part of a broader process and outcome evaluation of the initiative led by Ulster University. The student will work alongside clinicians, and mental health leaders researching an internationally renowned approach and interventions, on a vital.
The MRes is a collaboration between Computer Sciences and Psychology, and will inform an impact case study on the Towards Zero Suicide initiative, which itself emerged as a result of the findings from Ulster research on suicide in NI. Findings have huge potential for impact as these strategies are also of interest internationally. The successful applicant will also develop research skills in statistical analysis, and an understanding of suicide prevention.
Rationale and objectives of the research:
To examine how suicide assessment is delivered within the statutory mental health services in NI.
To understand how people with suicidal thoughts and behaviours are assessed, engaged, treated and transitioned, within NI's statutory mental health services.
To examine the impact of Zero Suicide training and interventions on the treatment, care and outcomes for patients in receipt of mental health services in NI.
Methods to be used:
Quantitative survey. Data collation, database merging, analysis and interpretation.
Skills required of applicant:
Experience in writing ethical approval applications. Survey design, statistical analysis, writing up and interpreting the results of statistical tests.
References:
O'Neill, S., Corry, C., Murphy, S., Brady, S., Bunting, B. (2014). Characteristics of deaths by suicide in Northern Ireland from 2005 to 2011 and use of health services prior to death. J Affect Disord, 168, 466-471. https://doi.org/10.1016/j.jad.2014.07.028
O'Neill, S., Ferry, F., Murphy, S.D., et al. (2014). Patterns of suicidal ideation and behaviour in Northern Ireland and associations with conflict related trauma. PLoSOne, https://doi.org/10.1371/journal.pone.0091532

Benson, T., Corry, C., O'Neill, S., Murphy, S., Bunting, B. (2018). Use of prescription medication by individuals who died by suicide in Northern Ireland. Arch Suicide Res, 22, 1, 139-152. https://doi.org/10.1080/13811118.2017.1289870

https://zerosuicide.org
---
Essential criteria
To hold, or expect to achieve by 15 August, an Upper Second Class Honours (2:1) Degree or equivalent from a UK institution (or overseas award deemed to be equivalent via UK NARIC) in a related or cognate field.
Experience using research methods or other approaches relevant to the subject domain
---
Funding
This is a self-funded MRes opportunity.
---
Other information
---
The Doctoral College at Ulster University
---
Reviews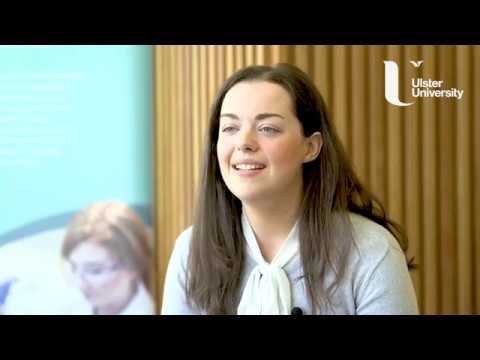 Completing the MRes provided me with a lot of different skills, particularly in research methods and lab skills.
Michelle Clements Clements - MRes - Life and Health Sciences
Watch Video
---

My name is Nargis Khan and I am originally from Pakistan. I first came to Ulster University to study psychology at the undergraduate level and later joined a doctoral course which I have now successfully completed. I had a fantastic time studying in Ulster at both the undergraduate and postgraduate level. Throughout my PhD, I was well catered for in terms of resources with access to well-stocked libraries full of friendly and helpful staff, funding to travel to conferences, the availability of various courses (e.g., statistics) and above all a supportive and stimulating environment which fostered my academic development. The seminars organised during the term time allowed me to present my work and hear about the research of others across a range of areas. I particularly appreciated the teaching opportunities available to me during my PhD. My supervisors were supportive and generous with their time. Other members of staff in the Psychology department also took a genuine interest in the
Nargis Khan - PhD in Psychology, Psychiatry and Neuroscience
---