---
Summary
In addition to the essential criteria noted below, the Degree (or equivalent) qualification must be in a discipline related to this PhD programme to be justified in the application.
We will accept applications from candidates who are about to hold a minimum of an Upper Second Class Honours (2:1) Degree in a discipline related to this PhD programme (or overseas award deemed equivalent via UK NARIC) if they have substantial research experience.
An additional Desirable criteria that may be applied is holding, being about to hold, a Masters level qualification in a discipline related to this PhD programme
You must provide official, final results of qualifications used to meet the academic requirements before the start of the studentship.
Background:
Poor mental health is prevalent among those working in the creative sector, with Ulster research illustrating probable mental health problems are three times higher in the creative industries compared to the general population (1). The nature of jobs in the creative industries balances great reward with potential challenges that could contribute to poor mental health. For example, many working artists are freelancing which may result in less job security, a lack of a daily routine, minimal management or other support, and an absence of the benefits which promote stability and security (e.g. sick pay or pension). Creatives often need to master a range of skills beyond their creative talent, such as accounting, marketing, and sales (2).
Other pressures include anxiety about performance or how work is received, a lack of understanding of the pressures from those external to the sector including funders or recipients of the arts, work overload, underload, contract unreliability, career anxiety, career mobility, irregular working hours, low financial rewards, maintaining high standards of performance, financial security, and sporadic work (1, 3-6). This may be further complicated by substance use as payment, or used to relieve the stresses of the job (7-10).
This project capitalises on key strengths at Ulster, bringing together researchers in both the Institute for Mental Health Sciences and the Creative Industries Institute and their extensive external partner network in an innovative partnership to facilitate a co-production PhD programme with impact embedded from the outset. Key questions include:
i) how, when, and where do creative sector workers access existing support;
ii) what type of prevention and support strategies do those working in the creative sector prefer and when is the optimal timing of delivery;
iii) which organisational mental health strategies are effective for a range of different sector environments and how can sector bodies help (such as Arts Councils, Charities, or Unions);
iv) what are the most effective models for embedding mental health in curricula for those training in creative industries.
This PhD will address these questions using three main methods derived and finalised through interdisciplinary consensus: A high quality, pre-registered systematic review of the literature to understand mental health issues and what mental health interventions are being used to help those in the creative sector. Extension of the ethically approved Ulster survey (1) to those who work in the Creative Sector in the UK to better understand the issues facing sub-sectors of the creative industries, and to consult widely with the industry on how to make changes to ensure healthy creative sector communities both now and in the future.
Qualitative research with three key stakeholder groups including Arts Councils/Funders, Representative Bodies (such as Help Musicians or Bectu), and Creatives. This may take the form of visualisation work (such as Photovoice) and/or focus groups analysed using Framework methods. The project will have an advisory board of key stakeholders to ensure research is high quality, relevant, impactful, and truly interdisciplinary.
---
Essential criteria
To hold, or expect to achieve by 15 August, an Upper Second Class Honours (2:1) Degree or equivalent from a UK institution (or overseas award deemed to be equivalent via UK NARIC) in a related or cognate field.
Experience using research methods or other approaches relevant to the subject domain
Sound understanding of subject area as evidenced by a comprehensive research proposal
A comprehensive and articulate personal statement
---
Funding
The University offers the following awards to support PhD study and applications are invited from UK, EU and overseas for the following levels of support:

Department for the Economy (DFE)

The scholarship will cover tuition fees at the Home rate and a maintenance allowance of £15,285 per annum for three years. EU applicants will only be eligible for the fee's component of the studentship (no maintenance award is provided). For Non-EU nationals the candidate must be "settled" in the UK. This scholarship also comes with £900 per annum for three years as a research training support grant (RTSG) allocation to help support the PhD researcher.

Due consideration should be given to financing your studies; for further information on cost of living etc. please refer to: www.ulster.ac.uk/doctoralcollege/postgraduate-research/fees-and-funding/financing-your-studies
---
Other information
---
The Doctoral College at Ulster University
---
Reviews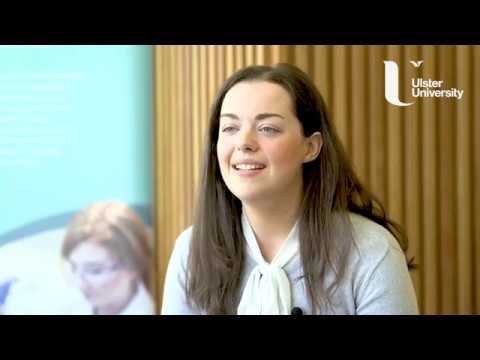 Completing the MRes provided me with a lot of different skills, particularly in research methods and lab skills.
Michelle Clements Clements - MRes - Life and Health Sciences
Watch Video
---

My name is Nargis Khan and I am originally from Pakistan. I first came to Ulster University to study psychology at the undergraduate level and later joined a doctoral course which I have now successfully completed. I had a fantastic time studying in Ulster at both the undergraduate and postgraduate level. Throughout my PhD, I was well catered for in terms of resources with access to well-stocked libraries full of friendly and helpful staff, funding to travel to conferences, the availability of various courses (e.g., statistics) and above all a supportive and stimulating environment which fostered my academic development. The seminars organised during the term time allowed me to present my work and hear about the research of others across a range of areas. I particularly appreciated the teaching opportunities available to me during my PhD. My supervisors were supportive and generous with their time. Other members of staff in the Psychology department also took a genuine interest in the
Nargis Khan - PhD in Psychology, Psychiatry and Neuroscience
---