Funded PhD Opportunity

Designing New Worlds: Design, evaluation and specification of user experiences within immersive technology environments

This opportunity is now closed.
Subject: Art and Design: History, Practice and Theory
Summary
In recent years, immersive technology applications have become widely available. Users have experienced a range of technology from cardboard VR viewers to higher technology AR/VR headsets.
There have been many reports of motion sickness and much content provides merely entertainment value. However, head-mounted displays have become untethered and are light enough to be worn for extended periods of time, see-through displays allow the user to remain in their environment while interacting with digital content. Until now users were mainly considered as passive observers of the environment and had limited ability to interact and directly manipulate the system.
An increase in popular interest raises questions about the use of the new medium for communication.
Research shows that this VR technology can be used for other areas, such as Healthcare.
Across Cardiovascular Medicine, many groups are taking advantage of these advances for education, pre-procedural planning, intraprocedural visualization, and patient rehabilitation.
Nevertheless, how do you design for something that has no established design guidelines?
How does a designer transition from flat 2D screen-based design to the 3D worlds of VR and AR?
How does a user engage with this environment while avoiding novelty and spatial distraction?
While there are many similarities to screen-based design, immersive worlds require thinking about the user in new ways.
Technical challenges exist due to graphics processing of stereo rendering, motion sickness and so on.
Research identifies the need for content standards (Routhier 2016) and most recently IEEE have established the VRAR Working Group towards this goal (IEEE P2048). Drawing on knowledge from other domains, the researcher will develop radical innovations which show promise for designing user experiences for immersive interaction.
They will work explore state-of-the-art user interface design and user experience and technology by exploring a range of innovative case studies for instance in Healthcare, heavy engineering and the Internet applications.
These proof of concept prototypes will be tested for user engagement, sense of presence and immersion using eye-tracking technology as well as more traditional usability testing, with a range of stakeholders. These tests will lead to the development and evaluation immersive technology UX guidelines.
The project will be carried out at the Belfast School of Art.
This work relates to Future Screens NI, which is one of eight national research partnerships across the UK, funded under the AHRC Creative Clusters initiative.
It is envisaged that industrial or healthcare collaborations will support the development of this project.
Objectives
Specifically, we will:
Investigate the user experience of immersive reality platforms
Evaluate case studies where the technology has been adopted in Healthcare, Heavy engineering and the Internet, to understand and measure immersive effectiveness
Identify and evaluate a series of guidelines for designing immersive technology user-experiences.
Essential Criteria
Upper Second Class Honours (2:1) Degree or equivalent from a UK institution (or overseas award deemed to be equivalent via UK NARIC)
Sound understanding of subject area as evidenced by a comprehensive research proposal
A comprehensive and articulate personal statement
Desirable Criteria
If the University receives a large number of applicants for the project, the following desirable criteria may be applied to shortlist applicants for interview.
Completion of Masters at a level equivalent to commendation or distinction at Ulster
Practice-based research experience and/or dissemination
Experience using research methods or other approaches relevant to the subject domain
Work experience relevant to the proposed project
Funding
Vice Chancellors Research Scholarships (VCRS)

The scholarships will cover tuition fees and a maintenance award of £15,009 per annum for three years (subject to satisfactory academic performance). Applications are invited from UK, European Union and overseas students.

DFE

The scholarship will cover tuition fees at the Home rate and a maintenance allowance of £15,009 per annum for three years. EU applicants will only be eligible for the fees component of the studentship (no maintenance award is provided).  For Non EU nationals the candidate must be "settled" in the UK.
Other information
The Doctoral College at Ulster University
Launch of the Doctoral College
Current PhD researchers and an alumnus shared their experiences, career development and the social impact of their work at the launch of the Doctoral College at Ulster University.
Watch Video
---
Reviews
The PhD training programme and regular supervision contacts have provided the direction and support necessary to ensure that I deliver a quality thesis in a timely manner.I have thoroughly enjoyed the experience of working at Ulster University and feel it has put me in a better position to sustain a full time career as an artist and academic in the years to come.
Jacqueline Wylie
---
Key Dates
Submission Deadline

Monday 18 February 2019

Interview Date

18 to 22 and 25 to 28 March 2019
Campus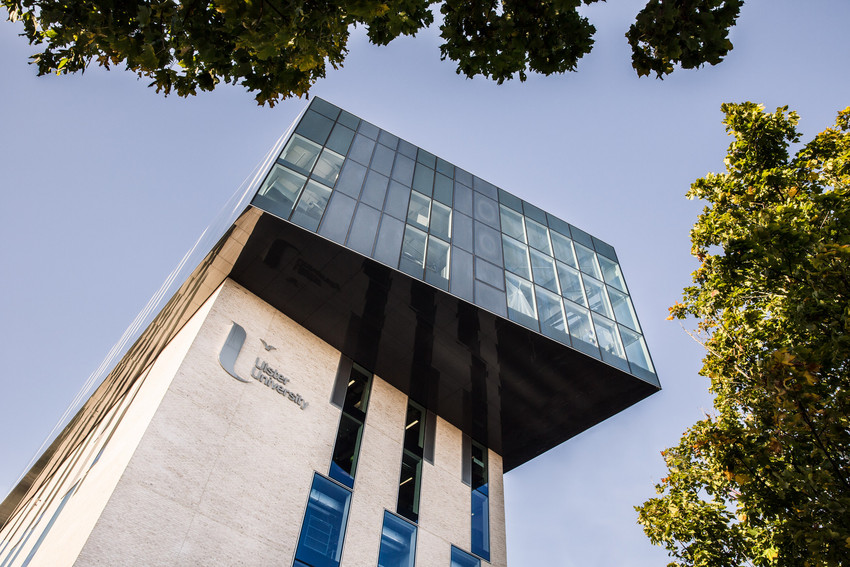 Belfast campus
At the centre of the civic evolution in Belfast
Contact Supervisor
Other Supervisors