Funded PhD Opportunity

The use of visual language on perception of climate change

This opportunity is now closed.
Subject: Art and Design: History, Practice and Theory
Summary
This research will explore artistic strategies and boundaries of visual language in the context of human-made climate change. Led by obvious economic and political interests, an aggressive debate over the existence and dimension of human-made climate change happens currently.
The objective of this research is to broaden the knowledge base that helps to develop an understanding how images and artistic strategies (de-)construct world views and influence awareness.
How is art involved in the transformation of knowledge on climate change?
In what way does artistic practice articulate these questions by illustrating them or suggesting solutions?
The symptoms of the Anthropocene, if only due to their vast scale, appear to resist the tools of conspicuity. What visual tools do artists and scholars have that would capture changes taking place and what images and strategies are produced?
Tue Greenford suggests that "The image of nature is used to debate cultural values. The concept is more of a projection surface for ideology" (Tollman, 2011). This work is further discussed by other researchers (Skrebowski, 2013). According to the title of an influential book by Naomi Klein, climate change is a phenomenon that "changes everything". This phenomenon is impacting all areas of social life and inevitably influencing our cultural notions and the conditions for development, or indeed survival, of human civilization.
This research aims to discover what change and impact such phenomenon has had on art practice. Instead of pursuing dichotomous world views or despairingly taking the escape route of climate change denial into an imagined parallel world, Bruno Latour (2017, 2018) proposes to set out for the 'critical zone' for example.
The research will also look at how artistic strategies are already being used in this context, test how scientific data is best embodied in an artwork and how can this be translated into effective artworks. In turn it aims to demonstrate what impact these have on perception of climate change.
This PhD expects research through creative practice leading to the development and testing of new artistic strategies and artefacts as a body of creative work, supporting a PhD thesis.
Essential Criteria
Upper Second Class Honours (2:1) Degree or equivalent from a UK institution (or overseas award deemed to be equivalent via UK NARIC)
Sound understanding of subject area as evidenced by a comprehensive research proposal
A comprehensive and articulate personal statement
Desirable Criteria
If the University receives a large number of applicants for the project, the following desirable criteria may be applied to shortlist applicants for interview.
Completion of Masters at a level equivalent to commendation or distinction at Ulster
Practice-based research experience and/or dissemination
Experience using research methods or other approaches relevant to the subject domain
Work experience relevant to the proposed project
Funding
Vice Chancellors Research Scholarships (VCRS)

The scholarships will cover tuition fees and a maintenance award of £15,009 per annum for three years (subject to satisfactory academic performance). Applications are invited from UK, European Union and overseas students.

DFE

The scholarship will cover tuition fees at the Home rate and a maintenance allowance of £15,009 per annum for three years. EU applicants will only be eligible for the fees component of the studentship (no maintenance award is provided).  For Non EU nationals the candidate must be "settled" in the UK.
Other information
The Doctoral College at Ulster University
Launch of the Doctoral College
Current PhD researchers and an alumnus shared their experiences, career development and the social impact of their work at the launch of the Doctoral College at Ulster University.
Watch Video
---
Reviews
The PhD training programme and regular supervision contacts have provided the direction and support necessary to ensure that I deliver a quality thesis in a timely manner.I have thoroughly enjoyed the experience of working at Ulster University and feel it has put me in a better position to sustain a full time career as an artist and academic in the years to come.
Jacqueline Wylie
---
Key Dates
Submission Deadline

Monday 18 February 2019

Interview Date

18 to 22 and 25 to 28 March 2019
Campus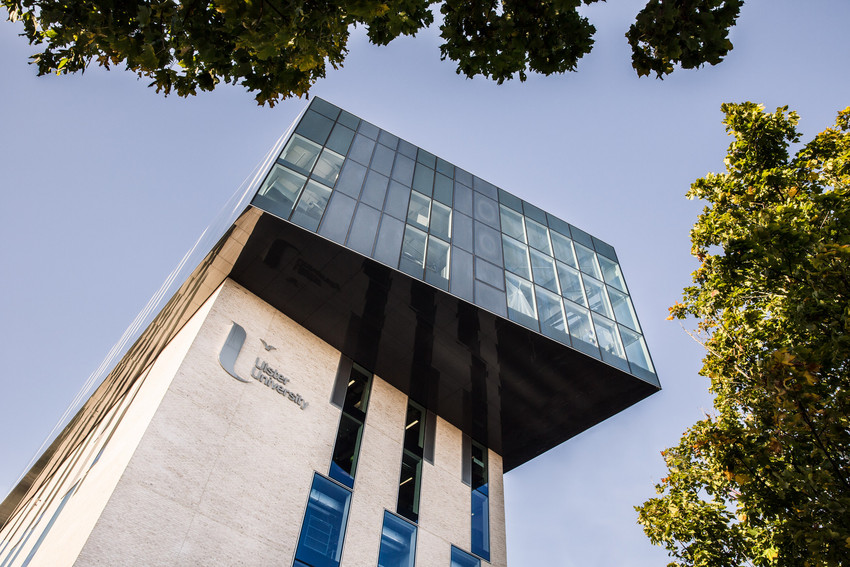 Belfast campus
At the centre of the civic evolution in Belfast
Contact Supervisor
Other Supervisors