Funded PhD Opportunity

Present Tense- Situations in Northern Irish Contemporary Painting

This opportunity is now closed.
Subject: Art and Design: History, Practice and Theory
Summary
The proposed research takes as a starting point the paintings of English artists Rita Donagh and Ralph Lillford, both of whom made work directly related to Northern Ireland in the 1970s. Crucially, Lillford had made regular visits to Belfast during this time, raising the question of the necessary proximity required for an artist to effectively and meaningfully engage with the events surrounding their work. Donagh's work took a relatively distanced, if autobiographical, turn, influenced not just by her distress at what she was witnessing on news reports from Northern Ireland, but also by her own Irish family roots.
Another important point of reference for the project is the 1993 Doubleband Films documentary 'The Trouble With Art', which focused mainly on Belfast-based artists' responses to the social and political conditions of their time, revealing a more direct and embedded commitment to artistic production over a longer period here. 25 years since the making of this film, 20 years since the Good Friday Agreement, and in a culture where 'Troubles Tourism' flourishes, the project proposes that although artists in Northern Ireland now work in a very different climate, there are nevertheless very particular conditions, ways of looking at things and a shaping of narratives here which continue to produce a very distinctive approach within contemporary painting practice. Such practices are, importantly, defined by virtue of being developed 'in situ', and are also characterised as being mainly studio-based, site-responsive and environment-driven (strongly differentiating Belfast from many other cities where painters' practices are decidedly more market and gallery driven.)
The American painter Alex Katz describes his practice in terms of working with 'an immediate present', which, he argues, places his entire oeuvre in a continuous 'present tense'. Such a position, may be argued to suggest painting is capable of working with a sense of constant 'futurity', linking to the theme of a recent anthology of New Poets from the North of Ireland- 'The Future Always Makes Me So Thirsty', edited by Sinead Morrisey and Stephen Connolly (2016).
Through their selection of mainly new, less published poets, many of whom have moved to Northern Ireland from elsewhere, concerns of a contemporary 'now' are posited as a shift away from an older generation of poets writing about the recent and past history of here. The links that can be made between painting and writing, particularly between painters and poets, is another concern of this research, to investigate how ideas are shaped visually and verbally, and how narratives of image and text are understood here by artists and audiences alike.
Essential Criteria
Upper Second Class Honours (2:1) Degree or equivalent from a UK institution (or overseas award deemed to be equivalent via UK NARIC)
Sound understanding of subject area as evidenced by a comprehensive research proposal
A comprehensive and articulate personal statement
Desirable Criteria
If the University receives a large number of applicants for the project, the following desirable criteria may be applied to shortlist applicants for interview.
Completion of Masters at a level equivalent to commendation or distinction at Ulster
Practice-based research experience and/or dissemination
Experience using research methods or other approaches relevant to the subject domain
Work experience relevant to the proposed project
Funding
Vice Chancellors Research Scholarships (VCRS)

The scholarships will cover tuition fees and a maintenance award of £15,009 per annum for three years (subject to satisfactory academic performance). Applications are invited from UK, European Union and overseas students.

DFE

The scholarship will cover tuition fees at the Home rate and a maintenance allowance of £15,009 per annum for three years. EU applicants will only be eligible for the fees component of the studentship (no maintenance award is provided).  For Non EU nationals the candidate must be "settled" in the UK.
Other information
The Doctoral College at Ulster University
Launch of the Doctoral College
Current PhD researchers and an alumnus shared their experiences, career development and the social impact of their work at the launch of the Doctoral College at Ulster University.
Watch Video
---
Reviews
The PhD training programme and regular supervision contacts have provided the direction and support necessary to ensure that I deliver a quality thesis in a timely manner.I have thoroughly enjoyed the experience of working at Ulster University and feel it has put me in a better position to sustain a full time career as an artist and academic in the years to come.
Jacqueline Wylie
---
Key Dates
Submission Deadline

Monday 18 February 2019

Interview Date

18 to 22 and 25 to 28 March 2019
Campus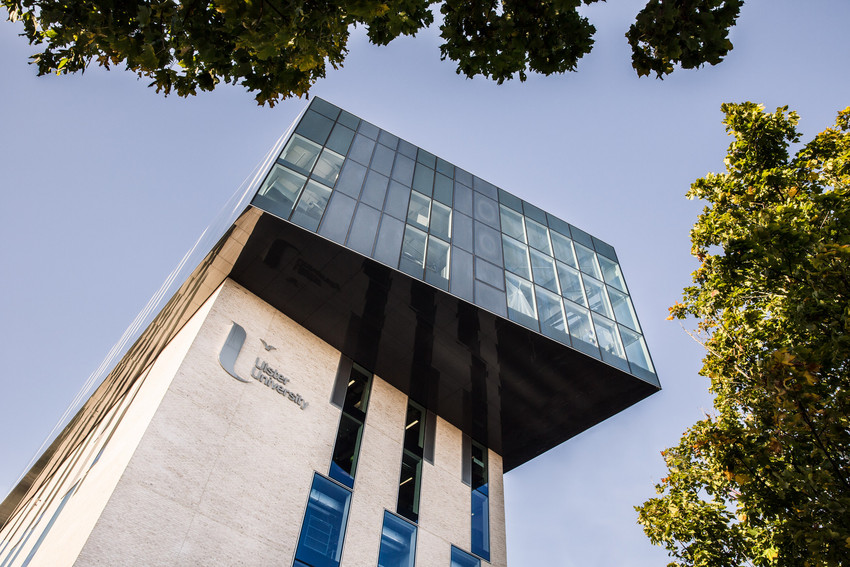 Belfast campus
At the centre of the civic evolution in Belfast
Contact Supervisor
Other Supervisors