---
Summary
The relationship between the experience of trauma, alcohol use and mental health has been well documented in the active duty and military veteran literature (e.g., Hassija, Jakupcak, Maguen, & Shipher, 2012; Hollis, Kelley, & Bravo, 2017; Jakupcak et al., 2010). A number of studies have also examined the help-seeking behaviours in this population (Hom, Stanley, Schneider, & Joiner, 2017). The majority of this research has, however focused on veterans from the US, Canada, Australia, Israel and the wider UK.
The evidence base regarding mental health, including the prevalence of alcohol use disorders, in the Northern Ireland (NI) military veteran population is limited. Military veterans living in NI can be considered different from veterans residing elsewhere in the world. There are two possible reasons for this; firstly, many of those who served in Operation Banner (1969 – 2007), the longest deployment operation in British military history, were NI residents, living in their communities during their service. This meant being on guard both on and off duty. The communities in which individuals lived could therefore also be regarded as their operational theatre. Previous research has shown that prolonged and constant perception of threat is associated with poor psychological well-being (Mott, Graham, & Teng, 2012; Schmid & Muldoon, 2013), which could compound the effects of military service.
Secondly, unlike other military personnel elsewhere in the world, those who were resident in NI, were, at the end of their service, transitioning not into a safe place of the civilian world, but rather into their former operational theatre filled with their former enemies. Recent qualitative research conducted by the Northern Ireland Veterans' Health and Wellbeing Study group has indicated that such circumstances could have negative effects on one's mental well-being and could potentially affect veterans' help-seeking behaviours due to feelings of mistrust (Armour, Walker, Waterhouse-Bradley, Hall, & Ross, 2017).
This PhD project will examine the relationships between trauma, alcohol usage, mental health and help-seeking behaviours in a sample of veterans living in NI. The main aims will be to:
*Examine how traumatic life events (both within and outside of the military) and different military experiences (both positive and negative) affect a variety of mental health conditions, including alcohol use disorder
*Identify the ways in which alcohol usage impacts upon the help-seeking behaviours, coping and quality of life
*Establish whether these processes differ between veterans using alcohol with and without mental health issues.
The project will utilise a mixed methods approach. Statistical analyses will be used to analyse secondary data collected by the Northern Ireland Veterans' Health and Well-being Study.
The PhD student will additionally conduct a series of one to one qualitative interviews, in which they will explore in depth veterans' attitudes to alcohol usage and help-seeking. As this is an externally funded project, the student will additionally have an opportunity to write up a technical report for the funder, which will be disseminated within the veteran-specific MOD and voluntary and community sector organisations, as well as those in the statutory sector. The report will outline a series of recommendations on how to best support NI veterans with alcohol use and other mental health problems.
References:
Armour, C., Walker, E., Waterhouse-Bradley, B., Hall, M., & Ross, J. (2017). Current and future needs of veterans in Northern Ireland. Retrieved from https://tinyurl.com/y8q2kuf2
Hassija, C. M., Jakupcak, M., Maguen, S., & Shipherd, J. C. (2012). The influence of combat and interpersonal trauma on PTSD, depression, and alcohol misuse in U.S. Gulf War and OEF/OIF women veterans. Journal of Traumatic Stress, 25(2), 216-219. https://doi.org/10.1002/jts.21686
*Hollis, B., Kelley, M. L., & Bravo, A. J. (2017). Pre-military abuse, mental health, and hazardous alcohol use among military personnel. Journal of Substance Use, 22(2), 187-191. https://doi.org/10.1080/14659891.2016.1177613
Hom, M. A., Stanley, I. H., Schneider, M. E., & Joiner, T. E. Jr. (2017). A systematic review of help-seeking and mental health service utilization among military service members. Clinical Psychology Review, 53, 59-78. https://doi.org/10.1016/j.cpr.2017.01.008
Jakupcak, M., Tull, M. T., McDermott, M. J., Kaysen, D., Hunt, S., & Simpson, T. (2010). PTSD symptom clusters in relationship to alcohol misuse among Iraq and Afghanistan war veterans seeking post-deployment VA health care. Addictive Behaviors, 35, 840-843. https://doi.org/10.1016/j.addbeh.2010.03.023
Mott, J. M., Graham, D. P., & Teng, E. J. (2012). Perceived threat during deployment: Risk factors and relation to axis I disorders. Psychological Trauma: Theory, Research, Practice, and Policy, 4(6), 587-595. http://dx.doi.org/10.1037/a0025778
Schmid, K., & Muldoon, O. T. (2013). Perceived threat, social identification, and psychological well-being: The effects of political conflict exposure. Political Psychology, 36(1), 75-92. http://dx.doi.org/10.1111/pops.12073
---
Essential criteria
To hold, or expect to achieve by 15 August, an Upper Second Class Honours (2:1) Degree or equivalent from a UK institution (or overseas award deemed to be equivalent via UK NARIC) in a related or cognate field.
A comprehensive and articulate personal statement
---
Desirable Criteria
If the University receives a large number of applicants for the project, the following desirable criteria may be applied to shortlist applicants for interview.
First Class Honours (1st) Degree
Masters at 65%
Practice-based research experience and/or dissemination
Experience using research methods or other approaches relevant to the subject domain
Experience of presentation of research findings
---
Funding
This project is funded by: The Royal British Legion
The scholarship will cover tuition fees and maintenance award of not less than £14,553 per annum for three years (subject to satisfactory academic performance). Applications are invited from UK and EU candidates only.
---
Other information
---
The Doctoral College at Ulster University
---
Reviews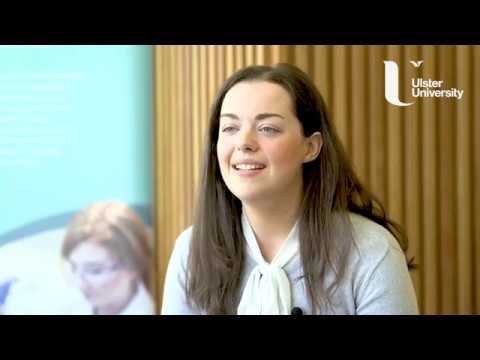 Completing the MRes provided me with a lot of different skills, particularly in research methods and lab skills.
Michelle Clements Clements - MRes - Life and Health Sciences
Watch Video
---

My name is Nargis Khan and I am originally from Pakistan. I first came to Ulster University to study psychology at the undergraduate level and later joined a doctoral course which I have now successfully completed. I had a fantastic time studying in Ulster at both the undergraduate and postgraduate level. Throughout my PhD, I was well catered for in terms of resources with access to well-stocked libraries full of friendly and helpful staff, funding to travel to conferences, the availability of various courses (e.g., statistics) and above all a supportive and stimulating environment which fostered my academic development. The seminars organised during the term time allowed me to present my work and hear about the research of others across a range of areas. I particularly appreciated the teaching opportunities available to me during my PhD. My supervisors were supportive and generous with their time. Other members of staff in the Psychology department also took a genuine interest in the
Nargis Khan - PhD in Psychology, Psychiatry and Neuroscience
---