---
Summary
The Law unit of assessment has up to four DfE studentships and one VCRS studentship this year. The unit of assessment includes the work of the School of Law, Transitional Justice Institute as well as the Ulster University Law Clinic and Legal Innovation Centre. We welcome applications in specified thematic areas: human rights, international law, law and innovation, law and social justice, transitional justice, public law and legal theory.
Examples of proposals in the area of law and innovation would include Legal technology: innovation and informatics; Intellectual property law; Unusual trademarks; Pharmaceutical patents & access rights; Privacy protection in the digital age; Internet governance; Intellectual property & human rights
The following staff are interested in supervising in these areas: Dr Cat Denvir, Dr. Venkat Iyer; Prof Eugene McNamee, Mr. Taiwo Oriola
Applicants are encouraged to contact potential supervisors in good time to discuss draft research proposals. For general enquiries please contact the Research Director for Law Prof Rory O'Connell or one of our PhD coordinators, Prof Cath Collins, Dr Thomas Hansen Allocation of supervisors will be made during the selection process. The supervisory team will depend on the proposal. We list a number of named supervisors on the web pages for contact purposes but please note they may or may not be included on any supervision team. We welcome interdisciplinary research proposals and may appoint supervisors from outside the law unit of assessment.
A sound research proposal (around 2000-3000 words) should have the following: 1) A tentative title 2 ) Research question(s) and any related hypotheses What do you want to find out? What is it that we currently do not know, and need to know, about this issue/topic/ country/institution? 3) Literature review/ survey of existing scholarship What have you already read, that has convinced you that your question is important and novel but can also be answered? 4) Methodology What exactly would you propose to do, and why would this be the best, or a good, way to answer the research question? Does your topic lend itself to theoretical work, black letter law, single case study, comparative case study, qualitative work, field work? 5) Contribution of the conclusions Say if possible what you think you will discover and why/ to whom it might matter. How might your research be useful or interesting if it turns out the way you anticipate? 6) Assessment of feasibility - show that you have thought about how you will fit the plan into a three year programme.
---
Essential criteria
Upper Second Class Honours (2:1) Degree or equivalent from a UK institution (or overseas award deemed to be equivalent via UK NARIC)
Sound understanding of subject area as evidenced by a comprehensive research proposal
---
Desirable Criteria
If the University receives a large number of applicants for the project, the following desirable criteria may be applied to shortlist applicants for interview.
Completion of Masters at a level equivalent to commendation or distinction at Ulster
Experience using research methods or other approaches relevant to the subject domain
Work experience relevant to the proposed project
A comprehensive and articulate personal statement
---
Funding
Vice Chancellors Research Scholarships (VCRS)

The scholarships will cover tuition fees and a maintenance award of £14,777 per annum for three years (subject to satisfactory academic performance). Applications are invited from UK, European Union and overseas students.

DFE

The scholarship will cover tuition fees at the Home rate and a maintenance allowance of £ 14,777 per annum for three years. EU applicants will only be eligible for the fees component of the studentship (no maintenance award is provided).  For Non EU nationals the candidate must be "settled" in the UK.
---
Other information
---
The Doctoral College at Ulster University
---
Reviews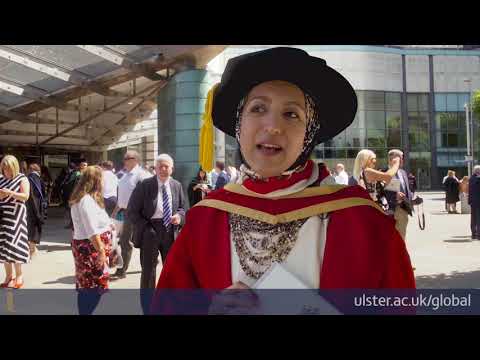 The lecturers at Ulster University are among the best in the world. Their knowledge, passion and unconditional care and support makes me feel emotional - it was so superb. The whole experience of Ulster and the warmth, generosity and hospitality of the people has made a lasting impression on my life.
Azadeh Sobout - PhD Law Graduate 2018
Watch Video
---