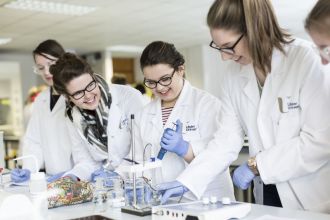 Related Event
Fri 3 Nov, 9:30AM
The Bio and Healthcare Sciences Subject Team is offering year 13/14 students the opportunity to visit the Coleraine Campus and experience first-hand what it
Find out more
Overview
Full time BSc (Hons) Biology with optional placement and the possibility of proceeding to complete an MBiolSci depending on academic performance.
Summary
Biology is the study of living organisms from the molecular level to ecosystems. Our full-time undergraduate BSc Hons Biology course covers fundamental areas of biology with a focus upon the biomedical, molecular and environmental sciences. During the first year you will study fundamentals of biology such as biodiversity, plant and animal physiology, chemistry and biochemistry, as well as cell biology. In the first semester of your first year you will also receive tailor-made training in subject specific as well as transferable core skills in a small group teaching environment. In Year two you will study more specific biological science disciplines such as genetics, vetinary biology, microbiology and biotechnology, which will build upon knowledge acquired in first year but also underpin study in the final year. The final year is driven by the very strong research expertise and interests of the lecturing staff and provides an opportunity to carry out an extensive research project in a specific biological topic.
International Students
If you don't meet our entry requirements for this course you may want to consider our International Foundation Programme (IFP)
The International Foundation Programme (IFP) will prepare you for studying an undergraduate degree at Ulster.
Find out more
Sign up for course updates
Sign up to receive regular updates, news and information on courses, events and developments at Ulster University.
We'll not share your information and you can unsubscribe at any time.
About this course
In this section
About
First year learning experience: We take particular care of our first year students during the transition period from school to university. This includes teaching in small groups in the first semester of the first year as well as a provision of additional support in numeracy, IT skills and chemistry.
Transfers between courses: The structure and content of the first year of the Biology course is designed in such a way as to allow our students to transfer between certain undergraduate courses offered in the School of Biomedical Sciences up to the end of Semester I of year 2 (subject to available places).
Associate awards
Diploma in Professional Practice DPP
Diploma in International Academic Studies DIAS
Find out more about placement awards
Attendance
This is a three year degree programme leading to the award of BSc Hons Biology. In addition there is also an optional one year placement leading to a Diploma in Professional Practice (DPP) or a Diploma in International Academic Studies (DIAS) making a possible total of four years.
The BSc Hons Biology is a full-time course i.e. it requires eight hours of work every working day during each semester. Our students spend approximately 40% of study time at teaching sessions.
Depending on academic performance, it is possible to proceed to the MBiolSci (an integrated masters programme).
Start dates
How to apply
Modules
Here is a guide to the subjects studied on this course.
Courses are continually reviewed to take advantage of new teaching approaches and developments in research, industry and the professions. Please be aware that modules may change for your year of entry. The exact modules available and their order may vary depending on course updates, staff availability, timetabling and student demand. Please contact the course team for the most up to date module list.
In this section
Year one
Biostatistics and Skills for Biologists
Year: 1
Status: C
An introduction to the basic statistical methods essential to scientific analysis and the use of selective software packages for the analysis and presentation of data. introduction to learning in a unviersity setting, including information retrieval and handling, as well as communication and presentation. Teaching includes lectures, computer laboratory classes and tutorials.
Human, Animal and Plant Physiology
Year: 1
Status: C
This module introduces students to the principles of fundamental physiology of animals and plants; it provides an introduction to the relationships between organism structures and functions.
Ecology & Biodiversity
Year: 1
Status: C
This module considers concepts of ecology and biodiversity, starting with an introduction to the history of life on earth and moving into the diversity of organisms and their biology in the context of individuals, populations, and the biosphere.
Biochemistry
Year: 1
Status: C
This module is designed to introduce students to the fundamental biochemical pathways, an understanding of which are necessary for the further study of life and health sciences. The structure, function and metabolism of biological macromolecules and the regulation of the pathways involved in their metabolism are discussed in detail
Medical Cell Biology
Year: 1
Status: C
This module will enable students to develop an understanding of the cellular basis of life and the relevance of studies of cell structure and function at the molecular level to human disease. In addition, it will provide a foundation for further studies in genetics, microbiology, histology and biochemistry.
Chemistry in Practice
Year: 1
Status: C
This module introduces general descriptive, physical, organic and inorganic chemistry and the principles underlying chemical properties and reactions of simple organic and inorganic compounds
Year two
Biotechnology
Year: 2
Status: C
This module considers a wide number of aspects and issues in biotechnology, sufficient to underpin and reinforce other topics in life sciences. Topics include production, commercialisation and ethics of biotechnology products and the impact of biotechnology on modern society.
Molecular Biology
Year: 2
Status: C
The module provides in depth coverage of major modern advances in, and resulting from, genomic and post-genomic technologies, relevant to Biological Sciences.
This module is designed to provide a thorough practical knowledge of key molecular biology techniques which are used for study of the genetic basis of human disease.
Veterinary Biology
Year: 2
Status: C
This module introduces students to the principles of animal health and welfare; it provides students with both general and group specific e.g. food-producing, companion, laboratory animal requirements for health. Also, it provides students with theoretical knowledge of biological parameters, vital signs and clinical indicators allowing for animal health assessment and monitoring.
Professional Practice
Year: 2
Status: C
This module will introduce the concepts and requirements of biobusinesses that are necessary to ensure professional conduct in a career in the biosciences. Laboratory management, quality control, data protection, health & safety and scientific communication are covered. This module will facilitate understanding of current professional practice as recognised throughout the varied range of local and national bioscience industries, as well as further developing skills and attributes that will enable graduates to work as biosciences professionals.
Applied Genetics
Year: 2
Status: C
This module considers genetic defects that contribute to human disease with study of recombinant DNA techniques, human inheritance, chromosomal aberrancies and inborn errors of metabolism, carcinogenesis and ageing. Practical experience of contemporary molecular biological techniques is also provided. Advances in molecular genetics and the human genome project are also discussed and provide an appreciation of the potential for improved diagnostics and therapeutics
Microbiology
Year: 2
Status: C
This module provides insight into the major historical events, discoveries, disciplines, activities and relevance of microorganisms to the different areas of human activity. A major goal is to provide a foundation for understanding and learning microbiology as a biological science and its relation to our public health and the environment.
Pathophysiology
Year: 2
Status: C
This module is designed to provide understanding of key concepts in pathology sufficient to underpin further study in the biomedical sciences
Immunology
Year: 2
Status: C
This module is designed to provide students with an understanding of the key concepts in immunology sufficient to underpin further study in the biomedical sciences
Year three
Biology Placement - Diploma in Professional Practice
Status: O
Year: 3
This module is optional
An industrial placement is an optional element of the Biology Honours Degree programme and provides a wide range of opportunities for students to experience work in many different fields of biology including laboratories, education, research and development, quality assurance, etc. Students benefit greatly by completing a placement period and improve their knowledge and practical abilities as well as enhancing their employment prospects.
Diploma in International Academic Studies (DIAS)
Status: O
Year: 3
This module is optional
In this study programme students spend one year in another university, either in a EU country under e.g. the ERASMUS+ schemes or in the USA under the Study USA Iniative (British Council, NI). This exchange experience is designed to provide experience of an educational and cultural environment in an overseas country.
Year four
Current Advances in Biosciences
Year: 4
Status: C
This module involves an in depth study of selected bioscience issues which are the subject of considerable current public policy controversy. Alternative interpretations of related controversial material will be examined and critically evaluated by participants.
Enterprise in Biosciences
Year: 4
Status: C
This module provides opportunities for enterprise and employability skills to be assessed, nurtured and developed within the context of biosciences. Ethical and intellectual property issues in the exploitation of bioscience will also be considered. This module is taught by virtual lectures, seminars and tutorials, and assessed by a group business planning project and individual contributions to creativity, personal development planning, discussion and reflection exercises.
Natural Products
Year: 4
Status: C
The module provides an overview of the varied roles played by naturally occurring organic chemical compounds. The importance of stereochemical features of such compounds is emphasised; means of determining biochemical pathways are illustrated and techniques of isolation, modification and synthesis of biologically significant molecules are described. Lectures, tutorials, directed reading and group activities will be featured.
Investigative project
Year: 4
Status: C
This Investigative Project is an independent piece of work completed by the student, designed to develop key research and transferable skills in a discipline relevant to biomedical sciences/biosciences.
Biology of disease 1 - Infection and immunity
Year: 4
Status: C
This module provides a detailed insight into the interaction between a microbial pathogen and its human host. The interaction between micro-organisms and the immune defence mechanism is highlighted. Consideration is also given to the use of vaccines and chemotherapy to avoid and eliminate infection. The module is taught by a combination of lectures and seminars with online supplementary materials where appropriate
Pharmacology and Evidence-Based Practice
Year: 4
Status: C
This module provides an understanding biomedical pharmacology with an emphasis on development and application of pharmacology in evidence-based practice.
Entry conditions
We recognise a range of qualifications for admission to our courses. In addition to the specific entry conditions for this course you must also meet the University's General Entrance Requirements.
In this section
A level
Grades BCC to include one science subject from Chemistry, Biology, Physics, Maths, Nutrition and Food Science, PE, Geography, Environmental Technology/Science. Chemistry or Biology is preferred.
Applied Science Double Award also acceptable.
Provided the subject requirements are met you can substitute a combination of alternative qualifications recognised by the University for one of the A level grades.
BTEC
Pass overall BTEC Extended Diploma with DMM to include at least 7 Distinctions (appropriate science disciplines only).
Irish Leaving Certificate
Grades H3,H3,H3,H4,H4 to include one subject from Chemistry, Biology, Physics, Maths, Home Economics, PE, Geography. Chemistry or Biology is preferred.
Applicants are also required to have Higher Level English and Maths grade H6 or above OR Ordinary Level at grade O4 or above.
Scottish Highers
The Scottish Highers requirement for this course is grades CCCCC to include one subject from Chemistry, Biology, Physics, Maths, Home Economics, PE, Geography. Chemistry or Biology is preferred.
Scottish Advanced Highers
The Scottish Advanced Highers requirement for this course is grades CDD to include one subject from Chemistry, Biology, Physics, Maths, Home Economics, PE, Geography. Chemistry or Biology is preferred.
International Baccalaureate
Overall International Baccalaureate profile minimum 24 points to include 12 points at higher level including 5 points at higher level in one of the following subjects:
Chemistry, Biology, Physics, Maths, Home Economics, PE, Geography.
Access to Higher Education (HE)
Pass science-based Access course with an overall mark of at least 65% including 65% in each level 3 module.
GCSE
Candidates must satisfy the General Entrance Requirements for admission to a first degree course and hold a GCSE pass in English Language at grade C/grade 4 or above (or equivalent). Also, candidates must hold a GCSE pass in Maths at grade C/grade 4 or above (or equivalent) and GCSE Double Award Science (or equivalent) at grades CC is also required.
Please note that for purposes of entry to this course the Level 2 Essential / Key Skill in Application of Number is NOT regarded as an acceptable alternative to GCSE Maths.
English Language Requirements
English language requirements for international applicants
The minimum requirement for this course is Academic IELTS 6.0 with no band score less than 5.5. Trinity ISE: Pass at level III also meets this requirement for Tier 4 visa purposes.
Ulster recognises a number of other English language tests and comparable IELTS equivalent scores.
Additional Entry Requirements
Acceptable alternative qualifications include:
Pass HND with overall Merit to include 30 distinctions in level 5 credits/units may be specified
Pass HNC with overall Distinction to include 60 distinctions in level 4 credits/units may be specified.
You may also meet the course entry requirements with combinations of different qualifications to the same standard as recognised by the University (provided subject requirements as noted above are met). Examples of acceptable combinations include:
2 A Levels and BTEC Subsidiary Diploma
OCR National Diploma and BTEC Subsidiary Diploma
2 A Levels and Cambridge Technical Introductory Diploma
A Level and BTEC National Diploma
For further information regarding combination offer requirements, please contact Faculty Office staff on T: +44 (0) 28 7012 4159 or E: science@ulster.ac.uk
As part of your course you may have a placement/project that involves contact with patients and/or potential exposure to human blood/tissue. Should this scenario arise you will be asked to complete a Health Declaration Form which will include information about your vaccination history. Following screening of your form, it may be necessary for you to meet with a nurse or for a medical to be arranged with the University Occupational Health Physician. Depending on the exact nature of your placement/project you may require immunity from Measles, Mumps, Rubella, Chicken pox and Tuberculosis and/or have completed a course of Hepatitis B vaccinations with subsequent positive serology results. You will be advised further should the need for health screening and vaccination arise.
Exemptions and transferability
Exemptions: applicants who do not meet the published academic requirements and who are seeking entry through the Accreditation of Prior Learning must have the ability to demonstrate a core set of competencies relevant to the course.
MSci Hons Biological Sciences
On commencement of final year, students may apply to transfer to the MSci Hons Biological Sciences (an integrated Masters programme) to study for one additional year, during which, students are required to complete an internship and a number of modules delivered by distance learning. An internship preparation programme is provided at Ulster and provides assistance with applying for this option and information on its content. Further details about MSci Hons Biological Sciences can be obtained from Dr Nigel Ternan, Course Director, email: ng.ternan@ulster.ac.uk
Careers & opportunities
In this section
Career options
Graduates of this degree will be able to work in a range of establishments in areas of biological research, human communities and demographic studies, health laboratories, environmental related monitoring quality, survey, conservation or management, food, pharmaceuticals or agrochemical industries. A large number of our Biology graduates have obtained Masters and Doctoral degrees from this University and a variety of leading European and American Universities or completed a PGCE to become teachers of biology.
For more information on pursuing a career in Biology/Biosciences please see https://societyofbiology.org/careers-and-cpd/careers
Work placement / study abroad
There is an optional one year placement leading to a Diploma in Professional Practice (DPP) for those undertaking their placement, for example in a research institute, in industry, or in the education sector. Alternatively students can undertake their placement in the form of a period of studies overseas and attain the Diploma in International Academic Studies (DIAS).
Fees and funding
In this section
Fees (per year)
Important notice - fees information Please note fees displayed are for 2017/18 Academic Entry. Fees are correct at the time of publishing. Additional mandatory costs are highlighted where they are known in advance. There are other costs associated with university study.
View Ulster University's 2017 fees policy
Northern Ireland & EU:

£4,030.00

England, Scotland & Wales:

£9,000.00

Discounts available - find out more

International:

£13,240.00
Additional mandatory costs
Students who undertake a placement or project involving work in a clinical setting or using unfixed human biological samples such as blood, will be required to undertake an occupational health screening and a vaccinations programme. Those working with animals may be required to receive a tetanus vaccination.
Should you require health screening and vaccinations the cost will be approx. £35 - 155 depending on the vaccinations required.
Tuition fees and costs associated with accommodation, travel (including car parking charges), and normal living are a part of university life.
Where a course has additional mandatory expenses we make every effort to highlight them. These may include residential visits, field trips, materials (e.g. art, design, engineering) inoculations, security checks, computer equipment, uniforms, professional memberships etc.
We aim to provide students with the learning materials needed to support their studies. Our libraries are a valuable resource with an extensive collection of books and journals as well as first-class facilities and IT equipment. Computer suites and free wifi is also available on each of the campuses.
There will be some additional costs to being a student which cannot be itemised and these will be different for each student. You may choose to purchase your own textbooks and course materials or prefer your own computer and software. Printing and binding may also be required. There are additional fees for graduation ceremonies, examination resits and library fines. Additional costs vary from course to course.
Students choosing a period of paid work placement or study abroad as part of their course should be aware that there may be additional travel and living costs as well as tuition fees.
Please contact the course team for more information.
Contact
Course Director: Dr Diane Lees Murdock
T: +44 (0)28 7012 3166
Faculty Office
T: +44 (0)28 7012 4159