Overview
Give yourself a competitive advantage; join our exceptional team as your first step towards professional recognition and a diverse rewarding career.
Summary
Quantity Surveyors are construction professionals who manage and control the cost of major construction projects. You will be advising on the economic affordability of projects, typical development costs, procurement, tendering, contractual management, dispute avoidance and resolution, measurement and payment for completed works, ultimately striving to deliver projects within budget.
RICS accreditation provides you with global opportunities, which span key stakeholders throughout the construction supply chain, central and local government and as self-employed practitioners. Your transferable skills will be equally sought after in other industries.
Job satisfaction is a key benefit in this highly rewarding career, contributing positively to the sustainable built environment of the future.
---
Sign up to hear more about Ulster
About this course
About
Typically 100% of our graduates gain graduate positions on an average salary of circa £28K or enrol in a postgraduate course within 6 months of graduation. The majority confirm their destinations before leaving the programme, so our employability statistics compare favourably to other programmes in the university and any comparable course.
We aim to prepare you to make a positive impact on the economic sector within which you will be employed. Our experienced teaching team are at the cutting edge of the discipline through academic enterprise, providing Continuing Professional Development to industry on topics spanning the likes of standard forms of contract, new rules of measurement and building information modelling. We incorporate these topics into the programme, in addition to mapping the modules against the professional competencies required by the RICS's Assessment of Professional Competence. You can therefore take advantage of the resources we provide to develop your understanding of procurement, contract administration, data management, estimating and managing costs. You can then apply these tools to any building or civil engineering project of any scale, or to other projects in other industries of similar scale and complexity, like renewable energies or oil and gas. Your skills will embody the core technical competencies that define the quantity surveying profession as well as the soft transferrable skills valued by many key employers.
Fundamental themes of construction measurement, construction technology, law and economics and principles of ethics and sustainability are threaded throughout the four years of study.
Attendance
Six years. Part Time.
Each year based on 2 semesters of 12 weeks with approximately one day dedicated to face to face teaching, in the form of lectures, tutorials, seminars and practicals. Part-time students must find additional time for independent learning and study to complete the necessary assignment workload and prepare for examinations in January and May.
We attempt to timetable all required classes into 1 day per week for each semester, however some semesters require an additional half day of attendance. The day can change from one semester to the next within each academic year. Please check with the Course Director for details.
Start dates
Teaching, Learning and Assessment
Knowledge and understanding of the subject are acquired mainly through lectures, tutorials, directed reading, laboratories, case studies, seminars, and IT based resources. Intellectual qualities are developed through exercise classes/tutorials, coursework assignments, individual and group studio work and simulation exercises. Professional and practical skills are gained through coursework assignments including, laboratory work, problem solving assignments and studio work undertaken individually or in small groups, a group project and an individual final year research dissertation. Basic IT and communication skills are taught in Year 1. These and the other transferrable skills including delivering presentations are developed through coursework assignments including the preparation of reports, problem solving assignments/studio work undertaken individually or in small groups and an individual final year research dissertation.
Assessment of the above is principally through formal closed book examinations, class tests and coursework assignments consisting of reports, essays, individual and group exercises, group projects, oral/poster presentations and an individual final year research dissertation.
The content for each course is summarised on the relevant course page, along with an overview of the modules that make up the course.
Each course is approved by the University and meets the expectations of:
Attendance and Independent Study
As part of your course induction, you will be provided with details of the organisation and management of the course, including attendance and assessment requirements - usually in the form of a timetable. For full-time courses, the precise timetable for each semester is not confirmed until near the start date and may be subject to change in the early weeks as all courses settle into their planned patterns. For part-time courses which require attendance on particular days and times, an expectation of the days of attendance will often be included in the letter of offer. A course handbook is also made available.
Courses comprise modules for which the notional effort involved is indicated by its credit rating. Each credit point represents 10 hours of student effort. Undergraduate courses typically contain 10- or 20-credit modules and postgraduate course typically 15- or 30-credit modules.
The normal study load expectation for an undergraduate full-time course of study in the standard academic year is 120 credit points. This amounts to around 36-42 hours of expected teaching and learning per week, inclusive of attendance requirements for lectures, seminars, tutorials, practical work, fieldwork or other scheduled classes, private study, and assessment. Part-time study load is the same as full-time pro-rata, with each credit point representing 10 hours of student effort.
Postgraduate Masters courses typically comprise 180 credits, taken in three semesters when studied full-time. A Postgraduate Certificate (PGCert) comprises 60 credits and can usually be completed on a part-time basis in one year. A 120-credit Postgraduate Diploma (PGDip) can usually be completed on a part-time basis in two years.
Class contact times vary by course and type of module. Typically, for a module predominantly delivered through lectures you can expect at least 3 contact hours per week (lectures/seminars/tutorials). Laboratory classes often require a greater intensity of attendance in blocks. Some modules may combine lecture and laboratory. The precise model will depend on the course you apply for and may be subject to change from year to year for quality or enhancement reasons. Prospective students will be consulted about any significant changes.
Assessment
Assessment methods vary and are defined explicitly in each module. Assessment can be via one method or a combination e.g. examination and coursework . Assessment is designed to assess your achievement of the module's stated learning outcomes. You can expect to receive timely feedback on all coursework assessment. The precise assessment will depend on the module and may be subject to change from year to year for quality or enhancement reasons. You will be consulted about any significant changes.
Coursework can take many forms, for example: essay, report, seminar paper, test, presentation, dissertation, design, artefacts, portfolio, journal, group work. The precise form and combination of assessment will depend on the course you apply for and the module. Details will be made available in advance through induction, the course handbook, the module specification and the assessment timetable. The details are subject to change from year to year for quality or enhancement reasons. You will be consulted about any significant changes.
Normally, a module will have four learning outcomes, and no more than two items of assessment. An item of assessment can comprise more than one task. The notional workload and the equivalence across types of assessment is standardised.
Calculation of the Final Award
The class of Honours awarded in Bachelor's degrees is usually determined by calculation of an aggregate mark based on performance across the modules at Levels 5 and 6 (which correspond to the second and third year of full-time attendance).
Level 6 modules contribute 70% of the aggregate mark and Level 5 contributes 30% to the calculation of the class of the award. Classification of integrated Masters degrees with Honours include a Level 7 component. The calculation in this case is: 50% Level 7, 30% Level 6, 20% Level 5. At least half the Level 5 modules must be studied at the University for Level 5 to be included in the calculation of the class.
All other qualifications have an overall grade determined by results in modules from the final level of study. In Masters degrees of more than 200 credit points the final 120 points usually determine the overall grading.
Figures correct for academic year 2019-2020.
Academic profile
A high proportion of teaching staff are experienced chartered surveyors and recognised by Advanced HE as Fellows or Senior Fellows.
The University employs over 1,000 suitably qualified and experienced academic staff - 59% have PhDs in their subject field and many have professional body recognition.
Courses are taught by staff who are Professors (25%), Readers, Senior Lecturers (20%) or Lecturers (55%).
We require most academic staff to be qualified to teach in higher education: 82% hold either Postgraduate Certificates in Higher Education Practice or higher. Most academic staff (81%) are accredited fellows of the Higher Education Academy (HEA) by Advanced HE - the university sector professional body for teaching and learning. Many academic and technical staff hold other professional body designations related to their subject or scholarly practice.
The profiles of many academic staff can be found on the University's departmental websites and give a detailed insight into the range of staffing and expertise. The precise staffing for a course will depend on the department(s) involved and the availability and management of staff. This is subject to change annually and is confirmed in the timetable issued at the start of the course.
Occasionally, teaching may be supplemented by suitably qualified part-time staff (usually qualified researchers) and specialist guest lecturers. In these cases, all staff are inducted, mostly through our staff development programme 'First Steps to Teaching'. In some cases, usually for provision in one of our out-centres, Recognised University Teachers are involved, supported by the University in suitable professional development for teaching.
Figures correct for academic year 2021-2022.
Belfast campus
The Belfast campus is situated in the artistic and cultural centre of the city, the Cathedral Quarter.
Accommodation
High quality apartment living in Belfast city centre adjacent to the university campus.
Find out more - information about accommodation
---
Student Wellbeing
At Student Wellbeing we provide many services to help students through their time at Ulster University.
Find out more - information about student wellbeing
---
Belfast Campus Location
Campus Address
Ulster University,
York St,
Belfast
BT15 1ED
Campus maps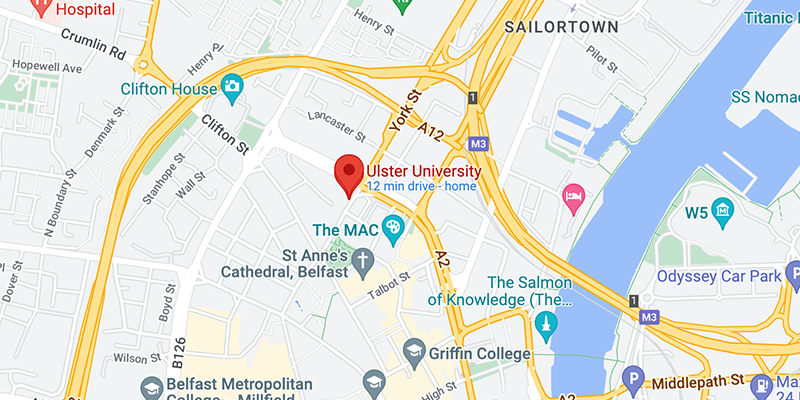 View Google Maps
View Map Diagram
Modules
Here is a guide to the subjects studied on this course.
Courses are continually reviewed to take advantage of new teaching approaches and developments in research, industry and the professions. Please be aware that modules may change for your year of entry. The exact modules available and their order may vary depending on course updates, staff availability, timetabling and student demand. Please contact the course team for the most up to date module list.
Year one
Introduction to the Built Environment
Year: 1
Status: C
The module presents a wide-ranging overview of the impact of public & private development, statutory legislation, procurement, building design and construction on UK industry and society. It presents the background to the development of professional and industry norms and also challenges a number of orthodoxies.
Module study includes a review of the roles and responsibilities of property and construction professionals in a complex sector, as well as the nature of professionalism in an era of climate emergency.
Domestic Building Technology
Year: 1
Status: C
This module provides a general introduction to construction technology with specific emphasis on the sustainable construction of small-scale, low-rise buildings.
The module also introduces the factors that affect and systems that control the internal environment of domestic buildings.
Built Environment Economics
Year: 1
Status: C
This module introduces the student to a range of economic principles and how these are applied in a built environment context. It provides for an appreciation of the importance of market forces, macro and micro economic policy and wider economic indicators such as inflation, interest rates in shaping the design, construction and operation of built environment. Special consideration is given to real estate market cycles and wider construction economics in accordance with the professional body requirements of the RICS.
Digital Construction and Communication
Year: 1
Status: C
The modern day built environment professional is required to communicate effectively utilising electronic tools with the rest of the project team. This has been mandated by the UK Cabinet Office Construction Strategy, by European Commission procurement regulations and is being followed across the world. This module develops an understanding of the key drivers and barriers to fully implementing Level 2 BIM and points towards the development of level 3 BIM working in the near future. The module develops the foundational skills for internationally recognised BIM Level 2 for the contemporary and future built environment professionals.
Year two
Analytical Methods and Quantification
Year: 2
Status: C
This module introduces construction quantification (or measurement).
It is designed to enhance numerical and analytical skills and to develop a contextual understanding of construction measurement in practice, the philosophical principles behind measurement and an appreciation of the measurement rule making process.
It will develop from analytical methods to the measurement of simple linear, superficial and cubic generic examples, progressing to the application of measurement of more complex construction related examples and then to the measurement (quantification and description) of simple domestic construction in accordance with NRM2.
Law, Governance and Society
Year: 2
Status: C
This module introduces students to the fundamental principles of governance and the legal framework in contemporary society. Students examine the interrelationship between governance actors, the legal system and social policy for advancing sustainable development and improving social, economic and environmental well-being.
Procurement Tendering and Administration
Year: 2
Status: C
This module has been designed to provide you with a comprehensive review of the procurement systems and tendering strategies available to UK construction industry clients. This module has been designed to enhance your ability to provide professional advice to your client on the selection of the most suitable contractor to design/ construction the construction project. Furthermore this module provides you the opportunity to demonstrate the key pre/ post contract administration duties of a professional quantity surveyor.
Construction Contracts
Year: 2
Status: C
This module has been designed to provide you with an opportunity to review, interpret and apply the express provisions of the JCT and NEC4 standard forms of building contracts. This module further provides you with an appreciation of the contractual duties of the key parties and professionals involved in the contractual management of costs, time and change associated with a construction project.
Year three
Commercial Building Technology
Year: 3
Status: C
The module enhances the understanding of functions, principles and sustainable methods in the design and construction of buildings, and develops greater awareness of the role of building technology and its interactive nature. Teaching methods include lectures supported by tutorials and case studies.
Quantification and Costing of construction works
Year: 3
Status: C
The modern day quantity surveyor / commercial manager is increasingly utilising computer applications to quantify and cost construction works. This role is of vital importance to the survival of any construction organisation seeking not only to grow and diversify, but to survive in a competitive market. The module learning provides a detailed understanding of how construction cost estimates are prepared and how strategic tendering procedures are implemented. The measurement undertaken within this module will further develop the contextual understanding of measurement in practice and the philosophical principles behind the the New Rules of Measurement (NRM2) and the important relationship between measurement and cost in construction.
Cost Planning and Design Value Economics
Year: 3
Status: C
The module is designed to provide students with an understanding of the procedures and techniques used in the financial control and management of construction projects. It also explores the synergy between the economy and the construction industry and the implications on critical decision making with relation to design and cost planning of construction projects. There is a key focus on value engineering of projects to achieve best value design facilitated with modern design thinking with regards to building occupation and the whole life value of the project.
Commercial Construction Measurement B
Year: 3
Status: C
The measurement undertaken within this module will further develop the contextual understanding of measurement in practice, the use of measurement software and the philosophical principles behind the measurement rules of the New Rules of Measurement and the Civil Engineering Standard Method of Measurement.
The module will focus on the measurement of a range of elements found predominantly within commercial construction developing upon knowledge gained on measurement in previous academic study.
The module also focuses on the important relationship between measurement and cost.
Commercial Management
Year: 3
Status: C
The modern day quantity surveyor is regularly involved in the commercial management of the construction process right from award of contract to completion. A detailed understanding of tender allowances, cash flow forecasting and management; supply chain management; management accountancy and other aspects of commercial awareness in construction are essential to the performance of this role. This module therefore develops further, the knowledge gained from the first year studies in construction measurement and year two, first semester subjects like measurement and estimating and tendering and procurement and administration as well as complementing other semester modules including measurement, construction contracts and cost planning and design value economics.
Year four
Civil Engineering Infrastructure
Year: 4
Status: C
At the core of the module is the realisation that the discipline demands a high degree of creativity and innovation of the construction design professional in the delivery of ethical and socially responsible projects. Civil Engineering infrastructure is multi-faceted, comprising every aspect of the built environment, impinging on every aspect of our lives. Students on this module will be key members of the construction industry and integral to the successful execution of civil engineering infrastructure projects. Accordingly the students completing this module will have demonstrated that they possess the technological and intellectual capabilities to function as a core member of a civil engineering project delivery team.
Advanced Measurement
Year: 4
Status: C
Measurement undertaken within this module will be diverse in all respects and will include the quantification and description of complex building and civil engineering elements/structures. Studies will include developing an understanding of the differing measurement rules and methods of measurement and their application.
The module will build upon the knowledge gained in previous academic study with the practical skills developed in industry, thus enabling the student to undertake the set tasks in this module practically and effectively.
Quantity Surveying Project
Year: 4
Status: C
Quantity Surveyors often function in multidisciplinary environment; having to work with the construction Client, Architects, Project Managers Building Surveyors and Design Engineers.
Therefore, this module prepares the Quantity Surveying graduate for the challenges of working in groups and with other construction related professionals by simulating real life scenarios and challenging them to provide practical solutions.
The module enhances employability by providing a focus on the competencies for those who aspire to work towards achieving chartered status of the RICS post-graduation and continued professional career development and progression generally.
Year five
Research and Dissertation
Year: 5
Status: C
The Research and Dissertation module provides the opportunity to explore in-depth an area of particular significance relating to the course of study. Students are responsible for collating information necessary for the selection and execution of the dissertation. They are required to critically evaluate the practicality, availability of reference material and access to individuals or records. Clear aims and objectives must be established, together with the methods to be used to attain these objectives. The dissertation is a mechanism that underwrites and supports analytical and evaluation skills, logical thought, and the ability to communicate effectively in terms of verbal and written material.
Project Management
Year: 5
Status: C
Construction professionals are regularly involved in managing the construction process from inception to completion, which involves appreciating the balance between time, cost and quality of the project based upon the scope of the works, whilst always maintaining a safe and healthy working environment. This module provides a broad appreciation of the discipline of Project Management and a detailed knowledge and understanding of the concepts of managing the construction client and stakeholders; dealing with supply chain appointments; managing project design; planning the project strategy; managing construction; managing project information and managing project completion and hand over which are paramount to the performance of this role.
Construction Economics
Year: 5
Status: C
This module develops a greater understanding of the modern professional quantity surveying service by examining more advanced techniques used in the financial appraisal and management of projects, and also contemporary issues related to project procurement and management. The key topics include: Value & Risk Management, Cost Modelling, Whole Life Costing, Cost Benefit Analysis, and Advanced concepts of Construction Economics & Management and the effect of the global and local economy on the construction industry.
Standard entry conditions
We recognise a range of qualifications for admission to our courses. In addition to the specific entry conditions for this course you must also meet the University's General Entrance Requirements.
A level
The A Level requirement for this course is ABB, to include one from Mathematics, Physics, Chemistry, Biology, Engineering or Construction.
If not offering any of these subjects the entry requirement is AAA, all subjects considered.
Applied General Qualifications
The Faculty of Computing, Engineering and the Built Environment accept a range of alternative combinations of qualifications such as:
BTEC Extended Awards
BTEC Level 3 QCF Extended Diploma in Construction or Engineering subject with overall award profile D*DD.
OR
BTEC Level 3 RQF National Extended Diploma in Construction or Engineering subject with overall award profile DDM.
If not offering any of those subjects then the requirement is BTEC Level 3 QCF Extended Diploma D*D*D to include 12 unit Distinctions or BTEC Level 3 RQF National Extended Diploma DDD.
Please contact the Administrator as detailed in the Contact details section below for further information.
A levels with
BTEC Level 3 QCF Subsidiary Diploma;
BTEC RQF National Extended Certificate;
BTEC Level 3 QCF 90-credit Diploma
BTEC Level 3 RQF National Foundation Diploma;
BTEC Level 3 QCF Diploma or BTEC Level 3 RQF National Diploma.

OCR Nationals and Cambridge Technical Combinations do not satisfy the subject entry requirement for this course and will be accepted as grade only when presented with A levels in the relevant subjects.
GCSE English and Mathematics and a Physical Science at grade C or 4 or above.
Irish Leaving Certificate
ABB equivalent - 128 UCAS Tariff Points to include a minimum of 4 subjects at Higher Level and 1 subject at Ordinary Level. Higher Level subjects must include one grade H3 from Mathematics, Physics, Chemistry, Physics/Chemistry, Biology, Construction or Engineering. The overall profile must also include English at minimum H6 Higher Level or O4 Ordinary Level. If not offering Maths at Higher Level grade O4 Ordinary Level is also required.
AAA equivalent - 128 UCAS Tariff Points to include a minimum of 4 subjects at Higher Level grade H2 and 1 subject at Ordinary Level. The overall profile must also include English and Maths at minimum H6 Higher Level or O4 Ordinary Level.
Irish Leaving Certificate UCAS Equivalency
Scottish Highers
The Scottish Highers requirement for this course is BBBBC to include one from Mathematics, Physics, Chemistry, Biology, Engineering or Construction.
If not offering any of these subjects the requirement is ABBBB.
Scottish Advanced Highers
The Scottish Advanced Highers requirement for this course is BBC to include one from Mathematics, Physics, Chemistry, Biology, Engineering or Construction.
If not offering any of these subjects the requirement is ABB.
International Baccalaureate
Overall International Baccalaureate profile with a minimum of 27 points (13 at higher level) to include Mathematics and one other science subject at HL.
Access to Higher Education (HE)
Science, Science and Technology or Construction Access with overall mark of 70%, to include 65% in Maths modules, for year 1 entry.
Other Access courses considered with an overall mark of 75% to include 70% in Maths modules for year 1 entry.
GCSE
GCSE English and Mathematics at grade C or 4.
Please note that for purposes of entry to this course the Level 2 Certificate in Essential Skills - Application of Number is NOT regarded as an acceptable alternative to GCSE Maths.
English Language Requirements
English language requirements for international applicants
The minimum requirement for this course is Academic IELTS 6.0 with no band score less than 5.5. Trinity ISE: Pass at level III also meets this requirement for Tier 4 visa purposes.
Ulster recognises a number of other English language tests and comparable IELTS equivalent scores.
Additional Entry Requirements
HND/HNC
HNC requirement in a Construction subject area is overall Distinction to include 105 level 4 credits at Distinction for year one entry.
HND requirement in a Construction, Civil or Building Engineering subject area is overall Distinction to include 75 level 5 credits at Distinction for year 2 entry.
Ulster Foundation Degree
There is no articulated route to year 2 entry.
For further information on the requirements for this course please contact
the administrator as listed in the Contact details section below.

Entry equivalences can also be viewed in the online prospectus at http://www.ulster.ac.uk/apply/entrance-requirements/equivalence
The General Entry Requirements must also be met including English Language minimum GCSE grade C or 4 (or equivalent). Please check the following link http://www.ulster.ac.uk/apply/entrance-requirements#ger
Exemptions and transferability
Students normally enter into Year 1.
Transfer may be available between part-time and full-time modes of study at appropriate transfer stages (i.e. level 4 or level 5) in the course.
There is no direct transferability between the surveying related courses within the School.
Direct Entry to Year 3:
In exceptional circumstances, if evidence of previous relevant study can be provided, consideration may be given to entry into the Third year.
Pass in Foundation Degree in "Sustainable Construction" with 55% overall in second year modules to include 65% in both "Construction Economics & Business Environment" and "Measurement & Costing" modules for entry to year 2.
Lower pass grades in "Sustainable Construction" and passes in other Foundation Degree subjects will facilitate entry to year 1 only.
Entry to Final Year:
A minimum of one third of the degree must be undertaken at Ulster University, which would require 20 credit points from a year 2 module from the programme to be passed prior to starting final year. Modules passed at other institutions must be reviewed to check alignment with Learning Outcomes from Ulster University's programme. Please contact the Course Director to discuss.
Careers & opportunities
Graduate employers
Graduates from this course are now working for:
Graham Construction
AECOM
Lagan Construction
Whitemountain Quarries
F P McCann
Bruce Shaw Partnership
Farrans Construction
Job roles
With this degree you could become:
Commercial Manager
Construction Cost Consultant
Cost Engineer
Measurement Engineer
QUANTITY SURVEYOR
Project Manager
Career options
Most part-time students are already working in a quantity surveying role and are undertaking the degree as a pathway to attain MRICS status.
Typically graduates of the programme are working in positions, involving the financial and administrative management of construction projects, development companies, contracting organisations and property departments in both the public or private professional sectors. The course is also of relevance to those intending to map out a progressive career in any aspect of the construction industry. RICS accreditation provides graduates with global opportunities.
In addition, the course provides an excellent foundation for graduates who wish to undertake postgraduate study or research.
Professional recognition
Accredited by the Royal Institution of Chartered Surveyors (RICS) for the purpose of graduate membership.
Fees and funding
Important notice - fees information
Fees illustrated are based on academic year 22/23 entry and are subject to an annual increase.
If your study continues into future academic years your fees are subject to an annual increase. Please take this into consideration when you estimate your total fees for a degree.
Additional mandatory costs are highlighted where they are known in advance. There are other costs associated with university study.
Visit our Fees pages for full details of fees.
Correct at the time of publishing. Terms and conditions apply.
Module Pricing
The price of your overall programme will be determined by the number of credit points that you initiate in the relevant academic year.
For modules commenced in the academic year 2022/23, the following fees apply:
Module Pricing

| Credit Points | NI/ROI Cost | GB Cost | International Cost |
| --- | --- | --- | --- |
| 120 | £4,629.60 | £9,249.60 | £15,360 |
| 60 | £2,314.80 | £4,624.80 | £7,680 |
| 30 | £1,157.40 | £2,312.40 | £3,840 |
| 20 | £771.60 | £1,541.60 | £2,560 |
NB: A standard full-time undergraduate degree is equivalent to 120 credit points per year.
Scholarships, awards and prizes
Deans List: For outstanding performance of students within the Faculty of Computing, Engineering and the Built Environment.
The programme hosts an annual student awards and stakeholder engagement event to celebrate the acievements of our students. The following flicker photo albums record recent ceremonies, the winners, sponsors and prizes.
Year 1; sponsors include; WYG, Pentagon Solutions, Heron Brothers, Buildsoft Software Solutions and Graham Construction.
Year 2: sponsors include; McLaughlin and Harvey, Whitemountain Quarries, Gilbert Ash, Department of Finance (CPD), McAvoy Group, MSM Contracts, Graham Construction and Faithful and Gould.
Final Year: F P McCann, Farrans, CSR Recruitment, Specialist Joinery Group, McAleer & Rushe and Faithful and Gould.
Additional mandatory costs
Books
Year 1 - New Rules and Measurements (NRM2) £45 approx.
Year 2 - New Rules and Measurements (NRM1) £45 approx and Civil Engineering Standard Method of Measurement 4th Edition (CESMM4) £50 approx.
It is important to remember that costs associated with accommodation, travel (including car parking charges) and normal living will need to be covered in addition to tuition fees.
Where a course has additional mandatory expenses (in addition to tuition fees) we make every effort to highlight them above. We aim to provide students with the learning materials needed to support their studies. Our libraries are a valuable resource with an extensive collection of books and journals, as well as first-class facilities and IT equipment. Computer suites and free Wi-Fi are also available on each of the campuses.
There are additional fees for graduation ceremonies, examination resits and library fines.
Students choosing a period of paid work placement or study abroad as a part of their course should be aware that there may be additional travel and living costs, as well as tuition fees.
See the tuition fees on our student guide for most up to date costs.
Disclaimer
The University endeavours to deliver courses and programmes of study in accordance with the description set out in this prospectus. The University's prospectus is produced at the earliest possible date in order to provide maximum assistance to individuals considering applying for a course of study offered by the University. The University makes every effort to ensure that the information contained in the prospectus is accurate but it is possible that some changes will occur between the date of printing and the start of the academic year to which it relates. Please note that the University's website is the most up-to-date source of information regarding courses and facilities and we strongly recommend that you always visit the website before making any commitments.
Although reasonable steps are taken to provide the programmes and services described, the University cannot guarantee the provision of any course or facility and the University may make variations to the contents or methods of delivery of courses, discontinue, merge or combine courses and introduce new courses if such action is reasonably considered to be necessary by the University. Such circumstances include (but are not limited to) industrial action, lack of demand, departure of key staff, changes in legislation or government policy including changes, if any, resulting from the UK departing the European Union, withdrawal or reduction of funding or other circumstances beyond the University's reasonable control.
If the University discontinues any courses, it will use its best endeavours to provide a suitable alternative course. In addition, courses may change during the course of study and in such circumstances the University will normally undertake a consultation process prior to any such changes being introduced and seek to ensure that no student is unreasonably prejudiced as a consequence of any such change.
The University does not accept responsibility (other than through the negligence of the University, its staff or agents), for the consequences of any modification or cancellation of any course, or part of a course, offered by the University but will take into consideration the effects on individual students and seek to minimise the impact of such effects where reasonably practicable.
The University cannot accept any liability for disruption to its provision of educational or other services caused by circumstances beyond its control, but the University will take all reasonable steps to minimise the resultant disruption to such services.
Testimonials
Rainey & Best:
"The QS & CM course covers the competencies required of the modern QS while remaining interesting and engaging throughout. Each year, the modules build on the concepts of previous years, which allows you to develop your skills over the course of your studies. The placement year provides invaluable experience in not only the professional world but in the application of concepts studied during the first two years of the course. This combination of university study and real world application means that students are well prepared to take on the role of the QS upon graduating." Meghan Hoey (class of 2019).
Thomas Murphy (Class of 2019):
'I credit my experience, knowledge and professional confidence to my time spent at the University of Ulster. The course staff with their many years of industrial experience and knowledge opened many doors for me providing the opportunity to study abroad, gaining international work experience as well as carrying out my research alongside multiple professional and governmental organisations.
I found the course content and layout very applicable to the industry facilitating and supporting each student in building their skills and confidences needed outside of the classroom. It provides modules on multiple areas and disciplines of the industry, offering the opportunity for crossover modules with other construction-based courses and students further developing our proficiency in working both individually and as part of a multi-disciplinary team. The course staff really do care, taking the time to ensure each student's personal and professional growth throughout their time in the University, going above and beyond what would be considered 'the norm' to ensure the course provides its students with everything they need prosper in their future and careers within the industry.'
Keenwood Construction Limited:
Currently at Keenwood Construction Ltd. our Senior Quantity Surveyor, Darren Hamill, is a BSc (Hons) Graduate, having graduated from University of Ulster BSc. Hons. Programme in 2012. Darren quickly rose to the position of Senior Quantity Surveyor within the company, his professionalism and high standard of his work is testament to the good foundation he received on the University of Ulster BSc. (Hons) Quantity Surveying course. (Seamus Keenan – Managing Director, 2019)
Quantity Surveying Placement Student:
As a 3rd Year Quantity Surveying & Commercial Management Student at Ulster University, I am currently undertaking my placement year with a local joinery company, working primarily in the London market.
The course at Ulster University has equipped me with a knowledge and understanding of a broad range of current, relevant topics that has pre-empted an understanding of the role of the Quantity Surveyor and his/her duties in delivering successful projects. The staff within the Surveying programme prepare students for the placement year well, promoting and encouraging the use of a Structured Training Plan to steer the trajectory of the student's career towards becoming chartered members of the Royal Institution of Chartered Surveyors (RICS) professional body.
The course has provided me with a new skillset, which I now put into practice during my placement year. This in turn has instilled a newfound confidence in my abilities. I look forward to returning to Ulster University to complete my final year. (Stephen McElwee, 2019)
Tinnelly Construction Ltd:
"I thoroughly enjoyed my time studying within the QS programme. I feel that once I have embarked into the working world I will have taken a lot from the course with me which has set me up for a career as a graduate QS. I feel a lot of the modules studied have been very relevant to reality and would definitely recommend the QS & CM degree" Mark Hadden (class of 2015).