Overview
Environmental Health professionals are at the forefront of designing and improving the public's health and wellbeing.
Summary
Have you ever wondered what happens behind the scenes of restaurants, shops, businesses and government?
Would you like a knowledge of issues such as food safety, health and safety, housing, public health or pollution?
Do you want a degree that leads to a career where you are out of the office meeting people and dealing with different challenges each day? A degree that has very good employment prospects, locally and internationally, in well paid graduate jobs?
Would you like to study on a course that provides this, plus lots more?
Then come and study Environmental Health at Ulster.
Our graduates are equipped to find employment in a wide range of environmental health activities across public, private and voluntary sector organisations. Environmental Health Practitioners (EHPs) can take their skills into a huge variety of roles. It is a career where you are dealing with different challenges every day.
This BSc (Hons) Environmental Health programme has great strength in delivering the practical and academic skills required for a career in environmental health including problem solving, communication, research and management skills. It also aims to facilitate the development of your own personal, communication and intellectual abilities.
The course includes the core subjects of food safety management, health and safety at work, environmental protection, housing and public health. The areas of sustainability, quality of life, health inequalities, law and spatial planning are also integrated throughout the programme.
---
Sign up to hear more about Ulster
About this course
About
Structure & content
Normally you will complete the programme in four years, including an optional one year professional placement in year 3.
You will study a range of modules covering all aspects of environmental health including
• Food Safety;
• Occupational Health and Safety;
• Environmental Protection;
• Housing;
• Public Health.
The course also delivers a depth of understanding of the holistic and integrative nature of environmental health.
Some areas of environmental health such as public health, health inequalities, health improvement and sustainable development benefit from being delivered in conjunction with others. These are referred to as 'overriding themes' and are integrated into most modules.
The course has great strengths in delivering operational skills. These skills include communication, research skills, managerial skills and team work.
Associate awards
Diploma in Professional Practice DPP
Diploma in Professional Practice International DPPI
Attendance
The course will last for four years (including one year placement, year 3).
You are expected to attend lectures, seminars, tutorials, laboratory practicals etc, on campus, usually 3.5 days per week (approximately 17 hours/week). Significant independent study is undertaken in addition to these activities.
Start dates
Teaching, Learning and Assessment
Teaching Methods
A range of teaching and learning methods are used to encourage you to embrace a knowledge seeking approach, to build up confidence in your own ability to learn, to encourage reflection and to make reasoned judgements based on available evidence.
The teaching and learning methods are designed to allow you academic and subject progression from Year 1 to final year.
Year 1 – the emphasis is on raising your knowledge and understanding of a broad range of environmental health stressors and their health impacts.
Year 2 – selected environmental health stressors, impacts and interventions are studied in greater depth and the interrelationships are considered.
Year 4 – studies will concentrate on research, strategies, policies, partnership working, synthesis and evaluations.
In Year 1 the teaching is delivered in lectures, tutorials, laboratory work, group work and seminars, complemented by visiting professionals. In subsequent years you are increasingly directed to student centred learning, through individual reading, research groups, projects, case studies, oral and visual presentations and interviews. In the final year a high proportion of the learning process is by directed study through integrative case studies and the research project.
Case Studies
Case studies develop skills including the ability to study in depth, solve or manage problems and are therefore used throughout all years. In addition to background knowledge of the scientific, technological and legislative aspects of the issue and the ability to draw information from a variety of sources, there is a need to apply critical thinking which is key to the problem solving process. A final year module is designed to simulate real case scenarios and provide opportunities for students to develop problem solving skills and exercise collaborative management to arrive at solutions.
https://www.facebook.com/pages/Environmental-Health-Course-at-the-University-of-Ulster/108846249209545?fref=ts
The content for each course is summarised on the relevant course page, along with an overview of the modules that make up the course.
Each course is approved by the University and meets the expectations of:
Attendance and Independent Study
As part of your course induction, you will be provided with details of the organisation and management of the course, including attendance and assessment requirements - usually in the form of a timetable. For full-time courses, the precise timetable for each semester is not confirmed until near the start date and may be subject to change in the early weeks as all courses settle into their planned patterns. For part-time courses which require attendance on particular days and times, an expectation of the days of attendance will often be included in the letter of offer. A course handbook is also made available.
Courses comprise modules for which the notional effort involved is indicated by its credit rating. Each credit point represents 10 hours of student effort. Undergraduate courses typically contain 10- or 20-credit modules and postgraduate course typically 15- or 30-credit modules.
The normal study load expectation for an undergraduate full-time course of study in the standard academic year is 120 credit points. This amounts to around 36-42 hours of expected teaching and learning per week, inclusive of attendance requirements for lectures, seminars, tutorials, practical work, fieldwork or other scheduled classes, private study, and assessment. Part-time study load is the same as full-time pro-rata, with each credit point representing 10 hours of student effort.
Postgraduate Masters courses typically comprise 180 credits, taken in three semesters when studied full-time. A Postgraduate Certificate (PGCert) comprises 60 credits and can usually be completed on a part-time basis in one year. A 120-credit Postgraduate Diploma (PGDip) can usually be completed on a part-time basis in two years.
Class contact times vary by course and type of module. Typically, for a module predominantly delivered through lectures you can expect at least 3 contact hours per week (lectures/seminars/tutorials). Laboratory classes often require a greater intensity of attendance in blocks. Some modules may combine lecture and laboratory. The precise model will depend on the course you apply for and may be subject to change from year to year for quality or enhancement reasons. Prospective students will be consulted about any significant changes.
Assessment
Assessment methods vary and are defined explicitly in each module. Assessment can be via one method or a combination e.g. examination and coursework . Assessment is designed to assess your achievement of the module's stated learning outcomes. You can expect to receive timely feedback on all coursework assessment. The precise assessment will depend on the module and may be subject to change from year to year for quality or enhancement reasons. You will be consulted about any significant changes.
Coursework can take many forms, for example: essay, report, seminar paper, test, presentation, dissertation, design, artefacts, portfolio, journal, group work. The precise form and combination of assessment will depend on the course you apply for and the module. Details will be made available in advance through induction, the course handbook, the module specification and the assessment timetable. The details are subject to change from year to year for quality or enhancement reasons. You will be consulted about any significant changes.
Normally, a module will have four learning outcomes, and no more than two items of assessment. An item of assessment can comprise more than one task. The notional workload and the equivalence across types of assessment is standardised.
Calculation of the Final Award
The class of Honours awarded in Bachelor's degrees is usually determined by calculation of an aggregate mark based on performance across the modules at Levels 5 and 6 (which correspond to the second and third year of full-time attendance).
Level 6 modules contribute 70% of the aggregate mark and Level 5 contributes 30% to the calculation of the class of the award. Classification of integrated Masters degrees with Honours include a Level 7 component. The calculation in this case is: 50% Level 7, 30% Level 6, 20% Level 5. At least half the Level 5 modules must be studied at the University for Level 5 to be included in the calculation of the class.
All other qualifications have an overall grade determined by results in modules from the final level of study. In Masters degrees of more than 200 credit points the final 120 points usually determine the overall grading.
Figures correct for academic year 2019-2020.
Academic profile
The University employs over 1,000 suitably qualified and experienced academic staff - 59% have PhDs in their subject field and many have professional body recognition.
Courses are taught by staff who are Professors (25%), Readers, Senior Lecturers (20%) or Lecturers (55%).
We require most academic staff to be qualified to teach in higher education: 82% hold either Postgraduate Certificates in Higher Education Practice or higher. Most academic staff (81%) are accredited fellows of the Higher Education Academy (HEA) by Advanced HE - the university sector professional body for teaching and learning. Many academic and technical staff hold other professional body designations related to their subject or scholarly practice.
The profiles of many academic staff can be found on the University's departmental websites and give a detailed insight into the range of staffing and expertise. The precise staffing for a course will depend on the department(s) involved and the availability and management of staff. This is subject to change annually and is confirmed in the timetable issued at the start of the course.
Occasionally, teaching may be supplemented by suitably qualified part-time staff (usually qualified researchers) and specialist guest lecturers. In these cases, all staff are inducted, mostly through our staff development programme 'First Steps to Teaching'. In some cases, usually for provision in one of our out-centres, Recognised University Teachers are involved, supported by the University in suitable professional development for teaching.
Figures correct for academic year 2021-2022.
Belfast campus
The Belfast campus is situated in the artistic and cultural centre of the city, the Cathedral Quarter.
Accommodation
High quality apartment living in Belfast city centre adjacent to the university campus.
Find out more - information about accommodation
---
Student Wellbeing
At Student Wellbeing we provide many services to help students through their time at Ulster University.
Find out more - information about student wellbeing
---
Belfast Campus Location
Campus Address
Ulster University,
York St,
Belfast
BT15 1ED
Campus maps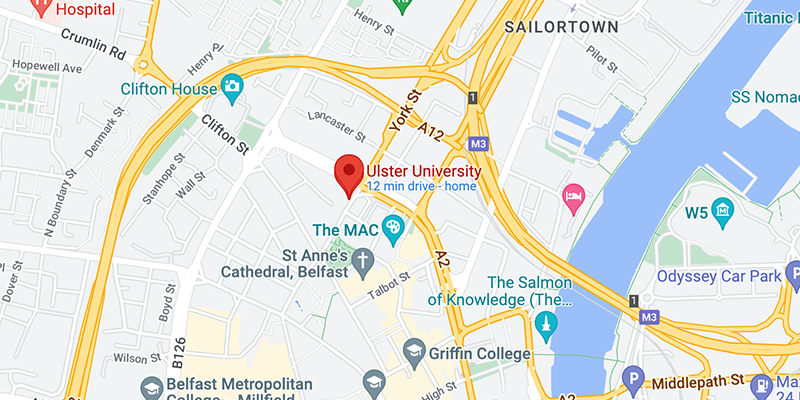 View Google Maps
View Map Diagram
Modules
Here is a guide to the subjects studied on this course.
Courses are continually reviewed to take advantage of new teaching approaches and developments in research, industry and the professions. Please be aware that modules may change for your year of entry. The exact modules available and their order may vary depending on course updates, staff availability, timetabling and student demand. Please contact the course team for the most up to date module list.
Year one
Applied Sciences for Health
Year: 1
Status: C
The chemical and biological aspects of this module are targeted to provide the students with a deeper understanding of the underpinning principles pertaining to the evolution of various stressors, in natural and built environments, that affect human well-being. The learning of the basic principles of environmental chemistry, radioactivity, cellular basis of life and microbiology will be vital for the subsequent study of environmental health and to enable students to devise appropriate interventions in practical scenarios.
Introduction to Food and Occupational Health and Safety
Year: 1
Status: C
This module is designed to provide detailed introductions to the subjects of food safety, nutrition and occupational health and safety. It will start with the historical context and progress to the modern settings in which food safety and occupational health and safety stressors are identified and controlled.
Domestic Building Technology
Year: 1
Status: C
This module provides a general introduction to construction technology with specific emphasis on the sustainable construction of small-scale, low-rise buildings.
The module also introduces the factors that affect and systems that control the internal environment of domestic buildings.
Public Health
Year: 1
Status: C
This module introduces students to the environmental health profession and its interdisciplinary nature. Students will develop an understanding of public health and its key concepts, the environmental health profession and its role in protecting public health, and epidemiology.
Environmental Protection, Cycles and Impacts
Year: 1
Status: C
This module introduces the basic concept necessary to understand environmental protection.
It focuses on the natural and built environment, environmental pollution and their impacts on eco-systems, sustainability and environmental health as practiced by the modern environmental health practitioner.
It considers the processes involved in the realisation of a sustainable built environment which meets the needs of humans in relation to health and quality of life.
Law, Governance and Society
Year: 1
Status: C
This module introduces students to the fundamental principles of governance and the legal framework in contemporary society. Students examine the interrelationship between governance actors, the legal system and social policy for advancing sustainable development and improving social, economic and environmental well-being.
Year two
Occupational Health and Safety
Year: 2
Status: C
This module builds upon the foundation provided by ENH120 and provides students with a detailed understanding of the subject of workplace health and safety, together with practical application skills. It is concerned with the identification, measurement and risk assessment of work and workplaces stressors and the selection and management of physical, procedural, legal and educational interventions to eliminate or reduce their impacts on the health and safety of employees and others.
Environmental Protection
Year: 2
Status: C
This module gives students a detailed knowledge and depth of understanding of the impacts of environmental pollution from a variety of sources and the interventions available to control/mitigate their impact including legislative requirements and regulation in order to ensure environmental protection. It provides practical skills on the use of specialist equipment and the analysis of environmental protection related data.
Food & Consumer Safety and Nutrition
Year: 2
Status: C
This module is designed to build on the knowledge and understanding, gained in ENH120, of stressors within the food chain and the potential use of this knowledge and understanding in the management of their risk, by interventions, to eliminate or minimise their impacts on human health. The focus is on the areas of food hygiene and related legislative provisions and protocols.
Data collection Methods, Communication and Statistics
Year: 2
Status: C
Almost every aspect of the work of the environmental health practitioner requires good communication skills and an understanding of data collection methods and analysis. This module combines the development of communication and research skills with numeracy skills necessary for data analysis and interpretation. Candidates will be provided with opportunities to review and evaluate common communication methods and technologies and to develop their skills appropriate to the delivery of academic papers, professional reports, health promotion and training. Fundamental research methods, statistics and statistical packages will be covered through knowledge dissemination and participation.
Housing and Healthy Living Environments
Year: 2
Status: C
This module gives the student an awareness of the impacts housing and the living environment on health. It considers the effects interventions such as legislative, policies, strategies and procedures have on the environment and health.
Regulation and Enforcement in Practice
Year: 2
Status: C
This module is designed to introduce students to the fundamental elements involved in the application of risk based formal and informal interventions to achieve compliance with legislation with the appropriate regard to the associated standards and guidance. Case studies, debates, discussions and role-play are used to enable students to develop awareness of the importance of inter-agency working and the necessity to adopt a holistic approach to any proposed intervention. An overarching theme of this module is the political context of regulation and enforcement.
Developing Innovation and Entrepreneuship
Year: 2
Status: C
The module will provide the opportunity for students to be creative, innovative and entrepreneurial within a defined structure but with the latitude and freedom to identify and seize opportunities and enhance their learning experience. The desired outcome is the enhancement of their innovation and entrepreneurship skills that contribute to Ulster's aspirational graduate qualities. It also builds on effective collaborative work, conflict resolution, communicating to a variety of audiences.
Year three
Professional Practice - Environmental Health
Year: 3
Status: C
This module provides undergraduate students with an opportunity to gain structured and professional work experience, in a work-based learning environment, as part of their planned programme of study. This experience allows students to develop, refine and reflect on their key personal and professional skills. The placement should significantly support the development of the student's employability skills, preparation for final year and enhance their employability journey.
Year four
Environmental Health Research
Year: 4
Status: C
This module provides an opportunity to apply previous learning and complete a research dissertation on a topic relevant to environmental health with the potential for this work to be submitted for publication.
Environmental Protection: Strategies for Sustainable Development
Year: 4
Status: C
This module enables the student to explore interventions aimed at reducing and mitigating the impacts of environmental stressors. In particular integrative, holistic and multi-disciplinary interventions will be appraised. The module aims to provide the opportunity for the student to: further appreciate the impacts of environmnetal protection stressors in relation to housing air, water and land and the acoustic environment, synthesise protection and control interventions, and evaluate monitoring programmes for the detection and control of environmental pollutants
Food and Nutrition Policies and Standards
Year: 4
Status: C
This module aims to develop students' ability to appraise current enforcement policies and strategies, relating to food safety, and recognise their influence on the interventions available to a range of agencies to eliminate or minimise the risk from related stressors on human health. Particular emphasis is placed on the management strategies available to enhance food safety practices. To enhance the application of a holistic approach, students will undertake a complex case study which may include a range of interventions by various agencies and the resulting legal outcomes, both criminal and civil.
Public Health and Housing Management
Year: 4
Status: C
This module draws together two core aspects of the strategic environmental health agenda: public health and housing. In doing so the module ensures that students consider, explore and understand the need for the modern day Environmental Health Practitioner to look beyond the immediate and consider the wider and related issues and as such facilitate the development of holistic strategic thinking. Students, as such, will be encouraged to appreciate their role in strategic issues such as the creation of sustainable communities, the impact of the built environment on health, and the relationship between improving living conditions in the promotion of human health.
Integrated Environmental Health Professional Practice
Year: 4
Status: C
An ability to study in depth, reflect holistically, garner and synthesise information from diverse sources and to apply critical thinking to solve or manage problems are key skills required by contemporary environmental health practitioners. The case studies in this module are either based on real events or closely reflect real incidents and are designed to provide settings in which the above skills, plus the skills of teamwork and communication, can be developed.
Leadership in Innovation and Entrepreneurship
Year: 4
Status: C
Changing employment patterns and changing organisational expectations have impacted on the demand for new skill-sets. Employees are expected to be more flexible and adaptable, with a broader range of skills and be better able to manage their own career and development. To this end, the module will provide the opportunity for students lead on creativity, innovation and entrepreneuriship in order to enhance the skill sets that employers require.
Workplace Management and Safety Systems
Year: 4
Status: C
This module is designed to introduce the student to the principles of organisation and management in a range of organisations in the public, voluntary and private sectors. The focus is on how the management principles impact on the public sector with particular reference to local government. The module is also designed to focus on the policies and strategies which influence the organisational management and control of occupational health & safety
Standard entry conditions
We recognise a range of qualifications for admission to our courses. In addition to the specific entry conditions for this course you must also meet the University's General Entrance Requirements.
A level
Grades ABC to include grade A from Mathematics, Physics, Chemistry, Biology, Geography, Life and Health Sciences (single or double award) Home Economics, Food, Nutrition and Health, Nutrition and Food Science, Health and Social Care (single or double award) Environmental Technology, Environmental Science or Applied Science.
Providing the subject requirements is met, applicants can satisfy the requirement for one of the A level grades (or equivalent) by substituting a combination of alternative qualifications recognised by the University.
Applied General Qualifications
QCF Pearson BTEC Level 3 Extended Diploma in Science, Health Science, Health and Social Care or Construction
Award profile of DDD
RQF Pearson BTEC Level 3 National Extended Diploma in Science, Health Science, Health and Social Care or Construction
Award profile of DDM
QCF Pearson BTEC Level 3 Diploma in Science, Health Science, Health and Social Care or Construction
Award profile of D*D plus A Level Grade C
RQF Pearson BTEC Level 3 National Diploma in Science, Health Science, Health and Social Care or Construction
Award profile of DD plus A Level Grade C
QCF Pearson BTEC Level 3 Subsidiary Diploma in Science, Health Science, Health and Social Care or Construction
Award profile of D* plus A Level Grades BC
RQF Pearson BTEC Level 3 National Extended Certificate in Science, Health Science, Health and Social Care or Construction
Award profile of D plus A Level Grades BC
If A levels are being presented with QCF/RQF BTEC awards in other subjects then the A level subject requirement must be met.
Please note that OCR Nationals and Cambridge Technical Combinations do not satisfy the subject entry requirement for this course and will be accepted as grade only when presented with A level(s) in the relevant subject(s).
The subject requirement must be met.
For further information on the requirements for this course please contact the administrator as listed in the Contact details section below.
Entry equivalences can also be viewed in the online prospectus at http://www.ulster.ac.uk/apply/entrance-requirements/equivalence.
Irish Leaving Certificate
120 UCAS Tariff Points to include a minimum of five subjects (four of which must be at Higher Level) to include English at H6 if studied at Higher Level or O4 if studied at Ordinary Level. This course also requires you to achieve H3 in one subject from Mathematics, Physics, Chemistry, Physics/Chemistry, Biology, Geography or Home Economics. If Mathematics is not passed at H3, you will be required to achieve a minimum of H6 if studied at Higher Level or O4 at Ordinary Level.
Irish Leaving Certificate UCAS Equivalency
Scottish Highers
Grades BBBCC to include grade B in one from Mathematics, Physics, Chemistry, Biology, Geography, Home Economics or Food, Nutrition and Health.
Scottish Advanced Highers
Grades CCC to include one from Mathematics, Physics, Chemistry, Biology, Geography, Home Economics or Food, Nutrition and Health.
International Baccalaureate
Overall profile minimum 26 points (including 13 at higher level) to include one higher level subject from Mathematics, Physics, Chemistry, Biology, Geography, Home Economics, Food, Nutrition and Health or Health and Social Care. Grade 4 in English Language also required in overall profile. If Maths is not being offered as a subject then it is required at Grade 4 in the overall profile.
Access to Higher Education (HE)
Access Course (120 credit Access Course) (NI Access Course) in a Science, Science and Technology, Bio-Science or Combined Science subject area with an overall mark of 65% to include 65% in each of the level 3 modules fo year 1 entry.
For applicants who do not have GCSE Maths grade C/4 then they must achieve a Pass in NICATS Maths level 2.
GCSE
For full-time study, you must satisfy the General Entrance Requirements for admission to a first degree course and hold a GCSE pass at Grade C/4 or above in English Language and Mathematics.
Level 2 Certificate in Essential Skills - Communication will be accepted as equivalent to GCSE English.
Please note that for purposes of entry to this course the Level 2 Certificate in Essential Skills - Application of Number is NOT regarded as an acceptable alternative to GCSE Maths.
English Language Requirements
English language requirements for international applicants
The minimum requirement for this course is Academic IELTS 6.0 with no band score less than 5.5. Trinity ISE: Pass at level III also meets this requirement for Tier 4 visa purposes.
Ulster recognises a number of other English language tests and comparable IELTS equivalent scores.
Additional Entry Requirements
Pass HNC in Food Production, Environmental Science, Healthcare Practice or Applied Biology with overall Distinction to include 90 level 4 credits at Distinction for year one entry.
Pass HND in Food Production, Environmental Science, Healthcare Practice or Applied Biology with overall Merit to include 60 level 5 credits at Distinction for year one entry.
Foundation Degree
Successful compeltion of Foundation degree in a Health and Social Care, Food Manufacturing, Science or Construction subject area for year 1 entry.
There is no advanced entry route to year 2 available for this programme.
Exemptions and transferability
The vast majority of students enter Year 1, although admission to Year 2 is possible if evidence of previous environmental health work experience and/or relevant study is provided demonstrating achievement of the Year 1 learning outcomes.
Careers & opportunities
Graduate employers
Graduates from this course are now working for:
Belfast City Council
Ards & North Down Borough Council
City of Sydney Council
Food Standard Agency
Collins Aerospace
John Sisk & Son Ltd
Lakeland Dairies Foodservice
Job roles
With this degree you could become:
Environmental Health Officer
Health and Safety Officer
Quality Assurance Auditing
Compliance Auditor
Food Quality Manager
SHEQ Safety Health & Environmental Advisor
Environmental Health Consultant
Career options
Many graduates find employment in the public sector as environmental health practitioners. Increasingly, opportunities exist in other government agencies and within private sector companies and consultancies in the areas of food safety, environmental protection, occupational health and safety and energy efficiency.
As the course is accredited by the CIEH, you have the opportunity to work in countries outside the UK and Ireland that have a similar approach to environmental health such as Australia, New Zealand and Canada.
Opportunities exist for postgraduate study and research at masters and doctorate level.
Work placement / study abroad
The Environmental Health placement is designed to complement your academic study and is designed to facilitate your learning by developing essential professional and employability skills. Placement provides you with the opportunity to complete the professional requirements of the Chartered Institute of Environmental Health.
Many students obtain placements with local authorities and private industries within Northern Ireland. However, students are increasingly sucessful in obtaining placements in GB, Ireland and further afield widening their outlook.
Successful completion of the professional placement year leads to the award of a Diploma in Professional Practice (DPP) upon graduation.
Professional recognition
Accredited by the Institution of Occupational Safety and Health as meeting the academic requirements for the purpose of eligibility to apply for Graduate membership leading to Chartered membership.
Accredited by the Chartered Institute of Environmental Health (CIEH) for the purpose of partially meeting the requirements for registration as an Environmental Health Practitioner with the Environmental Health Registration Board (EHRB).
Fees and funding
Important notice - fees information
Fees illustrated are based on academic year 22/23 entry and are subject to an annual increase.
If your study continues into future academic years your fees are subject to an annual increase. Please take this into consideration when you estimate your total fees for a degree.
Additional mandatory costs are highlighted where they are known in advance. There are other costs associated with university study.
Visit our Fees pages for full details of fees.
Correct at the time of publishing. Terms and conditions apply.
Fees (per year)
Northern Ireland, Republic of Ireland and EU Settlement Status Fees
£4,630.00
England, Scotland, Wales and the Islands Fees
£9,250.00
International Fees
£15,360.00
Scholarships, awards and prizes
Graduates of the programme have regularly featured in award lists for national academic and professional awards. The Northern Ireland Chatered Institute of Environmnetal Health (CIEH) region also awards the highest achieving student with the David Montgomery Award.
Additional mandatory costs
None
It is important to remember that costs associated with accommodation, travel (including car parking charges) and normal living will need to be covered in addition to tuition fees.
Where a course has additional mandatory expenses (in addition to tuition fees) we make every effort to highlight them above. We aim to provide students with the learning materials needed to support their studies. Our libraries are a valuable resource with an extensive collection of books and journals, as well as first-class facilities and IT equipment. Computer suites and free Wi-Fi are also available on each of the campuses.
There are additional fees for graduation ceremonies, examination resits and library fines.
Students choosing a period of paid work placement or study abroad as a part of their course should be aware that there may be additional travel and living costs, as well as tuition fees.
See the tuition fees on our student guide for most up to date costs.
Disclaimer
The University endeavours to deliver courses and programmes of study in accordance with the description set out in this prospectus. The University's prospectus is produced at the earliest possible date in order to provide maximum assistance to individuals considering applying for a course of study offered by the University. The University makes every effort to ensure that the information contained in the prospectus is accurate but it is possible that some changes will occur between the date of printing and the start of the academic year to which it relates. Please note that the University's website is the most up-to-date source of information regarding courses and facilities and we strongly recommend that you always visit the website before making any commitments.
Although reasonable steps are taken to provide the programmes and services described, the University cannot guarantee the provision of any course or facility and the University may make variations to the contents or methods of delivery of courses, discontinue, merge or combine courses and introduce new courses if such action is reasonably considered to be necessary by the University. Such circumstances include (but are not limited to) industrial action, lack of demand, departure of key staff, changes in legislation or government policy including changes, if any, resulting from the UK departing the European Union, withdrawal or reduction of funding or other circumstances beyond the University's reasonable control.
If the University discontinues any courses, it will use its best endeavours to provide a suitable alternative course. In addition, courses may change during the course of study and in such circumstances the University will normally undertake a consultation process prior to any such changes being introduced and seek to ensure that no student is unreasonably prejudiced as a consequence of any such change.
The University does not accept responsibility (other than through the negligence of the University, its staff or agents), for the consequences of any modification or cancellation of any course, or part of a course, offered by the University but will take into consideration the effects on individual students and seek to minimise the impact of such effects where reasonably practicable.
The University cannot accept any liability for disruption to its provision of educational or other services caused by circumstances beyond its control, but the University will take all reasonable steps to minimise the resultant disruption to such services.
Testimonials
The course was excellent and whilst I have not gone down the Environmental Health Officer route, I feel the course benefited me greatly as I have an appreciation of both the local authority & industry perspectives. Angela McAloran.
"The course covers a very broad range of topics and provides you with a good understanding of the key environmental health functions including legislation/guidance etc. It sets you up well to be able to work as an Environmental Health Officer. The course is well delivered". Ruth Patton.
"Very good and enjoyable four years, provided me with great knowledge and experience for me to get into employment. Thanks" Cathal O'Neill.
"The variety of the course covering all aspects of environmental health this has assisted me in moving between different teams within environmental health with my current role in port health/health and safety also food safety and pollution teams when required". Mark O'Neill.
"The main strength of the environmental health degree is the wide variety of topics covered, this allows the student a choice of which area to follow in or it can provide the student with adequate qualifications across a number of fields, to aid in achieving employment when completing the course". Mark McCann.
"The broad range of topics studied while at UU equipped me for temporary jobs in food hygiene, home safety and my permanent post inenvironemnatl and health and safety in construction". Clare Scott.
"Broad range of areas covered, allows for numerous career choices. Wide ranging work skills achieved". Aran Hennessey.
"The lecturers were practising EHPs and their personal experience gives an excellent insight into the practical work involved which helped give a better understanding of the theory around environemental health topics. Having a choice of placement in the middle of the course because this really helped with final year exams having experienced being out in the field". Stephanie Rock.
"The broad range of topics that were studied, which would open up more job opportunities. Also, the lecturers themselves, as many come from a working environmental health background so were able to provide better teaching experiences with real-life cases". Kathy Ewing.
"The course is good". John Flannery.